Vortex Affiliate - Review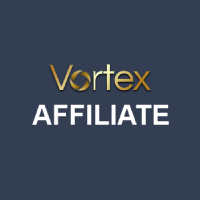 Vortex Affiliates - Review
| Rev Share | CPA | Sub Aff |
| --- | --- | --- |
| 40% | N/A | N/A |
Commisions
| Rev Share | CPA | Sub Aff |
| --- | --- | --- |
| 40% | N/A | N/A |
Vortex Affiliate seems to be an inactive Rival casino affiliate program so use at your own risk.
Summary
You'll find it hard to come across an affiliate program that's as generous as Vortex Affiliate nowadays. It is the only recognized affiliate program for Vortex Casino which happens to be one of the best converting online casino gaming brands. This online casino also has the highest retention rates for players because of its rewarding promotions for newly registered and regular players. The selection of casino games at Vortex Casino is considered to be one of the most extensive and varied. These features of Vortex Casino combined with the competitive commission structure are what make Vortex Affilate an irresistible affiliate program. In the event that you're still not convinced, then delve further to have an idea of what it's like.
An affiliate partner can earn up to 40% of the revenue of his referrals. This might not seem much but when you consider other affiliate programs only giving 30% to their partners then this is actually quite competitive. However, affiliate partners will need to make sure that they achieve target FTDs set by the program. If affiliate partners fail to bring in the required number of FTDs then they'll see the rates of their individual commissions go down to 20%. Vortex Affiliate has made sure that its partners would have no trouble withdrawing their revenues. Players can withdraw funds straight to their bank accounts if they chose the Direct Deposit option. Otherwise, they can also use alternative e-payment options like Skrill, NeTeller, and ecoCard if they're wary of using their bank account information online. They also have the option to withdraw their earnings via wire transfer.
Target Markets
No information, as yet, about Vortex Affiliate for current target markets·
Languages
No information, as yet, about Vortex Affiliate for current languages·
Brands
Vortex Casino
Available Game Types
Vortex Affiliate Tools and Banners
Unlike other affiliate programs, Vortex Affiliate ensures that its affiliate partners actually succeed in converting their referrals. Once an affiliate partner's application has been granted then he/she can use the official promotional tools provided by the program. Affiliate partners can also use their own promotional materials provided that they are preapproved by the program and conform to its standards. In terms of reporting, partners will get a detailed report weekly for their referral activity and monthly for their earnings. A professional affiliate manager will be made available to partners to further guide them and ensure their success. Vortex Affiliate is aware of the fact that its success as an affiliate program is hinged on the success of its affiliate partners in referring First Time Depositors (FTDs) to Vortex Casino.
Vortex Affiliate Information
What matters most when choosing a good affiliate program is the brand that you're going to promote and its conversion rate. Vortex Casino has proven to be one of the most popular online casinos today which is why it's not particularly hard to promote. Its bonuses, promotions, and exciting casino games also ensure a high conversion rate for referred FTDs. The most important thing about the Vortex Affiliate program though is its support of its affiliate partners. This would have to be the one reason why you should definitely try out this program. You'll seldom find affiliate programs that go to the lengths Vortex Affiliate is going for its affiliate partners just to ensure they become successful. For any affiliate partner, it's a great feeling to know that you have the program working together with you and supporting you.
Similar Affiliate Programs
Webmasters promoting brands from Vortex Affiliate
No information, as yet, about Vortex Affiliate for current webmasters·
Recent Short News Featuring Vortex Affiliate
No recent short news, as yet, about Vortex Affiliate·
Leave a comment