Welcome to the 5-Minute SEO Guide. If you don't have time to learn search engine optimization, this guide will teach you everything you really need to know about SEO.
This article is written by John Wright from HorseshoeAgency.com
This quick SEO guide was created for a few reasons.
Google's SEO guidelines are too long to read and don't explain what is most important
The info below has been explained and written to many clients so next time someone asks about SEO, they will get the link to this page
This guide is meant to help beginners as well as experienced webmasters
When it comes to SEO, the most important aspects of any site are page titles, descriptions, content and links.
Page Titles
Page titles are probably the most important aspect of on page seo. Your best research tool is Google, when you search in Google the results page will show you page title, description and URL. Page titles should have your keywords but appear natural, avoid going over 10 words as this looks like spam and may not be fully displayed. Common mistakes with this is duplicate phrases and keywords.
Descriptions
Keep them 135-155 characters, never over as they will get truncated. Page titles & descriptions: combined these should help but most people are lazy and don't customize them for every page. Every page needs dedicated page titles and descriptions. You can focus on the keywords but try to focus more on the user and try to convince the user to click on your links. Things that can help generate more clicks include free trials, offers & discounts, benefits, guarantees, free consultation, free shipping, etc... If you want to see what your competitors are doing, just go to Google and the search results page will show you listings which show page titles, descriptions and URLs. [caption id="attachment_4254" align="aligncenter" width="719" caption="Screenshot of Google search results page"]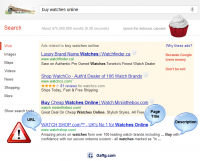 [/caption]
URLs: Keep the site structure well organized. Avoid duplicate content: that is www.site.com and http://site.com are 2 different domains, common mistake is one isn't forwarding to the other. Just look at this site gaffg.com, type in www.gaffg.com and you'll end up at . If you have this problem you can find more info Google 'duplicate content www htaccess'.
Keep your site structure organized
Try to organize your site content in such a way that any user can easily navigate your site. For more information on this, you can see another SEO guide of creating the site structure from the beginning: SEO Guide
Content
Here are some very important guidelines on content:
Sites that have more pages tend to get more traffic, a page can't rank if it doesn't exist
More pages = more chances of ranking for more keywords and getting more traffic
Sites with new pages, new posts and updated content tend to rank better than sites that don't update or don't create more content
Avoid any page with less than 200 words, including the homepage. Google doesn't like to give rankings to site that has no content (text) at all. Also, avoid having duplicate content on any page. Every page should be customized and detailed and obviously if you want to rank for a keyword, that keyword should exist on the page somewhere as text.
Amazing Content
If you produce articles that are amazing, people will share them and naturally link to them. Just ask yourself, if you didn't own your website, what pages are worth sharing? What about your product or service, is it amazing? If it is you'll get the reviews and recommendations they deserve. [ois skin="Sharing is Caring 2"]
Link Building
You need links to rank. Many SEO companies offer link building services, but buying links is still technically against Google's policy. So if you don't want to buy links, go after the major social media links: Twitter, Facebook, YouTube, Google+. Every social profile is a chance to get a link and any news you have, publish it in social media. These mentions in social media have been shown to help rankings. YouTube is another goldmine, every video you produce, you can rank for it as YouTube is itself a search engine and every description you can link back to your site. These links are nofollow and many times your competition won't have these. An important note about links: If you are getting links to your site, focus on relevance. That is if your site is about watches then try to get links that come from other watch sites and fashion sites. The same for gambling links, get links from sites that are about gambling.
The best links that money can't buy
The last aspect of links if you are not PR shy, go on tv, go to major newspapers and do interviews. Offer to write articles for newspapers as the expert in your field. These people are always looking for good content, and you get traffic in the process, plus their website 99% of the time will link to you. Media links are difficult to get unless you do this activity, and these links are considered extremely strong in Google's eyes. If your SEO needs are demanding, then you can find an SEO in our directory.

[ois skin="Sharing is Caring"]