Ewallets & affiliate programs Guide

This guide is meant to help you on the various ewallets that exist in online gaming and how it relates to players, affiliates and gaming operators. The article explains how ewallets work and uses Neteller as an example, which is one of the largest and most commonly used ewallets for players. Then ewallet affiliate programs are discussed explaining how affiliates can earn additional income from their players with Neteller affiliate program being used as an example. This article has been sponsored by Neteller.
1. What are ewallets?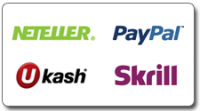 Ewallets, also known as electronic wallets or online wallets, act like a virtual banking service for customers to pay for goods and services online. Depending on the ewallet service, customers can also transfer money to other users and have it act just like your bank account but with an added layer of security so that a merchant doesn't ever have access to your personal banking details. Ewallets can also be used to replace credit cards for the same purpose. The most common ewallet that most users can relate to is PayPal which has grown due to the popularity of ebay and has become one of the more common ways to pay for goods or collect money on ebay. When it comes to banking security and peace of mind, ewallets are the way to go for spending money online. In online gambling the two most popular ewallets are Neteller and Skrill (formerly known as Moneybookers). In the history of ewallets in online gambling, PayPal and Firepay used to be the most popular ways of depositing and withdrawing but in 2002 PayPal stopped taking payments for gaming and Firepay went out of business sometime in 2006. There are now more services available that are tough to keep track of. Here is a short list of ewallets available:
Neteller
Skrill
ClickandBuy
Ukash
EcoCard
Click2Pay
Entropay
PayPal
Paysafecard
2. About Neteller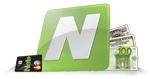 Neteller is an online wallet service that is owned and operated by Optimal Payments PLC which is a publicly traded company on the London Stock Exchange (LSE) as OPAY. Neteller was founded in 1999 making it one of the oldest and most established ewallets around. Neteller is regulated by the Financial Services Authority (FSA) which means the company operates within strict standards just like a bank.
Online since 1999
Listed on the London Stock Exchange (LSE)
Regulated by the Financial Services Authority (FSA)
What is Neteller?
Neteller is an online wallet that covers a large spectrum of online payments. For users, Neteller is a means of paying for goods and services online, transferring money to other users (better known as their Money transfer service or formerly P2P transfers), online shopping and they even offer prepaid credit cards. Players can use Neteller to fund their account and safely deposit and withdraw from online gaming sites, keeping their winnings secure and private Neteller has also been expanding to provide more payment options outside of online gambling. You can now use your NET+ card in 1000's of ATM's worldwide and also on retail sites such as www.very.co.uk Your players can use Neteller to deposit and withdraw into most online gaming websites. When you join a gambling affiliate program, one of the most popular affiliate payment methods is Neteller. You can get your affiliate commissions paid to your Neteller account faster than a bank wire and with no fees (Most affiliate programs charge a processing fee if you want to receive your commission to your bank account each month) and put it onto your NET+ card and withdraw the money from a bank machine or use it for shopping.
3. Ewallet affiliate programs explained using Neteller as an example
An ewallet affiliate program is something where webmasters and affiliates can earn commissions by referring users to the ewallet. Not all ewallets provide affiliate programs and in our listing we only have the Neteller affiliate program and Moneybookers affiliate program listed. In addition to providing useful information for your players about ewallets you can now earn commission at the same time.
3.1 How does it work
The principles of the affiliate program are the same as for referring your players to online gambling sites and getting commissions. The mechanisms are basically the same as with other affiliate programs, you use an affiliate link, which refers potential players directly to the Neteller landing page to open an account – prior to taking up a gambling operator's bonus offer. We'll use an example to show the benefits of using Neteller as opposed to depositing directly at the gambling site and the commission's work a little differently.
3.2 Commission Example: How you can earn money by promoting Neteller to your players
Lets review how commissions are calculated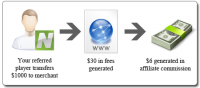 A player opens a new account and deposits money: Lets start with a referred player who deposits (transfers) $1000 to a gaming operator. Let's assume fees generated equate to $30. As an affiliate of Neteller you will receive 20% of the $30 which equates to $6 in revenue commissions for this one transaction. The important point to remember - is that you make commission on each and every deposit transaction made to gaming operators. It doesn't matter if the players win or lose, as long as the players are depositing, the affiliates are generating a commission. Promiscuity: The referred player is likely to play at multiple sites. You as the affiliate will earn commission on each transaction for each website the player transacts with, the more the player transacts the more you will earn. This means your players could be generating 2 types of commission income for you in 1 transaction. That is you get affiliate commissions by referring players to gaming sites and every time they user Neteller you earn commission again on their transactions.
4. Why you should promote Neteller to your players
When you get your players to use Neteller for depositing and withdrawing at online gambling sites, you are helping them simplify the way in which they fund their gaming accounts. Not only is it easier for players to make repeat deposits with an ewallet but you are also helping them keep their bank and credit card information fully protected. Last but not least, players don't always feel comfortable giving out their personal credit card or banking information to an online casino or gambling site but they can trust Neteller to protect them. By adding this information and content to your website, you are providing a better service for your players and promoting identity and financial protection online. The commissions earned by Neteller are lifetime and uncapped. Read the Neteller affiliate program review or join the program.

Next Article: The best ways to market Neteller to your players