We Pay Affiliates - Review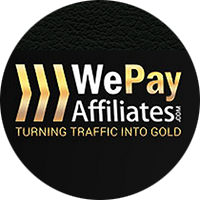 We Pay Affiliatess - Review
| Rev Share | CPA | Sub Aff |
| --- | --- | --- |
| 25% - 30% | 200$ | N/A |
Commisions
| Rev Share | CPA | Sub Aff |
| --- | --- | --- |
| 25% - 30% | 200$ | N/A |
Summary
We Pay Affiliates is a unique affiliate program for people who are interested in promoting a diverse range of FOREX and binary options trading platforms. This affiliate program does not just limit itself and its partners to promoting just one brand (or related brands). It also isn't limited to providing solutions for affiliate partners. The program provides a great means for advertisers to increase awareness for their brands by leveraging the services of its affiliate partner's. What's also great about the program is its focus on promoting online financial platforms which are known to be high value and easy to convert. As a result, the program's affiliate partners enjoy one of the most flexible and rewarding commission structures in the industry.
Commissions at We Pay Affiliates are determined by the program or structure you choose. There are two major means for you to earn in this program: CPA Commissions and Revenue Share. For the CPA (cost per action/acquisition) commission model, affiliate partners can get up to $500 depending on the amount of money deposited by each of the players they referred. On the other hand, affiliates can get up to 50% of the monthly revenue that their promoted brand generates from affiliate referrals. Affiliate partners can then supplement their earnings through Special Promotions and Sub Affiliates. The Sub Affiliates program is particularly interesting since it gives affiliate partners a percentage of the commissions that their sub affiliates. There are a variety of payment methods supported by We Pay Affiliates. Aside from Visa and MasterCard credit/debit cards, affiliate partners can also use online payment services like CashU and WebMoney. Wire Transfer using Western Union is also a viable option for affiliates who don't have access to credit/debit cards and the online payment services mentioned.
Target Markets
No information, as yet, about We Pay Affiliates for current target markets·
Languages
No information, as yet, about We Pay Affiliates for current languages·
Available Game Types
No information, as yet, about We Pay Affiliates for current game types·
We Pay Affiliates Tools and Banners
Before you get to promote, We Pay Affiliates first analyzes your traffic and other site statistics to ensure that you are matched with the best possible brand/brands. You'll then have a wealth of promotional tools at your disposal to ensure that you're able to draw in and convert traffic. In order to ensure that you get what is due to you in terms of commissions, the program tracks down each click from these promotional tools. This affiliate program uses a proprietary Marketing affiliate platform for this complicated task. In turn, real time data generated from this platform is available for affiliate partners to use 24/7. Not only does this affiliate networking platform track your referral activity, it also discourages fraudulent referrals.
We Pay Affiliates Information
As an affiliate program, We Pay Affiliates doesn't believe in being tied down to a single brand. Being tied to a single brand will limit your (and by extension, their) profits. With their current system, you get to partner with various high-converting brands which in turn make it easier for you to get your commissions. You don't even need a website to succeed in this program. As long as you have a means to generate referrals (from mailing lists or even offline referrals) then your chances of success are sure to increase. You're bound to experience success if you do opt to become an affiliate partner of We Pay Affiliates. What are you waiting for?
Similar Affiliate Programs
Webmasters promoting brands from We Pay Affiliates
No information, as yet, about We Pay Affiliates for current webmasters·
Recent Short News Featuring We Pay Affiliates
No recent short news, as yet, about We Pay Affiliates·
Leave a comment