FocalClick Interview with Elliott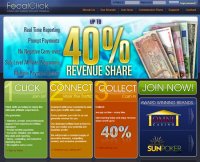 1. Tell us about FocalClick and what the company does.
While we have been sharing revenues with our partners since 1997 with our Flagship Omni Casino, FocalClick as an industry staple of trust, reliability and responsibly started trading in 2001.
Today, FocalClick enjoys a reputation built on 15 years if trust, prompt payments, and personalized support that is second to none.
For example, we are experienced enough to understand that every targeted click sent to clients represented by Focal Click has been sent through the hard efforts of Focal Clicks affiliated partners and hasn't "fallen from a tree."
Affiliates work hard and have families to support. We understand that.
So, to ensure a great partnership we are dedicated to making sure we are constantly improving every metric to make sure every click sent to any of our client's counts for more.
2. How long have you been in the online gambling industry
I started working in the online gaming industry 10 years ago.
I was backpacking at the time and ran out of cash, someone I met told me of some positions available in a company who were looking for support staff.
I applied and got the job which was online chat support for several online casinos. I then moved to more of an internal acquisition role and then moved over to working with affiliates.
During my 10 years, I have been fortunate to have travelled the globe to meet with affiliates.
What other industry can you find such a diverse group of talent, cultures and pure skill?
Looking back on attending just about every conference, to personal trips for select partners, I can say that I truly love what I do and can't imagine working in another sector.
3. For Omni casino, your celebrating your 15th year in operation, what has made Omni such a success?
Naturally, we are very proud of this achievement as being one of handful of casinos that have been in continuous successful operations as long as we have.
We clearly understand the dynamics involved in gaming and our loyal customers are confident in our fairness, honesty and corporate stability.
Our loyal members are treated with respect and care.
While we provide a safe and secure playing experience, players respect a casino when they are respected by that casino.
4. At Omni Casino, what are some of the slot games that perform the best, is it just the Marvel slots bringing in all the action?
Yes those popular of course, but games such as Everybody's Jackpot, Pink Panther, Rocky and Pharaohs Secret are member favourites as well.
Omni Casino has a member's publication which goes out every week on a Friday called the Omni Times.
The Omni Times is populated with in-depth information on the forthcoming week's promotions as well as the top games played that week and various announcements such as tournament news and accolades to Omni Casino members.
Obviously Marvel, MGM and Universal themed slots are very popular but what makes Omni Casino unique is its promotions and overall service provided by our casino manager, player development manager and support staff.
5. What can affiliates expect when working with Focal Click?
Affiliates considering registering with Focal Click can expect a transparent, hardworking partner.
Monthly commissions are approved by the 5th of each month and our terms and conditions have no hidden agendas.
Focal Click's terms and conditions will confirm the fact that each and every registered affiliate is treated with respect.
We don't have clauses regarding monthly player restrictions which could impact earnings (enforced or otherwise) a percentage of Revenue Share for the lifespan of referred players means exactly that without exception.
Furthermore, Focal Click does not operate a negative roll over.
This doesn't depend on "who you are" or your ability to direct volume traffic. Our negative roll over policy is for every partner working on a percentage of net revenue.
Join FocalClick or read our FocalClick review here.