Intertops Poker Review
Intertops Poker is an established poker room and connected to the Intertops sportsbook and casino. The brand has been online since 1996 and has been in business since 1983.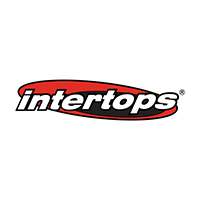 Summary
Affiliate Reviews of Intertops Poker
Pros
Accepts US players
Multi-tabling support on both poker client software and Instant Play
Established brand (more than 20 years of experience)
Generous welcome bonus for new players
Rewarding Loyalty Program
Cons
No live tournaments
Multi-tabling support is limited to a maximum of six and four tables for the dedicated poker client and Instant Play, respectively
History of Intertops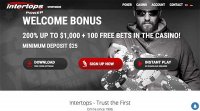 While it is perhaps best known as the brand that launched the first ever online sportsbook, Intertops also has a poker room that's quite steeped in history. The Intertops poker room was inaugurated sometime in 2004 right around the time when many other online poker rooms were just starting out. At that time, the poker room was part of the partypoker Network. When partypoker opted to drop all of its skins in 2005, the poker room then proceeded to join the Microgaming Poker Network. Unfortunately, this partnership didn't last long as Microgaming stopped accepting US players in 2008 (this was in the aftermath of the US's UIGEA in 2006). So that it could still take on US players, the poker room dropped Microgaming in favor of the Horizon Poker Network (which, at that time, was still called the Cake Poker Network).
The poker room eventually stopped serving the US market in the aftermath of the US Department of Justice's 2011 Black Friday crackdown on poker rooms like PokerStars, Full Tilt Poker, and Absolute Poker. It still serviced the European market after the event but it would take four years before the poker room started accepting US players again (February 2015).
Unlike most of its competitors at that time though, this poker room didn't fare as well. When Intertops started out, it was facing stiff competition from other poker rooms that were already established. Additionally, IGEL Services N.V., the company that operates the site, wasn't as concerned about promoting the poker room. Thanks to these factors, the poker room didn't get as much interest from hardcore poker players. With that said, it does enjoy sizable traffic from the more casual poker playing crowd.
Intertops Poker Live Tournaments
Owing to its targeting of more casual players, Intertops Poker does not sponsor (or is affiliated with) any live tournament or series. Instead, the poker room has focused all of its efforts in providing its players with a stream of online tournaments that are available on a daily and weekly basis.
Intertops Poker Online Tournaments
The most ubiquitous of Intertops Poker's online tournaments is its Sundowner series. These tournaments are held each week and make use of Texas Hold'em NL rules. New York Sundowner tournaments run from Monday to Saturday and usually start at around 8:05 PM Eastern time. There's also a Los Angeles Sundowner that also runs from Monday to Saturday with a start time of 10:55 PM Pacific time. Buy-ins for either of these tournaments are $16.50 ($15 + a $1.50 fee) with the guaranteed prize pool set for $1,000. Other than these, there are also Stockholm and Honolulu Sundowners that also run from Monday to Saturday in the United States (Tuesday to Sunday internationally). These have the same buy-in with the only difference from the NY and LA series being the start time. To round out the week, there's the larger Sunday Sundowner that has $4,500 guaranteed prize pool with a buy-in of $27.50 ($25 + a $2.50 fee).
Other than its Sundowner series, Intertops Poker also offers freeroll tournaments that players who want to improve can take advantage of. On weekdays, the poker room has daily workhorse tournaments with $25 in guaranteed prize pools. On Saturdays and Sundays, players can play in weekend warrior tournaments that feature doubled guaranteed prize pools of $50. If they're new to the site and have made at least one $25 deposit, players will also get to join a depositor freeroll tournament with a guaranteed prize worth a whopping $1,000. Unlike the other tournaments mentioned earlier, however, this one only happens once a month.
Sponsored Poker Pros
Much like other poker rooms that target the more casual crowd, Intertops Poker has largely stayed away from sponsoring poker professionals. Of course, this is understandable considering the poker room also doesn't sponsor or affiliate itself with live tournaments.
Intertops Poker Welcome Bonus
Intertops Poker arguably has one of the most generous welcome bonus offers among poker rooms operating today. Players can get a 200% match bonus that up to $1,000 when using the 1000ITP bonus code on their initial deposits. In order to be eligible, players will only need to make sure that they deposit at least $25. Of course, like offers from other poker rooms, this bonus is not given right away. Instead, players can claim it in increments of $5 once they fulfill the bonus' wagering requirements. As of this writing, players will only need to accumulate 83.355 Frequent Player Points (FPPs) in order for the poker room to credit a $5 increment to their (the players') accounts. As for acquiring FPPs, the poker room awards 1 FPP for every $1 in rake a player generates.
Play Intertops Poker on your Devices
Players should have no problems when it comes to accessing Intertops Poker. The poker room has a dedicated software client that players can download on their Windows computers. In case they're not too keen on using the poker client (or if they're on a Mac and/or Linux), players can opt to just access the poker room on their browsers instead (Instant Play). Other than these, it's also possible for players to access the poker room using their mobile devices. It should be noted though that as with other Horizon Poker Network skins, players will be limited to accessing the poker room through their mobile devices' browsers (as opposed to a dedicated app). What makes the poker room interesting though is that multi-tabling is possible even on Instant Play. In terms of multi-tabling, the only difference between Instant Play and the poker client is the latter supports simultaneous play on six tables while the former tops out at four.
Licensing
As an e-Gaming site, Intertops has a license to operate issued and regulated by the Government of Curacao. Now usually, this wouldn't be enough to allow an online casino or poker room to accept US players. Since it's part of the Horizon Poker Network though, the poker room is able to service players in the US (that is if they reside outside of Louisiana, Maryland, New Jersey, Missouri, Washington and Kentucky).
Intertops Ownership
Intertops officially started out as a sportsbook founded in the UK by Detlef Train in 1983. Initially, the company was supposed to target the German market but with the government monopolizing sports betting, Train instead made the move to the UK. There, he managed to get a British bookmaker's license to set up a phone-in betting shop that also targeted the German market. While its market in the UK was relatively small, the company's German operations continued to grow and even attracted punters/bettors in Scandinavian countries.
By the time the 1990s came along though, Intertops found itself moving again. This time, Train targeted Austria as the company's next base of operations. The reason for the move had to do with the UK government being forced to restrict operators who held their bookmaker's licenses from operating outside of the UK. During this time, Train withdrew from the spotlight and had employee Simon Noble promoted to CEO. Under Noble's guidance, the company expanded its operations in 1996 with its first website: Intertops.com. Just after the site went live, it then became the first sportsbook to take a bet online and ushered a new age of sports betting and casino gaming.
The increasing popularity of poker in the early 2000s prompted Intertops to start its own poker room in 2004. As mentioned earlier, initially its poker room was just a partypoker Network skin. This lasted for about a year until partypoker decided to consolidate its skins. Left without a home, the site moved on to the Microgaming Network in 2006. Unfortunately, the partnership with Microgaming didn't last long and the poker room eventually settled on the Cake Poker Network (now the Horizon Poker Network) instead.
Frequently Asked Questions
Question: Does Intertops allow US players?
Answer: Yes, Intertops accepts players from the United States thanks to it being part of the Horizon Poker Network. However, not all players from that country can enjoy what the poker room has to offer. As of this writing, the poker room does not accept players who are residing in the states of Louisiana, Maryland, New Jersey, Missouri, Washington and Kentucky.
Question: Does the software allow for playing at multiple tables at once?
Answer: Yes, Intertops and the Horizon Poker Network feature support for multi-tabling. When using the poker client, players should have no problems opening up to six tables at once. Players accessing the poker room through Instant Play will have to make do with only four tables at most. While the poker room does not have a dedicated mobile app, it's still readily accessible on any mobile browser (regardless if it's on iOS or Android). And unlike with most of its competitors, the mobile browser version of the poker room still supports multi-tabling.
Question: Is there a VIP & Loyalty rewards program for frequent players?
Answer: Players who want to get more value for their money will appreciate Intertops Poker's Loyalty Program. Each level in this program has tiers that players need to complete in order to progress to a higher level. By completing tiers, players will also get to enjoy a number of rewards. In order to complete these tiers, the program will require players to first accumulate Frequent Player Points (FPPs). Regular cash games will have to generate $1 in rake to be credited with 1 FPP. However, this rate increases to 7 FPP for every $1 in rake generated by tournament fees. Additionally, players can earn FPPs by wagering on casino games found in the dedicated poker client. It should be noted, however, that the rates for getting FPPs through this method are much lower.
Aside from helping players move up in their Loyalty Levels, FPPs can also be used to enter tournaments on the site. Once they've managed to accumulate at least 100 FPPs, players can have these exchanged for Gold Chips. These can then be used to enter free tournaments as well as Gold Chip Sit and Go tourneys and to claim no-deposit bonuses.
Complementing the Loyalty Program is the poker room's generous rakeback deal for its players. Through this deal, the poker room will give back to players an amount equivalent to 36% of their rake on a daily basis. Rakebacks are paid out in increments of $10. Once their accumulated rakebacks reach this threshold, the poker room will then process the payout to the players' respective accounts.
Question: What are the wagering requirements of the signup bonus?
Answer: Similar to other poker rooms, Intertops Poker's signup bonus has a relatively easy to complete wagering requirement. Unlike online casino bonuses, the poker room's signup bonus is not given automatically to a player. Instead, the bonus will be credited to the players' accounts in increments of $5. Before the poker room credits these though, players will first need to accumulate 83.335 FPPs. As mentioned earlier, a player acquires 1 FPP every time he/she generates $1 in rake in a cash game (or 7 FPPs for $1 rake in tournament fees). Players are given three months to clear the entire bonus amount.
Question: Can I wager my welcome bonus on casino games or on the sportsbook?
Answer: While they may be under the same brand, Intertops' poker room is different from its online casino and sportsbook sections. As such, players won't be able to use the welcome bonus they got from the poker room on any games in the online casino or bets in the sportsbook. Additionally, it's also not possible for players to use bonuses that they manage to acquire through the online casino or sportsbook in the poker room.
Leave a comment