Online gambling or i-gaming is one of if not the most competitive markets for search engine optimization (SEO). Ranking your casino, sportsbook affiliate or operator website at the top of the search results for high-value keywords (online casino, live casinos, online gambling, sports betting) is extremely difficult. This guide is created to assist operators & affiliates in understanding the online gambling SEO market and improving their brand's search engine visibility in an extremely competitive environment. There are over 200 ranking factors Google takes into account when determining to rank a website, we have chosen to overview the high-level critical factors in this guide.
How difficult is the Online Gambling SEO market?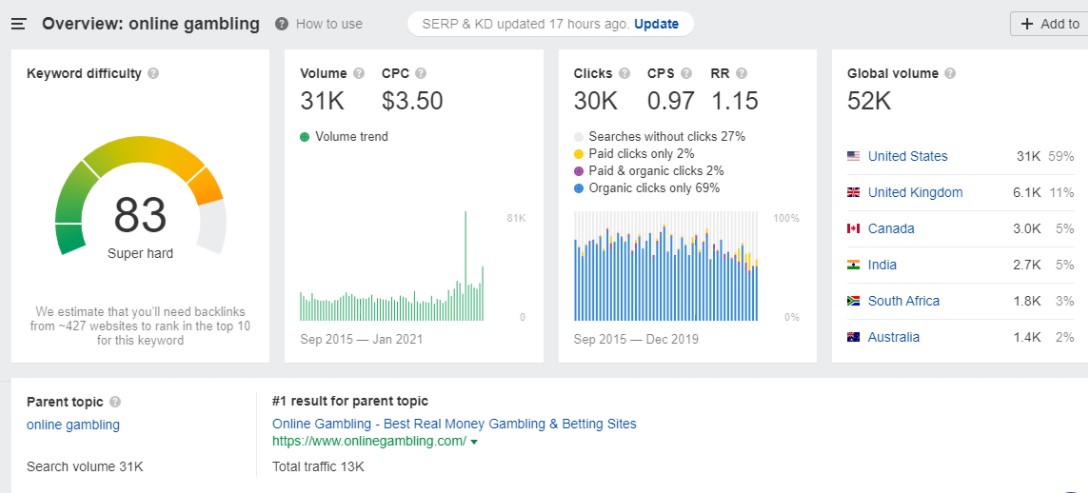 Above is a screen capture showing the Ahrefs SEO tool. This image illustrates how competitive the online gambling SEO market is. The image indicates the keyword difficulty (how hard to rank #1 in the search results) is 'super hard' to rank for the search term 'online gambling' in Google. 52 thousand global users are searching for this term in Google every month and depending on how well optimized your brand's website is, ranking at the top of the search results could bring in massive profits. As shown, you could attain approximately 20k clicks by ranking #1 in the search results. If your affiliate or operator website can convert the user traffic to register for one of the brands at 20% that's 400 new depositing players per month! How do you attain the top position in the search results for 'online gambling? There are many factors onsite (on your website) and offsite (not on your website) that play a role in the Google algorithm crawling your website and selecting it to appear at the top of the search results. This guide will unpack some of the onsite and offsite factors that determine your search ranking position in Google.
ONSITE SEO
Onsite SEO is a procedure to make your website more search engine friendly. This means adjusting certain components on your website so search engines can crawl and understand the content and structure of your website. This includes optimizing the website keyword research, meta titles, content, URL structure, internal links (silo).
Let's unpack onsite factors a bit more and how it relates to the i-gambling markets.
KEYWORD RESEARCH
When creating an SEO roadmap keyword research is critical to your brand's success. This is especially important in the i-gambling industry as it is hyper-competitive and understanding your user's search intent is important to success. What do we mean by search intent? Search intent is understanding your potential customers and the search terms they use when looking to find a new online casino or sportsbook to register and deposit at. We can separate a user's search intent into two categories; high-value keywords and low-value keywords. For example, searching 'gambling' is a low value as this term is broad and they could be researching or looking to play free online. However, if the user searches 'online gambling' this has higher user intent since the user is looking to gamble online. Moreover, ranking your brand for more precise user intent with long-tail keywords is important for your keyword research road map. For example; 'deposit online gambling website' is an extremely high-value phrase and will convert at a very high rate since the user is searching to 'deposit' at an online gambling website. Though this search term is low volume (number of searches per month) the conversion will be high-value as there is high user intent. This is why ranking your i-gambling brand for a large amount of less competitive long-tail search terms is beneficial rather than going after the broad high volume searches which are very competitive.
How to find low-hanging fruit search Keywords?
Finding the low-hanging fruit keywords is the root of your SEO road map. Diversifying your target keywords will provide results as opposed to solely targeting the top volume search terms.

SEO tools like Ahrefs are handy to discover new high-value low-hanging fruit keywords. The screen capture above displays the 'phrase match' tool in Ahrefs, which details the related phrases attached to the search term 'online gambling.' As we can see the term 'legal' is attached this gives the phrase high value as if you are a licensed operator or affiliate promoting legit brands. This search term provides user trust and you will deliver on the search intent leading to higher conversions. Also, the term 'real money' attached to online gambling has very high user intent as a player is looking to deposit real money at an online gambling entity as opposed to looking for a free play site. With this type of search term, there is a very high probability of the user making a deposit at your brand or being referred to a brand you promote as an affiliate.
Having strong keyword research is critical to any online gambling brand to improve their search visibility and will provide the foundation to your onsite SEO roadmap.
META TITLES
Now that you have done your keyword research it's time to implement them into your website. Meta titles are top-level indicators to Google of what your page is about and the keywords you intend to target. Each pages' meta title should be carefully crafted from your keyword research data. For example, if you are targeting online gambling you should populate your homepage meta title with these keywords along with a phrase that is relevant (as illustrated in the keyword research section above). Furthermore, the meta description should include the keywords along with additional phrases to ensure you are indicating to Google what the page is about and what you want the page to rank for in the search results. Populating your meta titles with high-value keywords and phrases will assist in attaining return on investment (ROI) in your SEO efforts.
HEADINGS AND CONTENT
Your headings and content should elaborate on your meta titles and give Google a reason to rank your i-gambling content high in the search results. This means you should populate your headings and content with further explanation of your meta titles and use phrase matches of target keywords in your headings and page copy. This will assist in attaining higher user dwell time as the content matches what the user searched in Google and in turn, will increase your search visibility.
URL STRUCTURE
URL structure is another layer of importance to onsite optimization. Adding target keywords into URLs provides the Google algorithm with an additional indication of what you want to rank for in search results. For example, having mywebsite.com/online-gambling as a URL tells Google what this page is about as soon as it crawls the domain and having the same target keywords throughout the meta titles, copy and headings will give further optimization and award a higher rank.
INTERNAL LINKS
The final on-site SEO services optimization strategy we are going to look at is internal link building. Not to be confused with offsite link building, which we will get into shortly. Internal linking or silo linking is the method of creating an internal page hierarchy on your website and indicating to the Google bot what are the 'money pages' (non-blog or high intent pages) as it crawls your website. Setting up proper silo linking is especially important in highly competitive niches like i-gambling so Google recognizes which are your money pages and ranks them accordingly. Once your silo link structure is built properly it is important to submit your sitemap to Google WebmasterTools. It is important to submit your site to Webmaster Tools so that you can categorize and help understand your image, news and video content.
OFFSITE SEO
Offsite SEO includes the actions you take outside of your site, besides advertising that make your business easier to find by search engines. This includes backlinks and citations.
LINK BUILDING (BACKLINKS)
Link building is one of the most important factors when ranking an online gambling entity in the Google search results. Having quality links or votes of confidence in Google's eyes is critical to the success of your operator or affiliate brand. top-ranking.
How important are links to your ranking?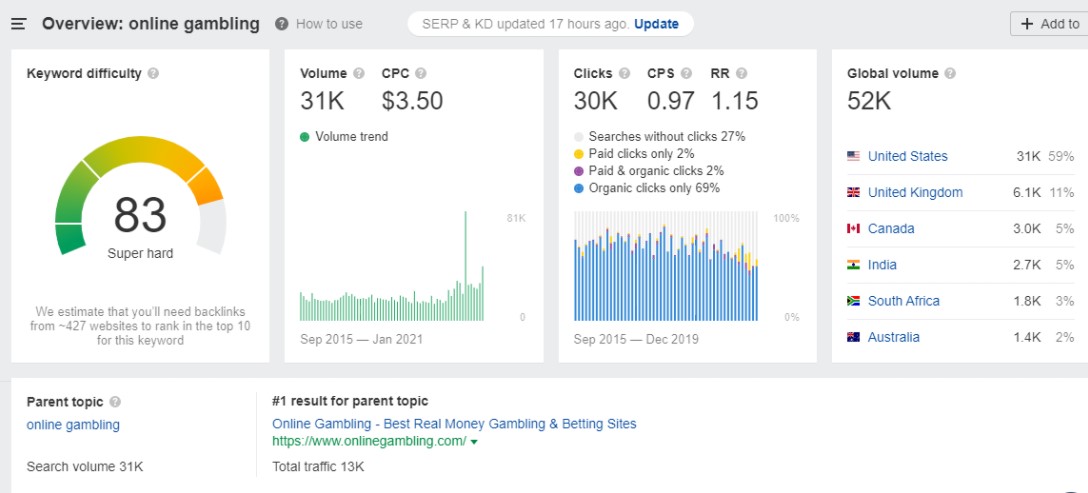 Above shows the keyword overview for 'online gambling; underneath the keyword difficulty section it reads "We estimate you'll need backlinks from 427 websites to rank in the top 10 for this keyword." This means you'll need 427 votes of confidence from other high authority websites to appear in the top 10 of the search results.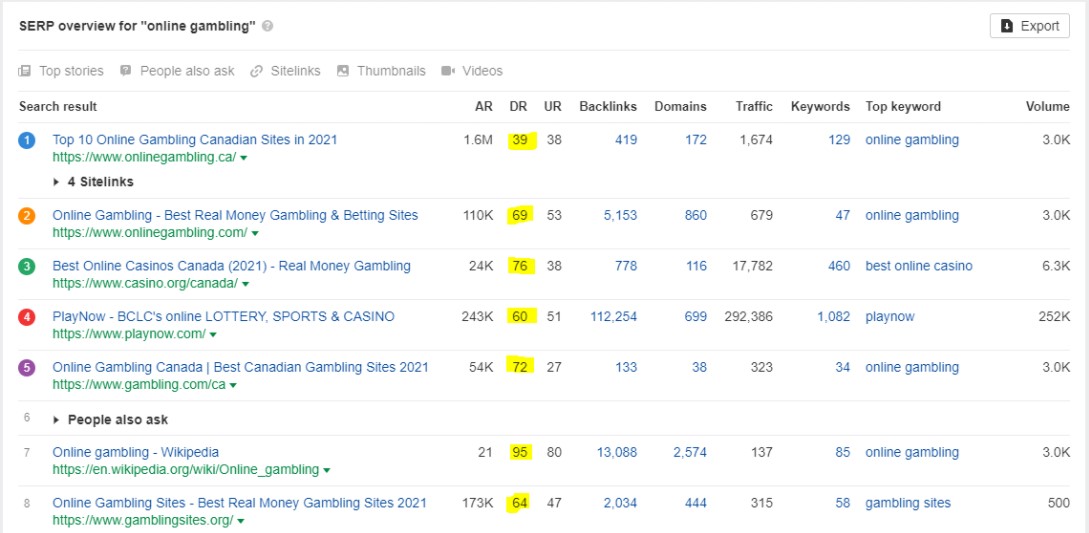 The screen capture above shows the search engine results page(SERP) overview for the search term for 'online gambling'. Listed are the top websites that rank in Canada in the Google search results. Ahrefs SEO software gives each domain a DR score (DR shows the strength of a target website's backlink profile compared to the others in the database on a 100-point scale) and UR score (UR shows the strength of a target page's link profile on a 100-point scale). Highlighted is the DR for the top-ranking domains. To rank at the top of the search results your operator or affiliate website you must have a DR score of 64+. How do you increase your DR score? By building quality links to your website that Google deems trustworthy. The screen capture above uses the Canadian Google and we can see many of the site's ranking are hyper-localized nationally with .ca and 'Canada' or 'Canadian' in their meta titles. This tells us that you must create a national SEO strategy for all of your link-building efforts.
CITATIONS
A local citation is any mention of your business or website on the internet. Citations are normally used to rank a local business but can also assist with ranking an online gambling operator or affiliate website. As mentioned in the link building section most i-gambling websites are targeting Nationally when creating their SEO roadmap. Citations are a great way to attain quality national links to your website.
CONCLUSION
As mentioned previously Google has over 200 ranking factors when determining to rank a website so this article barely scratches the surface of beneficial SEO tactics, but over the years we have found these the most critical elements of your SEO strategy roadmap. To create a successful strategy we think that implementing these basic SEO strategies will give your online gambling website a better chance of ranking in the search results.
ABOUT THE AUTHOR
Kris Harrioson
Managing Director: JumpSearch.ca
A veteran search engine marketing professional with a diverse business background, who has owned and operated online media entities in North America, Europe, and Asia. Kris Harrison is an outstanding strategic thinker with the unique ability to develop, manage, brand and restructure organizations; from start-ups to mature businesses.