Casinomeister relaunches forum with Xenforo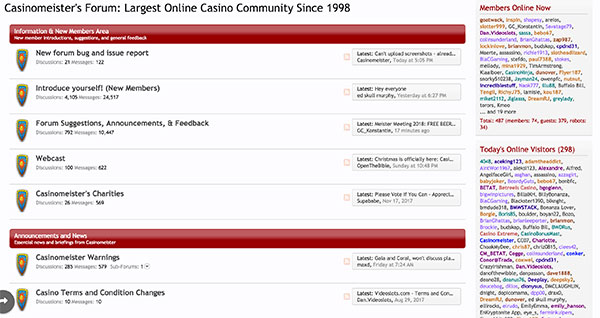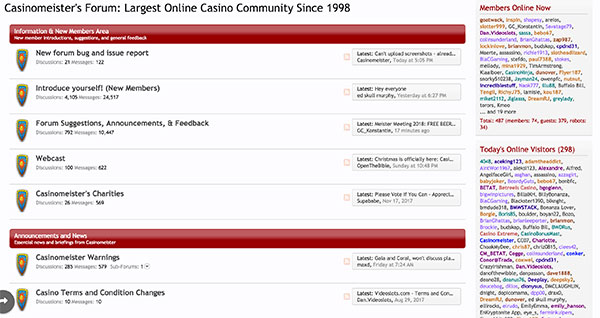 CASINOMEISTER'S PRESS RELEASE:
16 January 2018
For immediate release
Casinomeister's Forum Relaunched
Casinomeister, the advocate of fair play and the true online casino authority, was extremely busy during the holiday season. While most everyone was boozing it up, Casinomeister was relaunching its forum. Casinomeister's forum is the largest and most active online casino player community. The "new and improved" forum is a major step into the 21st century for Casinomeister.
The new forum uses Xenforo forum software where the previous version of Casinomeister forums used vBulletin. vBulletin was once considered the leader in forum software but new forum softwares like Xenforo are getting many webmasters to switch with speed being one of the main influences.
Major improvements include the following:
The forum works at lightning speed now. After the relaunch, this was the first thing that startled most members ; in a good way – it is amazing new software; responsive and loads quickly.

· 100% Mobile Friendly. No longer will your eyeballs begin to bleed when browsing the forum with your phone or handheld device. All aspects of the forum are accessible via your smartphone to include our winner screenshots, contacting your friends, sending messages to casino representatives – everything.

· Enhanced Search Feature for winner screenshots. You can now search for winner screenshots that have been uploaded by your friends or people you follow. Just check their member profile and look for their attachments.

· New Ticketing System for PABS: We now have a proper tracking system that will send you notifications on the status of your casino complaint. This revolutionizes the way in which we deal with complaints.

· Spam fighting functions: Spamming dweebs who spam our forum are automatically added to a global database that fights forum spam. So bring it on spammers – spam our forum and get shut down.

· An enhanced Private Message tool: PMs are now called "conversations" where members can invite others to converse with – privately. This is especially helpful when one is conversing with a casino rep and would like to bring another person into the conversation. These conversations are just as robust as the threads in the forum (adding screenshots, etc.).

· Many more new and innovative functions are on the horizon: there are more bells and whistles that will be introduced over the next several weeks – we are totally excited about this.

So if you haven't done so already, come join us! Casinomeister's forum is the oldest (nearly 20 years) and most popular online casino forum in existence. The forum consists of over 30,000 active members, 200
active casino reps, and nearing 1 million posts and over 40,000 winner screenshots. Membership perks include being invited to the annual Meister Meeting in February held at an Irish pub in London where there is free beer, food, and Irish musicians. Join us now and you're invited.
Bryan Bailey, the director and operator of Casinomeister says: "The new forum has rejuvenated the lifeblood of our site. It is simply awesome. We have been holding back on adding new functions to our forum since we have known about this pending software change. Now it's full speed ahead ­ I am really stoked about this relaunch."
About Casinomeister: Casinomeister.com is an advocate of fair play, covering all aspects of the online gaming industry that affects players, webmasters, and operators. It is one of the oldest online casino information sites reporting on casino related issues since 1998. Casinomeister.com is a certified arbitrator, and has one of the largest gaming communities online.
For further information, please contact:
Bryan Bailey

Webmeister
Casinomeister
casinomeister.com
[email protected]
+49 6021 4488086