CompareCasino launched by Acroud AB, new comparison website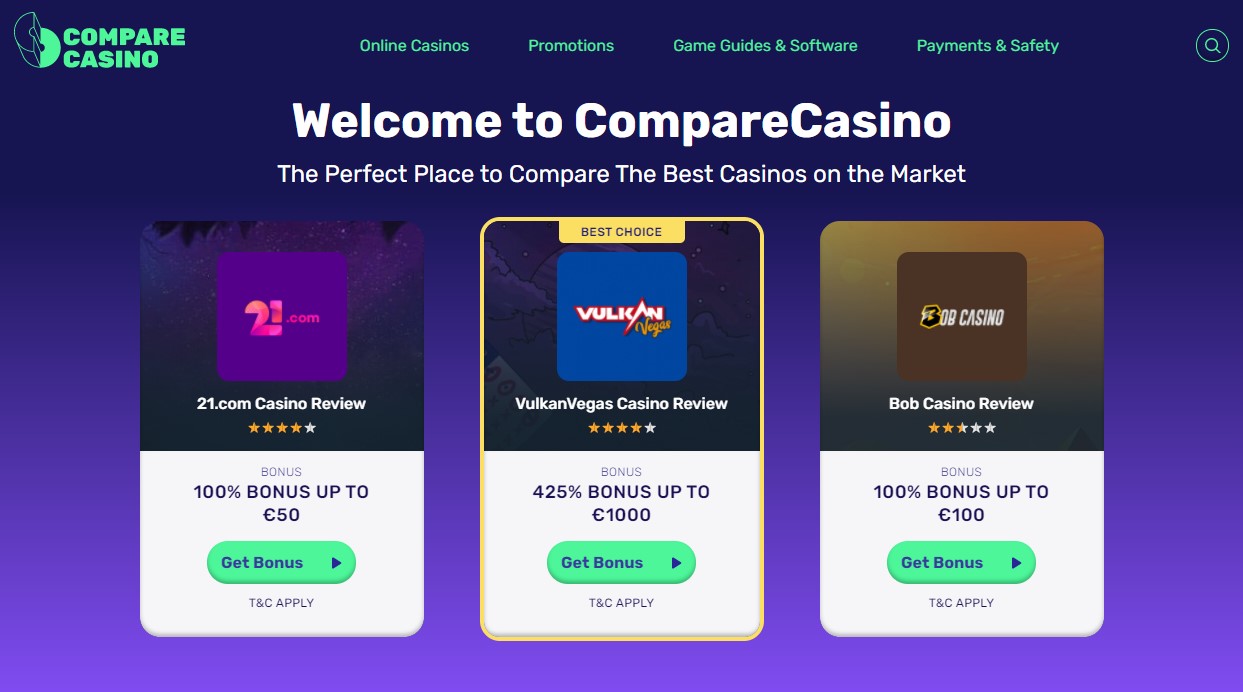 CompareCasino becomes Acroud AB latest brand that is especially designed for the US market to be part of their strategic initiative to grow organically.
CompareCasino will include a number of exclusive features that Acroud said will offer a unique user experience.
These features include Jackpot Tracker, where users can see the status of jackpot games in real-time, as well as a new Bonus Calculator.
In addition, users will have access to detailed analysis of online casinos and casino games, as well as gambling guides and industry news articles.
CompareCasino has also implemented a new set of criteria for reviews. Players can expect a detailed analysis of online casinos and casino games as well as extensive gambling guides and industry news articles.
Robert Andersson, CEO of Compare Casino, commented:
"In such dynamic market as the US we felt the need to create a product that always has the user at heart."
"Most review websites follow "the same old patterns" and it was time for us to step out of the box and create something different. As casino players ourselves, we knew right away what must be done, and we will continue to expand our ideas even more to be aligned to end-users' needs. Soon we aim to launch another Brand focused on the US Sports Betting market''
ACROUD owns, operates and develops high-quality comparison sites, mainly in iGaming affiliation, for the purpose of helping their partners by channelling high-quality users to the Company's customers – primarily iGaming operators. Through the sites, ACROUD generates high-quality users, primarily to global iGaming operators. The Company, which was founded in 2003, has just over 70 employees and is headquartered in Malta.
The news of the release of this platform came out right after it was known that Acroud signed a letter of intent (LOI) this week to purchase the iGaming assets of online marketing solutions provider PMG Group for €5.5 million (£4.9 million/$6.5 million).
Acroud will acquire the Matching Visions iGaming affiliate network, as well as B2B software supplier Voonix and affiliate marketing expert Traffic Grid, as part of the deal.
Acroud also agreed to buy an unidentified US tipster company for an initial investment of €2.2 million last week, while the company also agreed to buy a sports betting lead generating company last month.
Acroud said last week that revenue in the third quarter decreased 31% year-on-year to €2.4 million, owing to lower poker and casino traffic as well as a 57% drop in new depositing clients.
In addition to all of these deals and goals that Acroud has, this affiliate marketing specialist completed another acquisition in Sweden.
It is the acquisition of Swedishsantas AB, which owns Swedish-facing tipster brand TheGamblingCabin.
Acroud will pay roughly SEK47.3 million (£4.1 million/€4.7 million/$5.6 million) for 100% of TheGamblingCabin's shares, split evenly between SEK23.6 million in cash and SEK23.6 million in newly issued Acroud shares.
A potential extra payment based on profits before interest, taxes, depreciation, and amortization (EBITDA) for the period 1 of April 22 to 31 March 2023 is also included in the transaction.
TheGamblingCabin is a software-based tipping business that also provides video material related to sports betting, poker and horse racing.
TheGamblingCabin will improve Acroud's software-as-a-service (SaaS) offering, as well as add YouTube and Twitch to its larger offering, according to Acroud.
"This is the next step in the implementation of Acroud's strategy to be the 'Media House of the Future' and a fast growing global player within streaming and software solutions for the media affiliation industry," Acroud president and chief executive Robert Andersson said.
TheGamblingCabin chief executive Bengt Sonnert added: "To become a part of Acroud was actually nothing that we even thought about initially, but the more we understood what Acroud is building it felt as an easy choice".
He then went on to express: "They share our visions and provide us with new and greater possibilities to bring our business to the next level."
After having claimed its intentions and long-term goals, Acroud certainly makes the world know that it is a growing company and is looking to make a greater name for itself in the iGaming Industry.
Acroud also pointed out its many losses over the course of the last few years. Surely, the high number of acquisitions represents an act of displaying the intention of overcoming the bad times quickly.
Acroud has just bought PMG Group's iGaming assets, making this the affiliate company's newest acquisition. Acroud has also bought an unidentified sports betting company that it claims is well-positioned in growing regions including Latin America, Africa, and Asia.
The players worldwide are more than happy to know about the many deals that Acroud has made as well.
Many of them have expressed their excitement over the fact that such a responsible and reputable iGaming company is acquiring new platforms and adding new features for all of them. Acroud is set to become a strong brand within the iGaming industry in the following years.
The acquisition of several brands and platforms within the United States has added an incredible value to Acroud's purposes and objectives as well.
The United States territory is a difficult market to reach, and Acroud is firm and confident that they are able to handle it and be part of it for a long time.