Foursquare has announced a new feature that allows users to skin their account to customize the look and feel. The new feature is called Fourskin and gives you full control of how your Foursquare looks and feels.
Foursquare
 is a popular app for checking into places, sharing it with your friends and helping you find things near you. A better explanation of what Foursquare does comes from their about page: "
Foursquare is a free app that helps you and your friends make the most of where you are. When you're out and about, use Foursquare to share and save the places you visit. And, when you're looking for inspiration for what to do next, we'll give you personalized recommendations and deals based on where you, your friends, and people with your tastes have been
".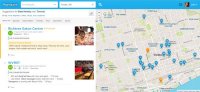 For years Foursquare has had the same look and feel and finally users get to make it their own and more personal and a lot more fun. Fourskin is now available in Beta form and is available by special invitation only from someone who has fourskin or by following the guidelines outlined by
NORM.org
. An easy way to get an invitation is by posting on twitter using the hashtag
#iwantfourskin
. If you know someone who has fourskin they can invite you to get fourskin. Unfortunately
Fourskin is not available to users in Israel
. If you have fourskin and want to brag about it, you can go on twitter and tweet about it using the hashtag
#ilovefourskin
.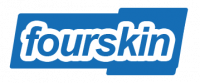 We asked some a few lucky Beta testers what they felt of the new Fourskin features. One lucky tester, Tom Scrotum commented:
"I couldn't imagine life anymore without fourskin, I play with it all the time and I'm always on my phone. I let my wife play with it and she LOVES fourskin. I can't wait to show it to everybody at work!"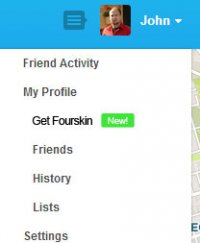 Once you get your invitation you should see the new feature available in your settings and all you have to do is click on the link to activate it.
Special Fourskin feature: Docking!
If customizing the look of your Foursquare wasn't cool enough, the company took things to a whole new level and created Docking where 2 users can check-in at a location at the exact same time! In order to perform Docking, at least one user must have Fourskin. When you perform Docking your status on Foursquare will show this so all your friends and followers will know you have been docking and if you want to brag about it you can on Twitter using the hashtag
#docking
. Now you can go docking with your family and friends at your favourite bars, restaurants and cafes or really any place you can check-in. Of course docking is just one of the many practical uses of fourskin. We tried to reach out to Fred Phelps to get his opinion on the new Docking feature but our media requests have been ignored. He is someone who probably wouldn't approve of the Docking features but we later learned from
Russian news that Fred Phelps passed away
. I can't share what my fourskin actually looks like for privacy reasons, unless you are on
Snapchat
but if you want an invite leave a comment or make a post on Twitter with any of the hashtags mentioned and keep an eye out for a special invitation.