Guide to Bitcoin Casino Affiliate Programs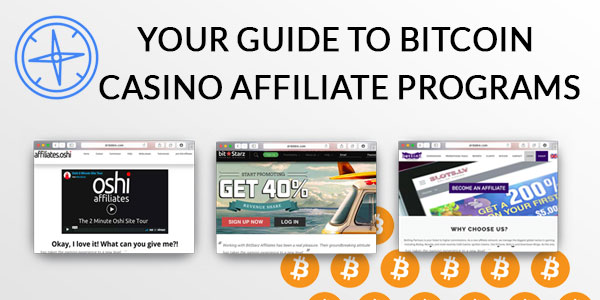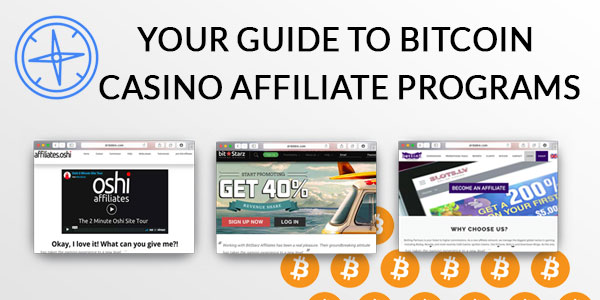 With more people showing interest in using bitcoins for online payments, it's not surprising for there to be an influx of Bitcoin casinos and Bitcoin casino affiliate programs.
This is good news for players who use the crypto-currency.
A lot of these Bitcoin casinos function like your regular online casino and would require the player to only have a Bitcoin wallet. And thanks to the widespread adoption of the crypto-currency among players now, affiliates should definitely start looking at joining a Bitcoin casino affiliate program.
With that said, how should they go about choosing the appropriate programs that would provide them with the best income streams?
If you want to know where to learn more about Bitcoin, blockchain and cryptocurrencies, visit wallet21.com which is a site and private membership that helps people navigate their way into this new industry.
The Bitcoin Casino Affiliate Programs you ought to check out
To help give affiliates an idea of what to look for in a Bitcoin casino affiliate program, here are a couple of great examples
Oshi Affiliates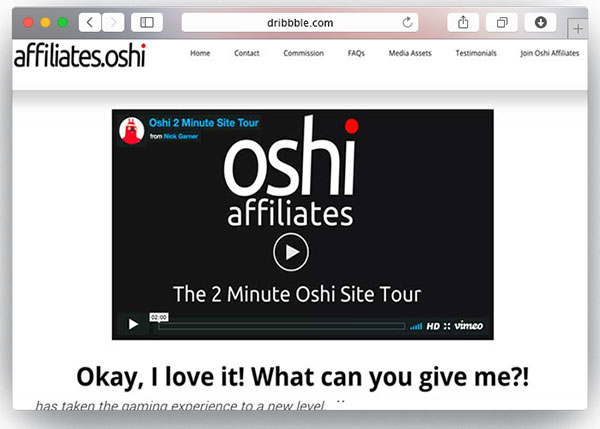 The Oshi Affiliates program is notable for its commission bundles.
By joining this Bitcoin casino affiliate program, affiliates will get to promote the Oshi brand.
This Bitcoin casino is fairly new and has a license to operate issued by the Government of Curacao (through its casino provider SoftSwiss).
What sets this Bitcoin casino affiliate program apart is the fact that it has three revenue share commission models that affiliates can choose from.
The first of these revenue share commissions structure is called Oshi Classic and is pretty straightforward.
It has 5 tiers that give affiliates revenue shares starting from 25% to as much as 45% depending on the net revenue the online casino is able to generate from their (the affiliates') referrals.
Oshi++ is a step up from Oshi Classic and has only three tiers/levels. Targeted mainly for those who can provide consistent traffic, this commission model pays affiliates anywhere from 25% to 55% revenue share depending on the net revenue their referrals are able to generate for the online casino.
Finally, there's also the Oshi Insurance Model that has 6 levels/tiers. What sets this apart though is that it allows affiliates to earn up to 45% Revenue Share Commissions on net revenue that's at least 2 BTC (with the Rescue Band feature.
BitStarz Affiliates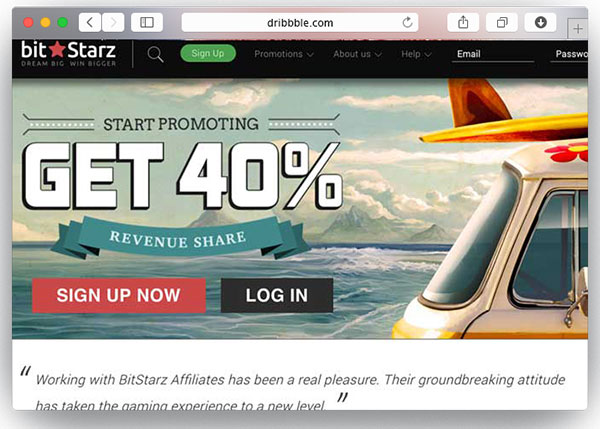 Like the Oshi Affiliates program, BitStarz Affiliates is relatively new. With that said, it's by no means a pushover when compared to other Bitcoin casino affiliate programs.
By joining the program, affiliates will get to promote the Curacao licensed and regulated BitStarz brand. Known as the first to allow players to use both EUR and BTC for wagers, this Bitcoin casino has over 600 games, outstanding customer support, and fast cashouts.
While its commissions aren't as generous as that of Oshi Affiliates, affiliates will still like what BitStarz Affiliates has to offer.
If they're able to successfully promote the BitStarz brand, affiliates are looking at revenue share commissions that can go as high as 40% per month. More importantly, affiliates have the chance to double their potential earnings thanks to the fact that they can promote the brand to both real money and Bitcoin players.
It also helps that the brand is targeted at players residing in the UK and Sweden, ensuring affiliates of favorable conversion and retention rates.
Betting Partners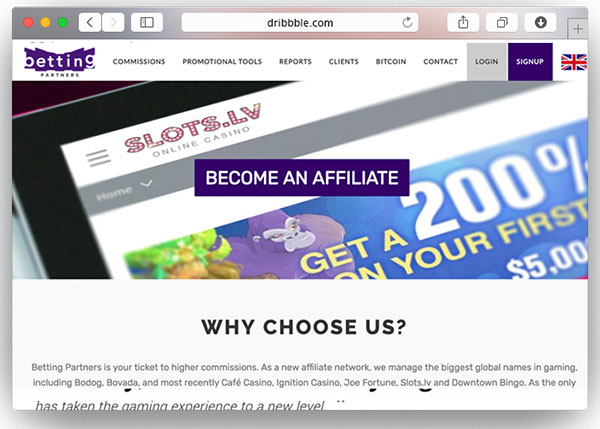 Though it's the last Bitcoin casino affiliate program on this list, Betting Partners is definitely not the least especially when it comes to the number of quality brands it has for affiliates to promote.
As part of the program, affiliates will be able to officially promote (and profit from the promotion of) brands such as Bovada/Bodog, Cafe Casino, Ignition Casino, Joe Fortune, Slots.lv, and Downtown Bingo.
These online casino brands initially started as traditional online casinos but have since adopted Bitcoin as one of their payment methods.
Similar to BitStarz Affiliates, affiliates have the freedom to promote Betting Partners' featured brands to both Bitcoin and real money players.
For their efforts, the Bitcoin casino affiliate program offers its affiliates with commissions that can go as high as 45% of the revenue generated by each of the promoted brands (from the affilitates' referrals). What the program has going for it though is the fact that its brands are relatively well-known.
Additionally, since these brands target players from North America, affiliates can also expect higher conversion and retention rates.
The Best Bitcoin Casino Affiliate Program?
In the event that you want an affiliate program that already has established brands, Betting Partners can be your best bet. Want a casino affiliate program with flexible commissions? Oshi Affiliates and its three commission models has you covered.
For affiliates who want to promote a new and exciting brand, BitStarz Affiliates might be a great place to start.
Whether affiliates choose one or all of these Bitcoin casino affiliate programs, they can be sure of one thing: the time and effort they spend in promoting these brands will result in them getting rewarded substantially.