Sami Kurvinen is the affiliate manager for iGamefriends which is the poker affiliate program for 24hPoker.
Why should an affiliate choose to promote iGameFriends.com and your many brands including 24hPoker.com and 24hCasino.com?
From a player point of view, promoting 24hPoker/24hCasino.com is very easy especially because of our huge promotions that we offer to our players exclusively every month and that are very popular.
For poker we offer the largest rakeraces on the network month after month but we also reach out to the casual low and midstakes players and want to offer them a huge piece of the promotions as well.
We are also focusing more and more on offering interesting and attractive monthly promotions to our casino.
From a affiliate point of view, you will get the absolute best support from our top class affiliate team guaranteed.
Something that affiliates appreciate is fast and correct service and as much availability at all times as possible.
This is something that you will get from us and you will also receive my personal phone number so that you always can reach us if something urgent comes up and for some reason don't find us online at that specific moment.
Why do you think Scandinavians like poker or are better at poker than other parts of Europe?
One reason is the less good weather (shorter summer) comparing to the rest of the Europe and combined with the fact that basically everyone has a computer and internet available at home.
Another main reason is that poker has now been popular in Scandinavia for many years and people have manage to gather a lot of experience and shared their knowledge with friends and on different Scandinavian forums where people learn how to play poker.
However, poker is today popular in most European countries and you can today see many talented players coming from all over Europe and this is just the beginning in my opinion.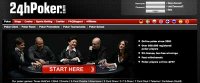 Tell us about some of the player tournaments you run and how well these perform for your affiliates.
We are one of the main sponsors of the EMOP (European Masters Of Poker) live tourneys and we are the operator that sends the most players to these events taking place all over Europe.
We also offer our qualified players a huge VIP party and VIP treatment on each event.
Our satellites are highly appreciated and many of our affiliates players try these out as they are very popular.
What percentage of your poker players try out the casino or sportsbetting on your sites?
This is something that is of course very important and that we also focus on.
With our improving monthly promotions towards casino and sportsbetting we will see a even better cross sale of our different products in the future.
Join iGamefriends
iGamefriends Review