When it comes to website design, wireframes are essential for helping the graphic designer do the job start to finish without wasting time, money and resources.
Many website ideas usually start first with a pen and paper then they go straight to a designer.
Many website designers are not well versed at things like Search Engine Optimization, online marketing, conversion rate optimization (CRO) and in general don't know much about what your website is supposed to do and care more about getting paid.
By creating a wireframe for your website you are ensuring that you are creating the correct layout of your website as well as mapping out all of the pages.
Creating wireframes at the start helps you address problems of trying to decide what content goes where and creating focus for your pages.
Last but not least, when you make the wireframes and hand them over to a designer, there is less chance for error and you can both avoid situations where they design something and you aren't happy with it and want changes. Changes usually mean more money.
Presenting Moqups.com wireframing software
There are plenty of wireframe softwares available.
Having previously reviewed Pencil Project back in 2011, this is still a great free tool to use but in 2013 with more wireframing companies available, my preferred program to work with is Moqups.com.
What I like about this program over the Pencil Project is you can use it with any computer on the browser as it is software as a service (saas).
The first few projects are free and you can pay to create multiple projects.
This program is a bit more accurate in terms of creating more precise wireframes and it is easier to make duplicates of items.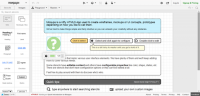 With wireframes you can use it for many practical purposes for planning your websites and if you need to create any custom backends then it will make your life easier as well as your programmer's to give them your instructions plus a wireframe of how things should work.
Next time you need to create a new website, start first with pen and paper to make notes and sketches, then before moving on to photoshop or getting a designer to do the work, take a bit of time preparing wireframes and make sure you have your layout done right.