New App for AWeber : KickstartMonday

Welcome to the first edition of our Gaffg KickstartMonday series where where we help to start your week off on the right foot. In this edition of KickstartMonday we feature the following:
AWeber app for iPhone & Android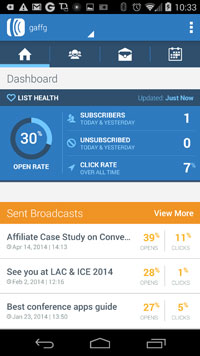 For those that use Aweber for their email marketing, the company has launched an app that is available in the Android Play market as well as the App store for iPhones, or rather iOS. Staying on top of your Google Analtyics is important and knowing your emails stats is equally as important as you really should be paying attention to your open and click rates as well as some other data like signups and unsubscribed users too. If you are doing testing on your email campaigns to see which ones work better, well you can quickly have your data in front of you at a glance. If you happen to have some spare time on your hands you can even have a quick scan of your users. You can get the app in Android Play and Apple App store at the following links:
Protect your eyes with Twilight app
Note: This has NOTHING to do with Vampires! Whether you are working or spending all your time on Facebook, either way people are spending too much time on their computers, tablets and phones. Affiliate marketers are assumed to be working on computers all the time and this can lead to enough eye strain. If you find your eyes need a break then either you need to take a break but for those that just can't put down your electronics then it is time to adjust your phones and monitors. The Twilight app is available for Android devices and the app is meant to synchronize with the sunset of your location so when the sun isn't out, you'll get different settings on your phone to adjust the display settings to reduce the strain on your eyes.

In the past month I've had eye strain issues and around the time I installed the Twilight app the eye strain seemed to go away at the same time. There are other apps for Android as well and for all of those iDiots out there, there are similar apps you can get in the App Store. The same applies for your computer whether you are running Windows or Apple.
Short News Weekly Summary
Our
Gaffg short news
section gives a snapshot of bits of news that might matter to you covering a range of categories from player promotions, affiliate promotions, SEO, conversion and other marketing news and online gambling industry news. Here is a summary of the past week of short news:
BigTimeBingo, OnlineBingo.com and Bingo Palace domains are down as the investors and marketing managers fight it out on the internet
Affiliate Saga: New Affiliate Program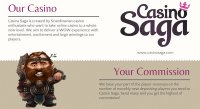 Affiliate Saga
, the casino affiliate program for Casino Saga, is powered mainly by Net Entertainment casino software and offers a unique player experience that hasn't been seen before. Target markets are UK, Sweden, Norway and Finland.
Commission Rate
: 20% to 45% Revenue Share
Affiliate Payment Methods
: Player Account, Bank wire
Target Markets
: United Kingdom, Sweden, Finland, Norway
License
: Malta
Program Features
: Casino
Thrills Affiliates: New Affiliate Program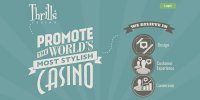 Thrills Affiliates
is the affiliate program for Thrills.com and SuperLenny. Both sites have the trendy new design look and more importantly, have Net Entertainment casino software. SuperLenny is also an online sportsbook.
Commission Rate
: 25% to 40% Revenue Share
Affiliate Payment Methods
: Player Account, Bank wire
Target Markets
: United Kingdom, Sweden, Finland, Norway
License
: Malta
Program Features
: Casino, mobile casino, live dealer casino, sportsbook, mobile sportsbook
BestPay Partners: Featured Affiliate Program
BestPay Partners is by far the best group of Rival casinos around as they have 3 in their portfolio plus have acquired 6 more casinos through 2 other affiliate programs giving them 9 casinos in their group. Their featured brands are Play2Win Casino and Supreme Play Casino.
Commission Rate
: 30% to 40% Revenue Share
Affiliate Payment Methods
: Neteller, Skrill, EcoCard, InterCash, Bank wire
Target Markets
: United Kingdom, France, Germany, Spain
License
: Curacao
Program Features
: Casino, mobile casino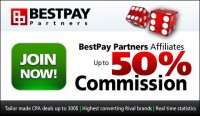 FALQO - I'm Listening to
Some music I like to listen to while I work and share.
Whisper App: This week's LOLorWTF
Welcome to our LOLorWTF segment. You can follow
#LOLorWTF
on Twitter if you are bored and just want to find more of these. This week we have a new time wasting, addictive app to share called Whisper which is available in the App Store for iOS or Android Play market.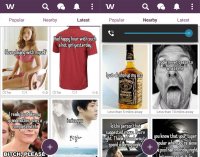 This week's
LOLorWTF
is all about an app called Whisper. Whisper is another one of those anonymous chat apps but perhaps is a little different than SnapChat. Whisper first lets you post a message as an anonymous username and your text will bring up images to suggest to go with your text message. Users can see messages either worldwide or within a set radius of you. So no matter what city you are in, you can just adjust the filters to something like 5 miles and you'll see only the messages of the person within that radius. Of course you can chat with that user anonymously and if there is any reason you really want to connect with them well you could exchange contact information but you would have to be socially desperate to do that or be using the app for local hookups. Our readers will have to tell us for that use if Tinder would be a better app. No matter what, you'll always get a good laugh at some of the things people post on Whisper and the images that come with it. So get the app on Android, this app is probably better suited for tablets/iPads if you need to manage battery or data.
Whisper App on Android
Whisper App on App Store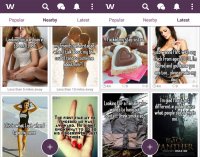 Share or Comment Now!
Join the discussion below and give us your thoughts on this article. If you think someone else would like to read this article then like or share it. If you have ideas you want to share for future articles just
contact us
and it would be greatly appreciated. In the meantime may our KickStartMonday help get your week started on the right foot. Have a productive week!