Soft2Bet extends further into LATAM with MultiApuestas brand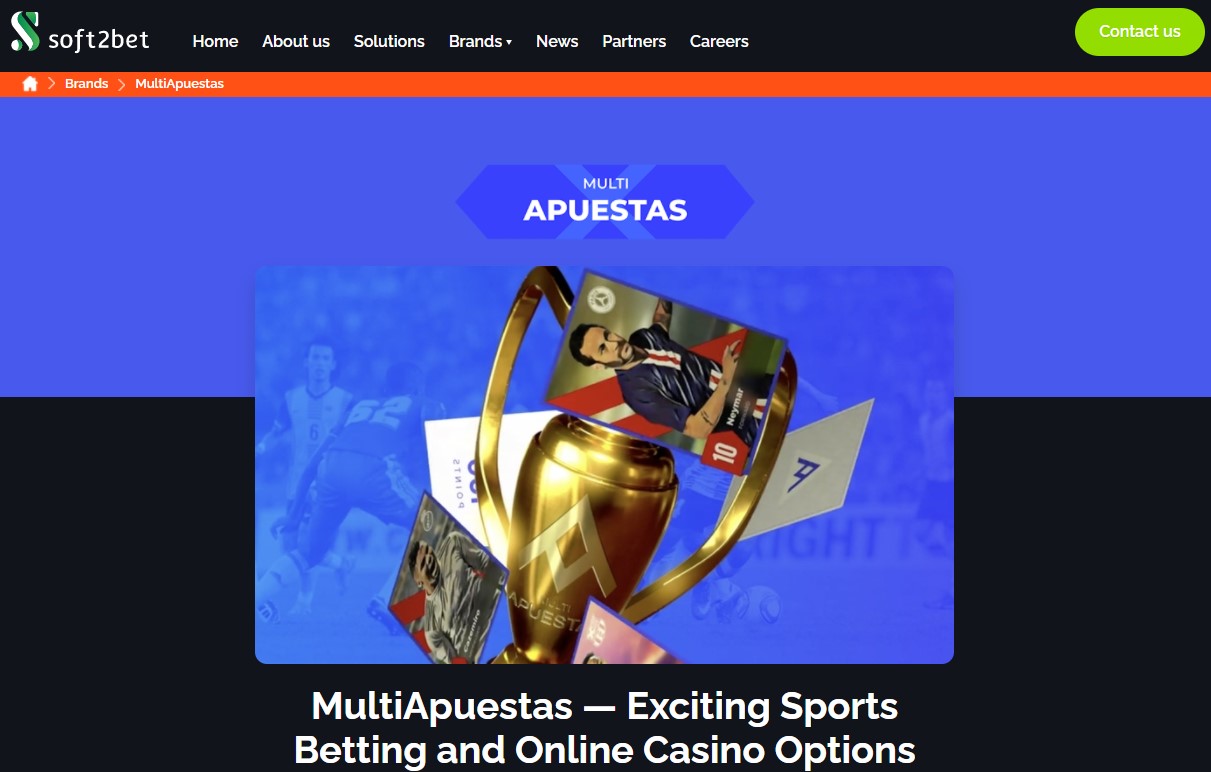 Soft2Bet unveils its latest take on innovative branding for their expansion across LATAM, MultiApuestas.
MultiApuestas is the fusion of sports betting and casino platforms, players will accrue prizes by collecting cards and unlocking bonuses with points.
The new LatAm-oriented project by Soft2Bet further extends the company's continental reach, having introduced its ever-popular YoYoCasino and CampoBet operator brands earlier this year in Brazil.
The revolutionary brand will concentrate exclusively on Latin America, leveraging Soft2Bet's regional experience, with localized content, payment methods and currencies, completely customized to the demands of continental consumers.
Jose Garcia, a MultiApuestas spokesperson, said "MultiApuestas is a pioneering concept for the sports betting vertical. Combining the best elements of Sportsbook and Live Casino with Spanish-speaking dealers and world-class gamification features, we're very confident that the brand will be a major success in the coming period."
MultiApuestas follows on from the hugely successful B2B solutions previously unveiled by Soft2Bet, including the highly acclaimed FEZBet and the recent release Irokobet, which is available in New Zealand and several African markets.
Soft2bet, and its affiliate program 7StarsPartners, is a rapidly growing and dynamic casino and sportsbook platform provider and operator group offering exclusive in-house games and the best titles from the world's top gambling suppliers, including jackpot slots, branded video slots, tournaments, live casino, and sports betting.
The company has developed and deployed over 20 successful websites with 5,000+ casino games, seamlessly integrated into its high-performing platforms.
Latin America becoming more relevant on the iGaming industry
Latin America has gotten the attention of many iGaming operators and developers in the last few years. The continent has shown an eye-catching growth in the number of active players as well as investors that are willing to make the industry become more powerful within their borders.
In the past decades, most iGaming providers have focused their investments and efforts on growing within Europe, Asia and North America, which are considered to be the three most stable continents in terms of economy.
Having been focused on these mentioned continents had left all of Latin America with just a few gambling operators and thus, a low number of active players investing their savings on them.
It seems that this is changing, and Latin America is starting to become an important part of the expansion that the iGaming industry has been working on for quite a while.
The hurdle of the many regulations
One of the main reasons why Latin America was not part of the main targets for the iGaming industry in the last decade was the fact that most countries were not open to receiving any gambling operators within their borders.
For some of them, the iGaming industry was unreliable and the possibility of fraud was high in most cases, leading these nations to the ultimate decision of blocking their use within them.
Fraud cases is not an issue that most Latin American countries can afford to have, so the decision was more than comprehensive for the whole iGaming community.
Fortunately, Latin American governments seem to be looking at the iGaming industry with different eyes now, and many of them have created flexible regulations that allow plenty of gambling operators to work freely and comfortably in the continent.
The economy is one of the biggest obstacles
At the moment, the countries with the most active players in Latin America are Mexico, Brazil, Colombia and Chile. It is not a coincidence that these four nations happen to boast the most stable economies in the continent. Therefore, the players have more chances of investing their savings on gambling platforms.
Sadly, most Latin American countries struggle to keep their inflation rates and overall economic stability, leaving their citizens with no other choice than to invest in more important aspects such as services.
In these nations, investing on gambling platforms is more of a privilege than anything else, so not many citizens take the risk of registering and wagering on gambling sites.
Because of this, the majority of gambling operators entering the Latin American market are focusing their efforts on the most stable countries, hoping that one day new jurisdictions can be considered lucrative markets, so they can be part of them as well.
The future for online gambling in Latin America
The future is more than bright for the industry in the Latin American continent. More countries are letting gambling operators enter their jurisdictions, and it seems that Latin America is set to become a strong and lucrative market in the next few years, without any doubts.