Starcasinio.sports to sponsor football team SSC Napoli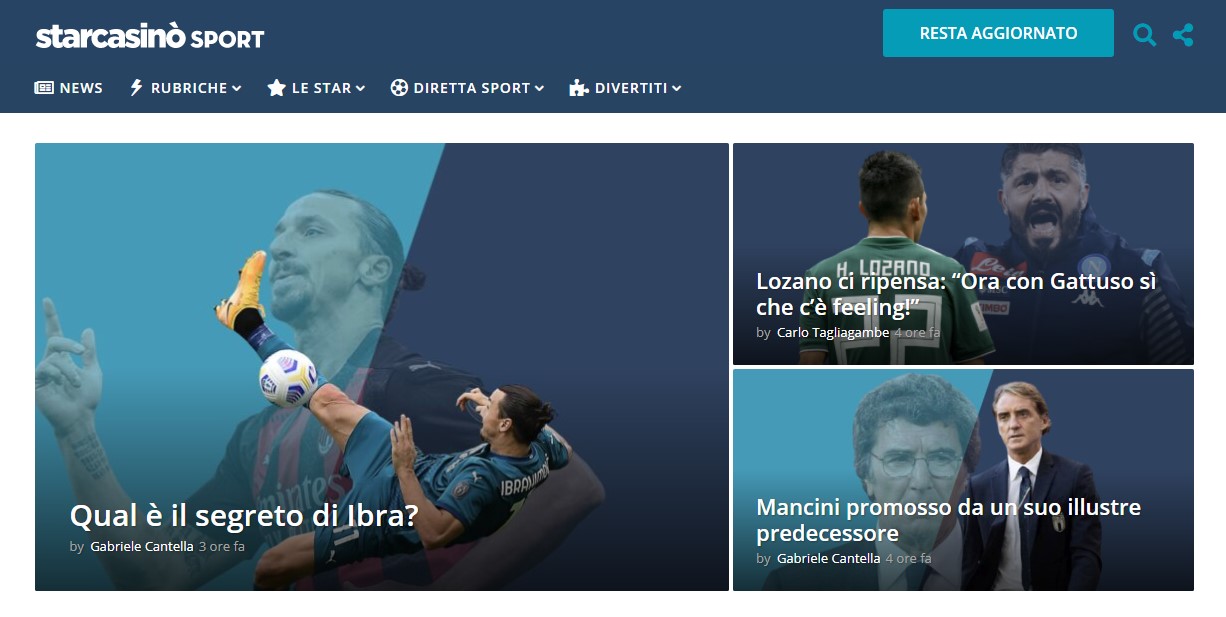 The innovative sports entertainment platform, StarCasino.sport, has made a recent announcement where they talked about becoming one of the sponsors of the Italian Serie A football team, Società Sportiva Calcio Napoli for the 2020/2021 football season.
Through this sponsorship agreement, StarCasinò.sport will offer all supporters a new way to experience Napoli and their hometown, Naples.
Napoli and StarCasinò.sport will work together on a wide range of fan-focused initiatives, as well as to create original content for supporters.
CCO Ronni Hartvig of Betsson Group, StarCasinos.sports owner, commented:
"We have always been committed to strengthening and growing our brand through innovative and engaging activities that position us close to sports enthusiasts and fans,"
"The fun-loving spirit, the dedication to the community together with a deep passion, are some of the positive values we share with SSC Napoli, which lead us to invest in high quality, creative and innovative entertainment. Especially at a time when it is not possible to attend football matches in person".
The Head of Operations, Sales & Marketing for SSC Napoli, Alessandro Formisano, added: "SSC Napoli is pleased to welcome its new Institutional Sponsor, StarCasinò.sport – a platform that has embarked on an innovative and creative path in the publishing of digital sports news that we are sure will further enrich the emotional involvement of the Azzurri supporters,"
Fans will have access to some exclusive experiences apart from additional features that will come with the agreement, such as including LEDs on the sidelines at the San Paolo Stadium, a StarCasinò.sport sign at the Castel Volturno Technical Centre, branded backdrops during interviews with the players and the brand logo on the official website sscnapoli.it., all increasing the visibility of the brand.
A deal that helps both parties
Through this deal, both parties will be able to enjoy incredible benefits that will allow them to stand out on the market by attracting a higher number of new players and fans.
When it comes to Starcasinio, the betting platform will be given additional exposure that will grant it the chance to reach new potential players that could boost its relevance within the competitive industry that iGaming is nowadays.
On the other hand, the additional funds provided by Starcasinio give the Italian football team the opportunity to invest on amazing new implementations that could boost the quality of its stadium so that the fans can have fun at every minute.
The rise of Starcasinio
Betsson Group, the owner and operator of Starcasinio, has been part of the iGaming industry for quite some time now. The experienced and reputable gambling company has launched some of the most important betting sites that the players worldwide can access to as of this moment.
Starcasinio is surely one of those prolific brands. This specific betting platform has drawn a lot of attention since its release thanks to the many gambling alternatives that are available to the players.
Additionally, it counts with a large range of payment methods that allows the players to make their transfers without issues at any given second. Overall, Starcasinio is a high-quality betting site that many players invest on regularly.
The great chain of partnerships
Partnerships are one of the best things to do when you are a betting company looking for extra exposure or budget. Because of that, Betsson Group has made a great number of deals and partnerships over the course of the last few years.
Such deals have allowed this acclaimed betting company to increase its revenues and the popularity of each and every brand that it owns and operates.
Between the deals that it has gotten are: jersey partnerships with several sports teams and partnerships with sports events like the Copa America 2021 and Euro 2020.
Thanks to the eye-catching deals that Betsson Group has made, brands such as Starcasinio has grown and developed in a short period of time, piling up praises from the whole iGaming community.
Napoli is a good choice
A partnership deal usually leads a betting platform into success over time. But, in this case, the deal is set to become a complete and total success from the get-go. That is because SSC Napoli is one of the most important sports teams in all of Europe.
The Italian club has become one of the most popular and fun-to-watch teams thanks to its amazing game style and the personality of all its players like Lorenzo Insigne and Dries Mertens.
Apart from that, Napoli is constantly participating in the most important football competition in the world, the UEFA Champions League.
The tournament generates a scandalous amount of income for all the sponsors and partners, meaning that Starcasinio is set to earn some good extra money at the end of the year without any doubts.
In general, this current partnership with SSC Napoli cannot be seen as a wrong move in any way and in fact, Starcasinio should be thinking of extending its bond for more years already considering how beneficial it is set to be at this point.