The Smart logo contest is closed, congratulations to
slots-guide.eu
for winner!

Gaffg is teaming up with
LeoLogos.com
to offer a logo contest where one lucky webmaster will be chosen to receive a custom smart logo for their website.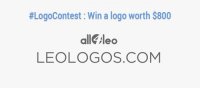 The value of the logo is worth $800 so if you are looking for a quality logo with a lot of thought, talent and effort put into it you can hire him directly or roll the dice and try your luck with this contest.
Why LeoLogos?
The logos produced by LeoLogos are very high quality with a lot of thought and time put into them. First you must fill out a form providing as much information about your desired logo and use of it. They take this information and produce 3 different and customized logo designs for you to choose from. When you are happy with one of the 3 logos, that logo is further developed and polished into the final result.

Contest Details & Rules
Contest runs from Nov 16 - Dec 14, 2015
The winner will be announced on Dec 14th, 2015 and the winner will be selected by Leo himself from LeoLogos. The lucky winner will have their logo featured in an article and will showcase all the steps and processes of creating the logos. You can like, follow and link to LeoLogos and only one of these is required however if you do more then Leo may take that into consideration for choosing a winner. One of the major factors into selecting a winner will be picking a website that is more in need of a quality logo. So if you don't get selected, then it may be a sign your logo isn't that bad and if you are selected the winner, it means you have an ugly logo and will get the much needed logo makeover!
Eligibility
You must be a gambling or forex webmaster / affiliate to be eligible. Operators are not allowed as well as webmasters outside of the gambling or financial niche. Only one application per person allowed, so if you have multiple websites please only submit one website/logo to be considered for the contest. Also to be considered you must do at least one of the following to qualify:
Use the form below to apply for the logo contest. Just fill out the form and hope Leo selects you as the winner. Follow this page or make sure you are signed up to the newsletter so you can get the announcement as to whom the lucky winner is!