Best ways to Promote Neteller ewallet Guide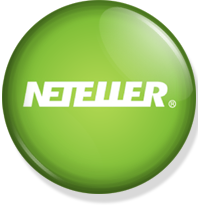 Many online gamblers use an ewallet like Neteller as one of their ways of depositing and withdrawing. As an affiliate you can get paid with Neteller for your affiliate commissions AND you can also receive earn more commissions when referring your players to Neteller. Getting your players to use an ewallet like Neteller makes sense for many reasons such as keeping their money safe, getting players to trust online gambling and getting paid faster which is important for retention. If you are new to ewallets then read our introduction guide: eWallets & Affiliate Programs guide There are many ways of getting your players to join Neteller and this article explains the best ways of getting your players using a secure ewallet that earns you commissions twice for the same transaction! That is your players generate commissions when they play at the online casinos or sportsbooks you refer them plus commissions when they deposit with Neteller. Affiliates earn 20% commission on all player transaction fees to merchants! If you have an affiliate website, Neteller covers all types of services that users can pay for and make money transfers. Neteller can be used for:
Casinos
Bingo
Poker
Forex
Binary Options
Sportsbooks
Lottery
Skill Gaming
Money Transfers
Regarding of the type of affiliate website you have, here are some effective ways you can refer players to Neteller and ensure you get lifetime commissions with Neteller and extra commission normally with your affiliate programs. We have the help from f1-bettings.com which is a sportsbetting website and we highlight the ways they promote Neteller for their players.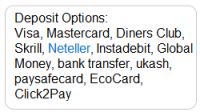 1. Basic Referral Links on your review pages
Anytime you talk about Neteller is an opportunity to link to it.  On your pages where you might review casinos or a sportsbook when you talk about the ways players can deposit and withdraw, just add the link to Neteller. This is the easiest way to promote
Neteller
and probably the best way too.
2. Neteller Article Reviews
Many of your site visitors are new to online gambling and they might not know how everything works from signing up, know about regulation or how to deposit and withdraw to sites with ewallets, banking or credit cards. Educating your members is important and you can help your conversions and retention in the process. Writing a guide or blog post explaining what is Neteller and why players should use the ewallet is another good way for helping your players and earning referral income on Neteller. Even some new webmasters don't know what Neteller is and we wrote an article on the subject to explain it:
What is Neteller
3. Neteller Banners
Neteller has banners made just for you where you can put them anywhere in your website or newsletter. You can put these on your homepage, in your articles or on the review pages where you talk about payment processing methods.




4. Email Marketing: Promote Neteller in your newsletters
Perhaps one of the most unused methods of any website is with email marketing. If you don't collect emails for a newsletter, add one soon and for those that do have it you can email your memberlist a newsletter that focuses on Neteller and explains the benefits for them to use Neteller for depositing and withdrawing to gambling sites online. This is another easy way to get signups will adding value to your players.
5. Showcasing affiliates that promote Neteller
Below are some pages of affiliate websites showcasing how they are promoting Neteller to their players and earning commissions.
If you would like to have your affiliate website showcased email
[email protected]
for consideration. Adding some of these methods could take you probably 5 minutes and help you earn more commission. The Neteller affiliate managers are fast to respond to any questions you have about the program and are eager to help you start promoting Neteller to your players. You can read our
Neteller affiliate program review
or if you are ready to join click on the banner and get 20% commission.