What is Neteller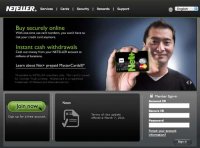 Neteller is an online wallet that allows gambling players to deposit and withdraw into online gambling websites and also as a means for affiliates to collect commissions and payments from these programs.
Neteller explained is an online payment and money transfer company that was initially made for gambling deposits and payments along with p2p transfers.
Now the company has moved into the online retail also offering prepaid solutions and money transfers.
Neteller is a worldwide payment method but doesn't accept users from the United States or Canada at the moment.
Neteller is also known as Neovia Financial PLC and is publicly traded on the London Stock Exchange as NEO.
Neteller is a company that aims to challenge PayPal for a share in the online retail markets.
Neteller is a great program for receiving affiliates payments and affiliates can transfer account funds onto their Neteller Net+ prepaid mastercard.
Neteller also offers an affiliate program so if you have a gambling portal then get your players using Neteller and you can earn more commissions.
For more information visit their website at www.Neteller.com
Other articles featuring Neteller:
Affiliate Manager Interview with Jennifer Ming
The rise of Neteller
Neteller is one of the most popular and secure payment methods worldwide when it comes to making transfers online. Many features and tools have made Neteller the top-notch banking institution that it is nowadays.
It was initially launched in 1999 in Canada, and then it moved its base to the Isle of Man in 2004. At the moment it was launched, this payment method was not considered reliable in any way.
For the users, it represented a way for merchants and the site itself to scam them and run away with their money. However, with lots of dedication and perseverance, Neteller was still to draw the attention of many people over time and become one of the biggest competitors against PayPal, who was in charge of a strong monopoly for many years.
The release of Neteller was simply a blessing for many users on the web. This is because this online payment method is a lot easier to understand than other top payment methods such as PayPal.
Moreover, Neteller is known for how quick it processes all the transfers without caring about the location of the buyer and the seller in question.
As of this moment, Neteller is the primary option for many gambling players and other people worldwide. It is available in 15 languages and a wide number of currencies as well, so there is no problem at the moment of making a deposit or withdrawing any funds.
Using Neteller as an online casino
If you are interested in using Neteller as your payment method on a betting site, here are some of the traits and characteristics that make this banking platform stand out from the rest of the alternatives available.
Free and quick sign-up procedure
You can have your Neteller account ready in a couple of minutes only. All you have to do is provide the site with some of your personal information such as your name, date of birth and country of residence.
Once that is done, Neteller will do the rest for you and your account will be up and running so that you can make deposits or withdraw any funds that will be sent to you.
Access to Low cost Neteller prepaid cards
Once you have realized how reliable and safe Neteller is, you can request a MasterCard prepaid card that will be linked to your Neteller account. With that card, you can make purchases anywhere using the funds deposited on your Neteller account without issues.
The best thing about this prepaid card is the fact that it is easy to get and quite cheap as well. That way, you can acquire it without having to make a large investment. It is one of the cheapest prepaid cards available nowadays.
High number of online casinos accept it
Neteller is one of the most used payment methods on online casinos up to this day. You can find on pretty much all online casinos where e-wallets are available, and the transfer fees are practically non-existent.
Additionally, Neteller processes all the payments and deposits in less than 30 minutes, something that surely most of the other payment methods do not offer you at the time.