Affiliate critique and recommended improvements for CarolinaGambler.com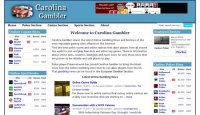 We did a quick affiliate critique for
CarolinaGambler.com
.
Maybe you can learn some tips and get some recommended improvements from this short case study.
Note: The suggested changes were mostly implemented shortly after emailing them to the affiliate.
We have the current screenshot of the existing site but not before the changes.
More links will make it easier for your site to get pushed further down by Panda.
I don't know if your traffic has gone up or down in the past year but if it is going down then this is one area I'd fix asap.
The basic explanation is this, the site is PR2 and if you only had 40 links going around to your inner pages, each link has 1/40th of the power so the PR is shared better, with nearly 300 links it is watered down a considerable amount.
There are power affiliates that break this rule as well but they compensate this by getting a ton of links going to all those inner pages and their budget is intimidating.
If you can, try to organize or summarize sections of your websites so instead of having the final destination presented on the homepage.
Menu order: left to right, make the items of most importance, your about page is good to have but should be either in the footer or far right, left items in theory get more clicks than items on the right.
Use this space wisely as you can control the flow of your traffic with it.
Try to list top 5 casino, poker and sportsbetting sites.
5 is enough to have your AMs fight over the top 5 and this will cut down your poker links on the homepage instead of having 10.
Also your /go/ links you should make these all rel="nofollow" to help preserve your PR.
Get SEO Quake toolbar for Chrome to find out what your fellow affiliates are doing for making links follow and nofollow.
Your /go/ link for bet365 appears to be 404, double check your links.
I use xenu link sleuth as a Windows tool for checking for broken links or you could check google webmaster tools.
Your communities pages/section I'd consider cleaning some of them up, you're linking to other sites and it is more links, I appreciate the gaffg link but the other ones are not as relevant.
Problem gambling links are far more relevant than statcounter.com or @ontoplist.com unless they are giving you something back in return.
http://www.carolinagambler.com/best-casino-rooms/
This page is very weak on text and panda is punishing more sites about this.
Fill up this page and don't have any page empty in terms of content.
I would remove it completely and have the welcome text appear higher OR replace this space with a 'special promotion' that lasts either a month or a week or anything.
If an affiliate program wants to be here, they have to give you something special for your players.
homepage image: is a large picture of casino chips and it eats up a lot of attention but doesn't do much.
It appears on many pages and is a distracting image that pushes your content further down the page.
Either remove it or replace it with a relevant image on each page and reduce the image height.
http://www.carolinagambler.com/club-world-casino/
Here I would reduce the # of links and change a few basics, too many links and the call to action isn't so definite, make it easier for the user to decide what to do.
Display the bonus info a bit more prominent. At the end of this page make either a large Call to Action (CTA) button or a banner, anything.