iGame.com launches Fast Poker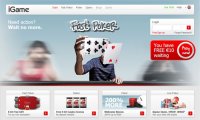 One of the fastest affiliate managers, Sami Kurvinen announces the launch of Fast Poker on iGame.com
1. What is Fast Poker?
Fast Poker is the future of Poker in my opinion.
Since most players today have less time to play Poker and other games, this is the perfect solution and it's really fun at the same time.
Instead of sitting and waiting for other players to act when you already have folded your hand, you are moved to a new table and hand as soon as you have folded you're previous hand.
You also have the option of fast folding your hand before it's your turn to act and you will then instantly be moved to another table and hand as well.
This product will soon also be available through mobile phones and then it gets really interesting!
Let's say that you have 15 minutes when you are waiting for the bus and have nothing to do.
Perfect time to play some fast poker!
This demo really explains the whole Fast Poker concept well:
As you can see there is also the option for the players to multitable on this Fast Poker product.
2. Where and when will players be able to play this game?
Actually we have launched the Fast Poker on iGame.com today.
We will also launch the Fast Poker on our other brands 24hPoker.com, NoiQ.com and Pokerihuone.com.
Worth mentioning is that Unibet.com and Betsson.com also will launch this Fast Poker on their sites.
The Fast Poker will be available on a new and independent network called relax gaming.
Personally I have huge expectations on this since I tried it myself while developing the product and I have to say that it's really fun.
3. 24hPoker seems to already have a strong following of players, what are you expecting with iGame.com?
We are happy with what we have accomplished with our site 24hPoker so far but we will continue to focus on improving 24hPoker.com especially among all the poker sites out there.
24hPoker today is a well known and strong brand with a very good reputation among the players.
I believe that the site will continue to grow even more after the Fast Poker have been launched on this site as well.
Regarding iGame.com we have huge expectations.
We want iGame.com to become one of the best and biggest sites in the industry.
How will we accomplish this difficult task?
First of all the brand name is perfect towards all products. It's easy to promote iGame.com towards Poker, Casino, Sports and Bingo as the domain name is not focused on one specific product like all the bet and poker sites out there.
On top of this we have top class employees working in our company.
We have the economic muscles and experience to market this brand in a good way.
The site also looks very good and will also improve even more with time.
Eventually I'm confident that we will accomplish our goals but it will take some time, a lot of hard work and a good and long term cooperation with our affiliates on iGame.com.
4. iGame.com is listed as having poker, fast poker, casino, sportsbetting and bingo. Can you tell us more about each product and the softwares used?
Fast Poker will be available on the new relax gaming network.
"Normal" Poker will be on the IGT network. Our casino software is from the leading casino providers NetEnt and IGT.
The sportsbook will be available through the Oddsmatrix and I need to get back to you regarding the bingo product as this is something that is being developed right now and will also be very interesting.
About iGamefriends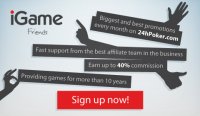 iGamefriends is an affiliate program mainly for 24hPoker and has sportsbetting, poker, casino and bingo.