Affiliate Hub Terminates Affiliate Program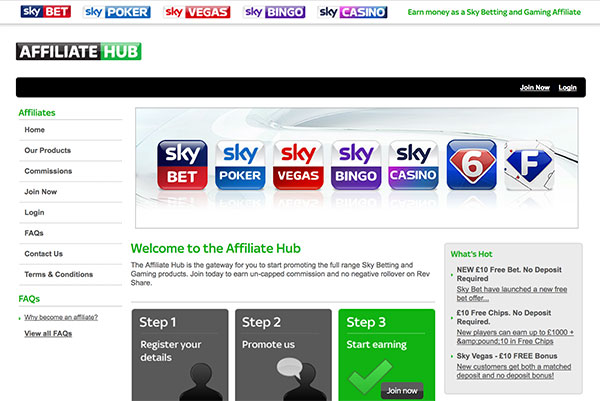 Affiliate Hub has gone from not recommended to rogue to blacklist as they have announced the closure of their affiliate program. They were never the best program to promote anyways, so no shortage of sportsbook affiliate programs to replace them with. So affiliates are advised to remove tracking links to Skybet and take down all banners.
Notice of Termination of the Sky Betting and Gaming Affiliate Programme
We are writing to inform you of our intention to terminate the Sky Betting and Gaming UK Affiliate Programme (the "Programme") and the agreement entered into between you and Bonne Terre Limited in relation to the Programme (the "Agreement").
As you will be aware, the regulatory landscape in which the industry operates is developing and maturing and operators are experiencing increased obligations regarding their regulatory responsibilities and level of compliance. In order to continue to operate in a compliant manner, we feel that operating the Programme is no longer viable and that managing the output of affiliates presents a significant risk to our business from a regulatory perspective. It is for this reason that we have chosen to terminate the Programme.
Clause 13.2 of the Agreement allows us to terminate the Agreement immediately on providing written notice; however, we have chosen to give you 28 days' notice of termination of the Programme. Therefore, the Agreement will terminate on 2 October 2017.
In accordance with Clause 13.5 of the Agreement, from 2 October 2017 you must: (1) cease all promotion of our websites and remove all live links to our websites or associated intellectual property; and (2) return all confidential information that you hold relating to Sky Betting and Gaming.
Please be advised that the Affiliate Hub portal, located at affiliatehub.skybet.com, will cease to be available from 2 October 2017 and all commission arrangements for all players will end at this point.
For record keeping purposes, we advise you to download any reports or invoices you require from the portal before 2 October 2017. Should there be any issues with your reports or invoices, please contact us using the details below.
The Programme's final payment cycle will then begin at the end of September and outstanding balances will be paid in full. Payments should arrive in accounts on or around 20 October 2017 as per the normal process. To ensure the process runs smoothly, please check your payment details are up to date with all your banking information. Please note, the Programme does not offer payments via Skrill or Neteller, so if you have not updated your details recently, you must do so with your bank account information as soon as possible in order to receive payment. Failure to do so may cause delays.
If you have any queries, please contact the affiliate team using the following email addresses:
General Queries:[email protected]
Financial Queries:[email protected]
Regards,
Edward Moss
Managing Director
Sky Betting and Gaming
As for 2021, Skybet is still operational as a online casino and sportsbook with hundreds of sports events to bet on, casino games and even live dealer games and they also have a license granted by the United Kingdom Gambling Commission but you can bet that they work with other affiliate program now.
About affiliate programs:
We always recommend reading lots of reviews when before joining an affiliate program, since there are a lot of websites that make reviews it should not be easy for you to find a review for every affiliate program plus you can also read blogs or join forums where other affiliates share their opinions.
Keep in mind the banking options that an X affiliate program will offer to you, since some of them may not be available in your country or region and in the same way always check if your traffic from specific countries is allowed or banned.
Check if the affiliate program or at least their casinos or sportsbooks have licenses or permissions to operate or if they have at least a third party website that certifies them, however, this does not necessary means that when a casino has a license is 100% trustworthy since there are a lot of online casinos that have licenses and are shady but again an online casino with a license it's a start.