Affiliate Insider Bootcamp 2018 Preview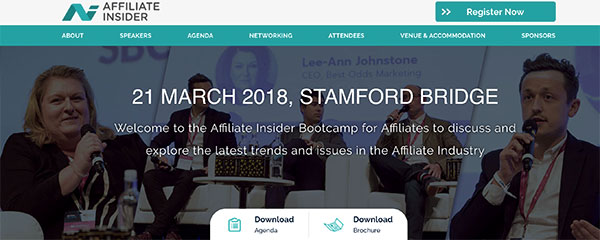 March 21, 2018
Stamford Bridge
Furham Rd. Fulham. London SW6 1HS. UK.
London, United Kingdom
http://sbcevents.com/affiliate-insider-bootcamp-2018/
Registration: https://www.eventbrite.co.uk/e/affiliate-insider-boot-camp-registration-40878038313
Free to attend
The Affiliate Insider Bootcamp 2018 is running in conjunction with Betting on Football 2018 conference. These events are created by SBC Global with their Betting on Football conference being a must attend conference for any affiliate or operator working in the sports betting industry. The event is managed by founder Lee-Ann Johnstone and has a full agenda covering important topics like SEO, emerging markets. The day ends with the Affiliate Insider Dinner and closing party which is at Under the Bridge.
Agenda
10:15 - 11:00 - The Social Media Hacks Workshop – Sarah Sangster – Founder (Sangster Digital)
11:00 - 11:20 - Networking & Refreshment Break
11:20 - 12:05 - The "Real Deal" SEO Workshop – Andrew Edwards – CEO (MadAbout.Media)
12:05 - 13:00 - The Big Link Debate – Nick Garner - Founder of Rize.Digital
14:00 - 14:45 - Content strategies for Sports Betting Affiliates – Martin Calvert, Marketing Director, Blue Claw Media
14:45 - 15:30 - Starting your esports Journey – Per Wolf (Esports Expert)
15:30 - 16:00 - Networking & Refreshment Break

16:00 - 16:45 - Round Table : Destination Africa – Negotiating the Next Big iGaming Affiliate Market
16:45 - 17:30 - Mentor Session : Growing your Sports Betting Affiliate Business – Marcos Oliveira – Chief Affiliate Officer (Clever Advertising Group)
17:30 - 19:00 - Networking & Refreshment Break
19:30 - 2:20 - Affiliate Insider Dinner | Closing Party @ Under the Bridge
About the Affiliate Insider Bootcamp
Affiliate Insider Bootcamp is targeted towards Affiliates, with focus on everything from digital marketing trends to take note of in 2018 to the latest innovative technologies available for better business automation and revenue growth. Experience a breadth of digital marketing insights specifically designed to help affiliates growth hack their sports betting business in 2018. Affiliates will get detailed learnings that will help them grow their business in the most competitive of environments. The Bootcamp is hosted alongside the wider Betting on Football conference that runs from 20-23 March at Stamford Bridge.
As you can see you will learn a lot of important information about new technologies, marketing campaigns, networking, trends, issues, SEO and the best thing is that you can make new friends who want the same thing as you do.
This may be a event for new affiliates however, if you are a somewhat established affiliate member don't hesitate to go since there is always something new to learn like new tools, ideas, etc. And you can exchange your ideas with new affiliates and entrepreneurs that may teach you something new too.
For more information visit affiliateinsider.com or sbcevents.com/betting-on-football-2018/