1. In twitter style of 140 characters or less, tell us about the AffiliatesMaster program
The Affiliatesmaster program is the most competitive lotto affiliate program in the Industry.
We offer the best deals & custom reporting tools.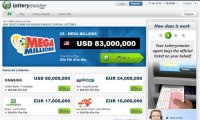 2. What is your role at the LotteryMaster affiliate program?
I'm the Affiliate Director at Lotterymaster.com
- Some of my tasks include managing our program, recruiting and growing affiliate relationships into becoming great sustainable businesses.
3. Tell us about your experience in the gaming industry
Used to manage Cashcade Bingo brands as well as Party and Affclub Casino Brands at Bwin.party. Brands included, FoxyBingo, PartyCasino and SwissCasino.
4. Lottery tickets and lotteries in general tend to get loyal long term customers for national lotteries around the world but that hasn't seemed to translate to success in online lotteries. Do you think this will change and that online lotteries will become as popular and as normal as online casinos, poker and sportsbooks?
It has already changed and Online Lottery is just getting started.
It's a huge untapped Billion-dollar market. Lotto is also considered mainstream and loyal players tend to stay on boardonline for years.
5. Mobile casinos and sportsbooks are finally becoming bigger business, how far away do you see mobile lottery systems and services from becoming the next big thing?
Around 30% of the world's traffic is mobile.
We will have a very cool web app ready since March, so all of our affiliates can leverage their traffic to the fullest. Mobile will only get bigger and bigger and we are very aware of that.
6. What can affiliates expect in working with AffiliatesMaster?
Affiliates can expect an incredible strong product, top-notch service and tracking, the best deals in the industry, great technology and a professional In-House Call Center, which focuses on sales of Lotto subscriptions and follow-up of signups and single purchases.
About AffiliatesMaster
The lottery affiliate program offers 20% to 35% revenue share.