Ask.fm Review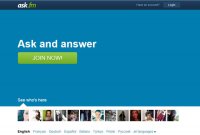 Meet Ask.fm, the next social media site that is taking off and might be important to you
Ask.fm isn't exactly a new site as it launched in 2010 but in 2013 it is starting to get recognized and it could be a useful tool for your website. For some webmasters they are losing track of all the social media applications available and still many are not getting the best use out of it. So now you have facebook, Instagram, Telegram, TikTok, twitter, google+, pinterest, youtube, linked in and others. You don't necessarily need all of them but for most webmasters these are the major ones and ask.fm could be one that can work well with any gambling affiliate website.
What is Ask.fm?
Ask.fm is a site that as the name implies lets you ask just about anything you want to any member of the website. Just like on other social media sites, you can use it to waste a lot of time but you can also use it for business. You can set this up as a personal account or make it a branded account. Once you have your profile created it is now another platform for your users to interact with your website.
How Ask.fm works
When people come across your ask.fm account, they can ask you questions either through their own profile or they can ask anonymously. The anonymous features are currently being discussed and challenged due to the recent controversies the website experienced through the Hannah Smith online bullying case. If your site is an online casino portal, it is something your players can ask adding another layer of interactivity. The site is very similar to yahoo answers. When people ask you questions, you get a notification by email and you can answer quickly.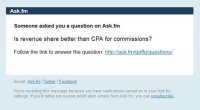 Pros and Cons of Ask.fm
Lets start with the cons. As mentioned earlier people can ask questions anonymously but this can have a negative consequence if someone wants to harass you. Another con is that the content exists on their website and not yours. This is of course a potential source of great content. That does lead to one of the pros which is ask.fm has millions of users and this can be a source of traffic and also links. You can learn more about your users and produce content based on their questions whether you share it on ask.fm or create new content on your website to better ask the question. The anonymous feature can be a blessing as some people can ask a question without having to signup or associate their name to it. This can allow for someone to react quicker to ask a question. Of course if they signup, they will receive a notification if you answer.
Ask Gaffg
Got a question? Ask us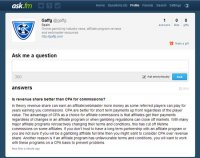 http://ask.fm/gaffg
If you like ask.fm then you will surely love another great website called "Quora" in which you can ask any question you can think of about any topic, and it is for sure that someone will answer it, but Quora does not allow the incognito questions since you must make an account by filling some easy forms and choosing what topics would you like to see in your feed.
In the same way of ask.me, Quora can be an important tool for webmasters due to you can use this website as a source of organic traffic and know about the trending topics of the day or the week of the month plus you can make a personal account or a business account to receive questions from your clients, but again perhaps the content will belong to Quora and not to you, so remember that.
Reddit is another "social media / website" which became important since the last months of 2018, in this website you will get news about almost any topic that you want, you can join groups and ask any questions and answer other questions from other people. Some people even call Reddit "The front-page of the internet" since it has important information about any topic and people are commenting and sharing information in real time. This website became so important that in the beginning of 2021 users from this website shake down the US. market by purchasing GameStop stocks and holding them for a lot of time making a lot of rich people to lose millions of dollars, so if you like ask.fm you must check Reddit too.