AskGamblers.com
has launched their own iPhone app which you can download now in the App store. The app delivers a richer experience for iPhone users compared to the mobile version of the website. Although the mobile version works very efficiently on any mobile device including Android, tablets and iPads, the iPhone app represents the next evolution of AskGamblers in their quest for pushing the boundaries of design in the gaming industry.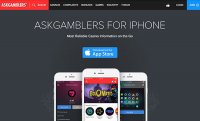 The app delivers a better experience for casino players looking to navigate the AskGamblers website. The casino reviews have better visual detail and it's just an intuitive experience all around no matter what page you are on. Of course the app means users can signup to AskGamblers which you can do with Facebook or register with an email and create a new account. Users can get push notifications to learn about new casinos, casino news, bonuses and of course their notifications system keeps casino players up to date in the world of AskGamblers. Players can rate casinos, leave their feedback and participate in their forums which is an ever growing community. This isn't their first
iPhone app
but it's certainly what a good casino information app should be. It's no surprise that more casino players are playing games on their mobile phones and the iPhone app bridges the gap to make it easier for iPhone users to get connected with casinos that have mobile games available. For all those Android users, you'll have to wait for AskGamblers.com to create the Android app or betray the Android community by picking up an iPhone. You can download the app through
AskGamblers.com/apps
 or get it from the
App store for iPhone
.