Barcelona Affiliate Conference 2013 interview with Shona ODonnell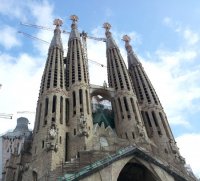 1. What should delegates expect from the Barcelona Affiliate Conference 2013?
This year's BAC is the biggest so far, we increased the floor space by about 20% so they can expect to see lots of new exhibitors as well as familiar brands we know and love. We have a really great conference schedule with one track on Friday dedicated to the Spanish market. This track will be delivered in Spanish and we are really delighted that we'll have a representative from the regulators office speaking, so if you are interested in this market and want to know about possible regulation changes, like the introduction of slots and how likely this is to happen, this is the place to ask those questions. We also have some of the best SEO session we've ever had. We've listened to feedback and have produced more focussed session on specific areas, I think that is really important now that the market and audience has matured and gain more experience. So we have specific sessions on link building, SEO via PR and cloaking. On the networking side of things we are delighted that Intertops are celebrating their 30th birthday at BAC and are sponsoring the Opening night party at Suite 191, the morning coffee break on Friday and as ever the Sunday Session, so expect lots of cake and bubbles from them. [caption id="attachment_5066" align="aligncenter" width="550" caption="Sagrada Familia"][/caption]
2. What contests and promotions are running for the conference?
Everyone must leave our events with twice as much as they came with! So many exhibitors have great give aways. I know that Coral will have another batch of their hoodies, and lots of other stands will be offering swag that includes t-shirts, phone charges, speakers, sunglasses, pens, pads and lost more. Maybe I'll take an extra empty bag with me for all this stuff. There are a few worth looking out for iAffiliates will be doing a room drop at the official hotel, make sure you get yours as that scratch card could be tickets to watch FC Barcelona on the 6th September and back on the show floor Banc de Binary are giving delegates the chance to win a smart car.
3. How many delegates do you expect to attend this conference?
We expect that we'll have around 1600 delegates, Barcelona is still a popular venue with the affiliate and we're doing our best to make sure that the sun shines while we're there.
4. How many more forex and binary options programs do you expect to be attending?
We have around 10 exhibiting or sponsoring but we expect we'll have programs that just attend as delegates, so we're still seeing lots of growth in this area.
5. For those that haven't been to an igaming conference, why should they go?
If you have never been to and affiliate event you really are missing out. We go to great lengths to try to make an event that provides as much as possible for every single delegate. For the operators I don't believe any other events offer both the quality and quantity of affiliates that you will meet at an iGB event. It give you a unique opportunity to meet your affiliates on a one to one and make them feel special, meaning hopefully more traffic for you. As a team we'll do pretty much anything we can to make the event a success for you so if you aren't sure why you should attend or want to talk about an idea you have for the event, then call us, we are very lovely and accommodating. As an affiliate nothing beats meeting your affiliate managers face to face, it's a great way to develop your relationship with existing programs and to meet new programs that might have different opportunities for you. There are lots of great conference sessions to help you develop your existing skills, and ultimately make you more money. You can learn lots from meeting other affiliates and sharing their experiences. I guarantee you'll come way with either a new deal or a better deal if not both. You'll get lots of free stuff, you will definitely make some new friends, have a lot of fun and as an affiliate all of this is completely free. And if you haven't been before nothing is quite like that first affiliate event experience, so come and join the fun in Barcelona. I can't wait to see everyone.