Berlin Affiliate Conference 2015 Preview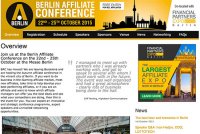 Are you going to the Berlin Affiliate Conference 2015? We interview iGB's Shona ODonnell to learn more about the event. Tell us about the Berlin Affiliate Conference 2015 and why this is a must attend event Registrations are up by 24% so it's set to be the biggest autumn event we've ever had, which is really exciting. After years in Barcelona, why the switch to Berlin? We were in Barcelona for 5 years except one year in Budapest and while people come to do business they definitely like to explore new cities. We were getting feedback that the industry was getting itchy feet and wanted a move. It's really important to us that we listen and respond to the industry so we surveyed the industry and more than half wanted to move and Berlin was the clear favourite out of the options available. I know some people are sad to leave Barcelona but its doesn't mean we won't ever go back, its just time to try somewhere new. As a result of the move there is a real buzz about the event and we are seeing numbers up 24% from this time last year, so we think we've done the right thing. Also we'll will see more affiliates from Eastern Europe as it's easier to get to Berlin than Barcelona. Do you find more affiliates come out more to the new conference locations for the change in scenery and to visit a new city? Yes, definitely it's a great excuse to visit a new city and lots of people will add on extra days at the beginning or end of the conference to go and explore and Berlin is a great city to do that in. We've been writing some city guides for anyone wanting to explore so if you want to venture beyond the conference check out the website, www.berlinaffiliateconference.com for our top tips. The Financial Partners Expo seems to be a stable conference that goes with all the major iGB events and growing every conference. What do you have planned for the conference for the financial sections?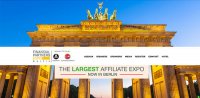 The Financial Partners Expo is now firmly established as the leading event for affiliates and Introducing Brokers in the retail finance sector and we are really proud of how this has grown and developed. For those that are still unsure of the opportunities this market offers I would suggest they go to 'Making the transition to a new industry: Why Retail Finance is the next big thing for gaming affiliates' on day one at 11.45 and for those already in the space they should try to attend 'Finding customers in a modern world: Secrets to a multi-channel customer experience' on day two at 14.00. What parties are scheduled for the conference so far? Berlin is a great place for going out, it has a wonderful combination of traditional beer halls and lots of cool and quirky bars. The opening party will be held at Avenue which is a trendy and laid back bar and club, on Friday 10Markets will be hosting us at the Wyndham Excelsior for a fun filled night with lots of surprises throughout the night and three DJ's already booked. Saturday we at are Puro Lounge which has amazing views over the city and is just 5 minutes' walk (really, five minutes) from the official hotel. And if that wasn't all our friends at Intertops will once again sponsor the Sunday Session at a local Beer Hall just across from the hotel, so if you haven't booked your flights home make sure you stay for a beer on the Sunday. Which panels and sessions are the ones you think affiliates will want to catch? This is such a hard question as we have so many good sessions at this event and we also have a lot of new speakers. I am going to say that the sessions I think are not to be missed are 'eSports explained: The next big thing for affiliates', this is a really exciting opportunity and the growth we are seeing is incredible. This is one for Operators and affiliates alike. 'Big jackpots, bigger commissions: Affiliate opportunities in lottery', this is still quite a niche area and I think it could be exploited by affiliates and open them up to new customers in existing markets where they can then introduce other gaming products. 'Virtual Reality in the gambling industry', is this really a game changer? I don't know but I'm hoping to find out. And finally we start the conference with a session on the German market which will enable those attending to understand his market and how to take full advantage of it. What should everyone look forward to at BAC 2015? It's a great opportunity to meet up with existing partners and meet some new ones. The conference sessions are some of the best we have seen, with really good speakers. Its Berlin, it's a really cool city so on top of learning new SEO techniques or how to use social to it's full advantage we have networking every night in some of the hottest spots in the city. I'm really looking forward to seeing everyone and if you are a new affiliate or operator please come and say hi so we can help you make the most of the show. Proust!

Stay up to date with conferences and events with our events page.