Bet Blocker registers as a charity, interview with Duncan Garvie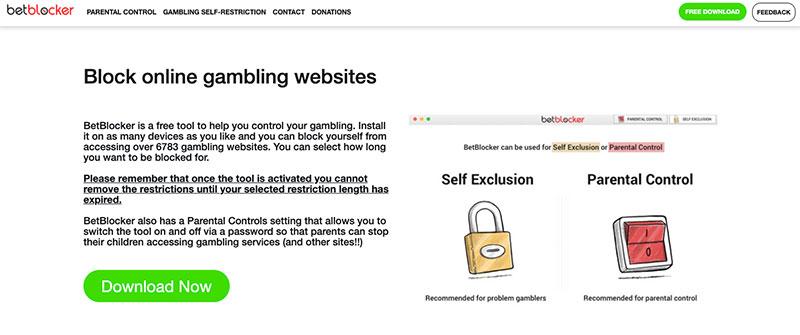 What is BetBlocker and how does it help problem gamblers?
BetBlocker is a free app that users can install on their internet capable devices that allows them to restrict the device from accessing over 6.7k unique gambling operator sites.
The user does not need to set-up an account (i.e. we don't collect information on our users), can select how long they would like to be excluded for (between 24 hours and 5 years) and can be installed on as many devices as the user wants.
As far as we are aware we are the only group distributing software of this nature for free.
There are a number of other tools available for problem gamblers like Net Nanny, BetFilter and Gamban. What makes BetBlocker different and unique?
We're free ;)
The other tools are all license based models, charging users per year or device. With complete honesty I would applaud all of these services - they are offering a product that can make a real and direct difference to the lives of gambling addicts. But the one thing that almost all gambling addicts have in common is that they are cash poor. For the worst impacted, the addict will have run up significant debts (often to pay day lenders) and will be experiencing severe financial pressure. When confronted with the possibility that they may not be able to pay next month's rent, or they are unsure how they are going to feed their children next week, being asked to pay for help is something that simply isn't possible. The price barrier becomes a barrier for those that need the help the most.
There are other technical differences - including number of sites restricted and platforms covered - but the lack of charge for the service is far and away the most significant.
Where did the idea of BetBlocker come from?
ThePOGG.com has been managing player complaints for a long time now. There is no question that as the years have passed we have seen a sharp increase in the volume of complaints we have received that relate to Responsible Gambling. Some of the stories we have heard over the years are absolutely heartbreaking. Sadly it is not always possible to help every player. In many cases the operator would refuse to cooperate with our service or the operator had taken the correct actions at the correct times, the problem happened too quickly for anyone to catch.
We were very frustrated with being unable to help these players so started looking for relevant organisations, tools or resources that we could direct them to that would be of use. I was uncomfortable directing people that had already lost too much money to fee based tools to get help. There were some internal discussions about this issue and John Wright suggested that we could put together an app to serve this purpose and distribute it for free. And that's ultimately how we ended up where we are today.
Why was BetBlocker registered as a charity initiative?
The core reason that we've transitioned BetBlocker to a charity structure is to do with its success. BetBlocker has been far more popular than we had anticipated and has very clearly extended its reach far beyond that of ThePOGG readership. We are really happy to see the project enjoy such popularity - it very clearly shows the need for this type of service - but it also strains the resources of ThePOGG to maintain, develop and support this project. In the long run this cannot be maintained by ThePOGG alone.
To ensure that BetBlocker achieves its potential it has to evolve in a manner that ensures that it can continue to meet the needs of the thousands of people that would find the service beneficial. The charity status allows us to work with businesses, charities and regulators in the sector to grow the project and ensure that it reaches as many people as possible.
What are the ways players, individuals, companies or even gambling operators to donate and support BetBlocker?
The simplest way to donate is the same as with any other charity - a bank transfer or PayPal. Details of how to donate can be found on the BetBlocker site. However we are also working with the Amazon Smile. This is a new initiative from Amazon where the online retailer will make a small donation to a charity of your choice every time you make a purchase via their Smile domain which contains exactly the same listings as the normal Amazon site. We would really like to see a lot of users picking BetBlocker for their Amazon Smile charity. Small donations add up and if lots of people pick Amazon Smile to donate to this could make a big difference to the service BetBlocker provides going forward. You can opt in to Amazon Smile here - https://smile.amazon.co.uk/ch/SC049565
We will also be working with the industry to ensure those businesses that are truly committed to Responsible Gambling and work with BetBlocker are recognised for their contributions. Every business has to make smart investments and look to build their brand. BetBlocker will look to work with those groups that actively support the project to ensure that their contributions are recognised and help to reinforce the credentials of the business.