1. The UEFA Euro 2012 is a big tournament and will no doubt get a lot of betting activity. What sort of player promotions or contests are you running for players to get involved?
Player's can enter our 2012 euro championship.
Also at our betting exchange we are preparing for a chance for players to make multiple bets in every possible combination.
Everyone can join this fun contest will definitely make watching the Euro Cup more interesting.
2. Tell us about the sportsbook / betting exchange and how it works for players.
Players can accept and make offers at our betting exchange.
Players can bet on Financials and can also place multiple bets just in time for the Euro Cup 2012.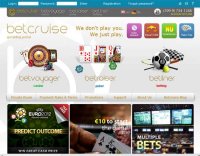 3. What affiliate promotions are running right now?
In addition to the 50% revenue share, affiliates will receive an extra 20% of the player's first deposit up to a €1000 deposit.
Commissions and bonuses are paid immediately no waiting for a 30 day billing cycle.
4. What player promotions are available?
All new Betcruise Players can receive 100% bonus up to €1000 on their first deposit not only by playing poker, but in our casino and betting exchange as well!
For more details visit the Welcome Bonus page. http://www.betcruise.com/en/promotions/welcome-bonus-terms/
5. What improvements are you making to the BetCruise brands?
Betcruise is going Mobile in the near future players will be able to play all our Betcruise games and betting exchange on their mobile device.
Players are already able to play our Casino Games at Betvoyager on their Android phones.
Also we will be launching a new look to our Poker in the very new future.
At Betcruise we are very excited about our new features, contests and promotions for our partners and players.
Read our BetCruise affiliate program review or signup to the program directly or contact the affiliate manager Nicole at nicole@gamesys.an