BetCruise launches Euro 2012 contest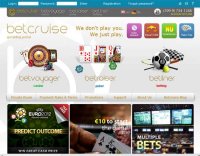 1. The UEFA Euro 2012 is a big tournament and will no doubt get a lot of betting activity. What sort of player promotions or contests are you running for players to get involved?
Player's can enter our 2012 euro championship.
Also at our betting exchange we are preparing for a chance for players to make multiple bets in every possible combination.
Everyone can join this fun contest will definitely make watching the Euro Cup more interesting.
2. Tell us about the sportsbook / betting exchange and how it works for players.
Players can accept and make offers at our betting exchange.
Players can bet on Financials and can also place multiple bets just in time for the Euro Cup 2012.
3. What affiliate promotions are running right now?
In addition to the 50% revenue share, affiliates will receive an extra 20% of the player's first deposit up to a €1000 deposit.
Commissions and bonuses are paid immediately no waiting for a 30 day billing cycle.
4. What player promotions are available?
All new Betcruise Players can receive 100% bonus up to €1000 on their first deposit not only by playing poker, but in our casino and betting exchange as well!
For more details visit the Welcome Bonus page. http://www.betcruise.com/en/promotions/welcome-bonus-terms/
5. What improvements are you making to the BetCruise brands?
Betcruise is going Mobile in the near future players will be able to play all our Betcruise games and betting exchange on their mobile device.
Players are already able to play our Casino Games at Betvoyager on their Android phones.
Also we will be launching a new look to our Poker in the very new future.
At Betcruise we are very excited about our new features, contests and promotions for our partners and players.
Read our BetCruise affiliate program review or signup to the program directly or contact the affiliate manager Nicole at [email protected]
Betcruise has definitely stepped up his game with all of these new additions for the players and partners. The brand-new promotion that features the Euro 2012 allows the players to engage with this thrilling football competition even more.
The players are able to bet on their own nations or simply their favorite national teams with the hope of earning some extra money in exchange for that incredible support. In addition to that, the multiple bet bonuses that Betcruise has opened give the players the opportunity to increase their earnings without actually having to make an extra investment. Overall, this special promotion is set to make plenty of players happy while the competition takes place in the European continent.
Betcruise also has dedicated offers and promotions for the webmasters as part of its affiliate program. The webmasters have the chance of earning up to 20% from the first deposits that all of their referrals make on the brands, allowing them to boost their commission earnings even further while the Euro 2012 is under way across Europe.
The webmasters can earn up to €1,000 per referral through this special promotion. So, if you are a webmaster on Betcruise and you wish to increase your monthly earnings, this is the perfect opportunity to take and get that boost you were looking for. Moreover, if that promotion were not enough to draw your attention, Betcruise stated that all the earnings from this promotion will be paid instantly, meaning that you will not have to wait for the paying period of your commissions to come by. It is all done and processed immediately after your referral has made his first deposit on any of the brands sponsored by Betcruise.
The players have their very own promotions to claim as well. Betcruise is offering a 100% bonus to all the new players. This promotion is ideal for all of those new registered users that wish to earn a lot of money from the beginning of their experience as a player on Betcruise.
The players do not have to make a large deposits to claim the bonus either, a minimum deposit is more than enough to qualify for this compelling bonus. One of the most important traits about this promotion is the fact that you can use it on any of the betting options available on Betcruise. It can be used on the casino games, the live casino games or the sports events that Betcruise offers to all the players on a daily basis. The choice is yours at all times.
Mobile gaming is turning into the hottest trend nowadays. You get to see how phones and tablets are seen everywhere now. They can be used for pretty much anything you can think of, from paying your bills to watching your favorite TV shows and movies. With that being said, it was just a matter of time before you got to see the online casinos and sportsbooks sites make a move to be part of this hot global trend. Betcruise has certainly joined the trend.
The site has stated that is developing a brand-new interface dedicated to mobile devices, this way, the players and affiliates are able to have access to all the games, offers and starts from their smartphones and tablets at any time anywhere they go. You can easily earn some extra money on Betcruise while traveling on public transportation or even while sitting on a bench at your favorite park while eating some ice cream at the same time.