BetEasy being sued for alleged unpaid winnings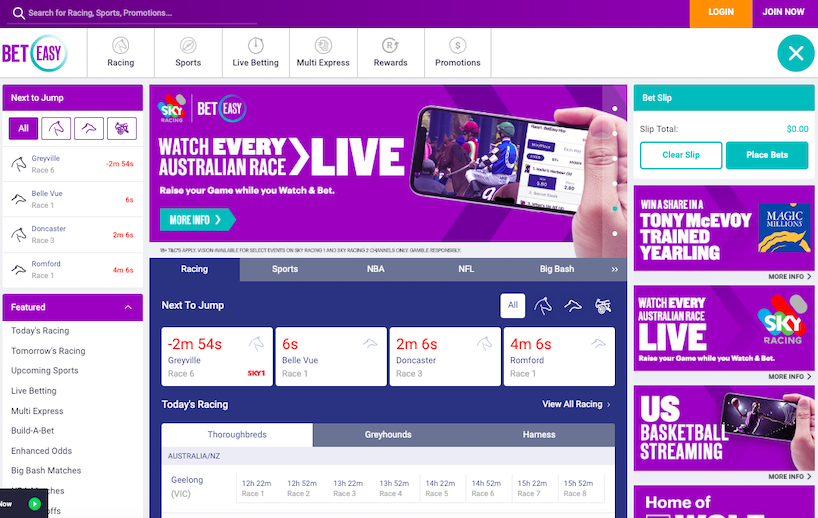 BetEasy, an australian based bookmaker, is being sued for $1,2 million for alleged unpaid winnings.
Renee Bell, one of the firm's players, won a monster multi-bet making her a potential return of over $1,4 million, however, only saw a claim of $250,000.
Documents were filed afterwards in Supreme Court where Bell claims that BetEasy, formerly CrownBet, was "deceptive and misleading" when it accepted $500 worth of multi-bets and did not have the proper return.
Only $250,000 were paid out after Bell's first win, adding the $100 stake, but as for the other 400$ the bets were cancelled by BetEasy and proceeded to refund the money.
Bell's lawyers argued that BetEasy went through with all the bets placed without any warning issued about any potential limits on maximum payouts that could be applied.
"To the contrary, [BetEasy] accepted the full amount of the plaintiff's stake for each bet without any deduction or limitation and recorded the plaintiff's bet as returning the full amount of potential winnings,"
The statement continues, "[BetEasy] ought to have paid out to the plaintiff the amount of $1,443,695.90 in respect of the bets, but only paid the amount of $250,000, and the plaintiff claims the difference of $1,193,195.90 as a debt."
The issue comes as according to the terms and conditions of the bookmaker the maximum payout for a multi-bet for a racing/sports or a combination of both is $250,000. The website says "It's your responsibility to ensure you stake accordingly to the limits"
But things complicated even further as Bell filed a formal reply to the court against BetEasy's defence about the terms and conditions claim.
Bell says that she didn't agree to the terms and conditions in the first place as she didn't create the account on CrownBet platform. According to her, she received an email three days after she joined Crown Casino's Signature Club about said account and that's when she became aware of it.
"When she joined the Crown Signature Club she did not agree to CrownBet's terms and conditions and such terms and conditions were not brought to her attention; and when she first logged in to her CrownBet account she did not agree to CrownBet's terms and conditions and such terms and conditions were not brought to her attention," said the court documents sent by Bell's lawyers.
Regardless of that, BetEasy holds up on its claim as in their terms its stated that using its website, opening an account or by placing bets, players agree to the terms and conditions. So this all falls into a loophole.
The next hearing comes in on November 13 as listed in the Supreme Court.
Bell placed $500 worth of multi-bets including a $100 five-leg all-up that returned $1,260,748.80, successfully tipping horses Jaminzah ($16), Marcel From Madrid ($9), Praguematist ($4.80) and Miss Iano ($9.50) to win their respective races around Australia on Saturday, May 19, 2018, as well as West Coast to beat Richmond ($1.92) on Sunday, May 20.
Bell's other four $100 bets all used the same horses, all of which were either part-owned or bred by relatives, and a football match, but with different combinations of three horses to place and one to win, which returned another $182,447.10.
BetEasy's website is now directing all of its gamblers to the Sportsbet site after their parent companies officially merged in May 2020.
This case against this betting platform has certainly damaged its reputation more than just a bit. It is obvious to say that whatever the result that comes out of the hearing is, BetEasy will be affected negatively among all of its registered users. It is quite difficult to choose who is right and wrong in this particular story. On one side, the player invested her savings with the hopes of earning a considerate amount of money without actually reading and analyzing the terms and conditions that the betting site is ruled by.
On the other side, there is a betting platform with plenty of years of experience that processed a refund with the hopes of getting rid of any potential problems with the player. At the end, both parties got involved in a legal altercation that seems completely uncertain up to this moment.
The reactions from the public eye have been mixed as well. Some people consider the player to be right and therefore, she should be paid the complete amount of money while others consider BetEasy to be right since the player should have read thoroughly the terms and conditions before deciding to make real money bet on this online gambling platform.
One of the most important points about this case is the fact that the player says that her account was never opened by herself. She claims that an employee of Crown Resorts (BetEasy's owner company) called her and created the account on her behalf. Therefore, she was never aware of the terms and conditions that this betting site has.
After all the controversy and altercations that have taken place during this particular case, many players registered on the BetEasy site and any other gambling site have admitted to betting real money without actually reading the terms and conditions that every bet is ruled by. They all claim to consider the terms and conditions irrelevant since they do not think they are going to lose such a large amount of money. That specific claim made by the players is quite usual most time. The players never give the terms and conditions the importance they deserve and more often than not end up getting very unpleasant surprises.
Without having the final verdict from the Supreme Court on this case, it can already be said that one specific lesson has to be learned by each and every user that decides to register on any online casino or sportsbook with the intention of betting real money. Never skip the terms and conditions that are shown right before finishing the registration procedure. Reading them and analyzing them may save you a lot of trouble at the end. It is also important to point out to the players that they should never register on an online casino or sportsbook that does not show the terms and conditions before the completion of the registration procedure. Those sites can be considered fraudulent in many ways, and you could end up losing your funds.