Betfair looking to launch in Colombia through BtoBet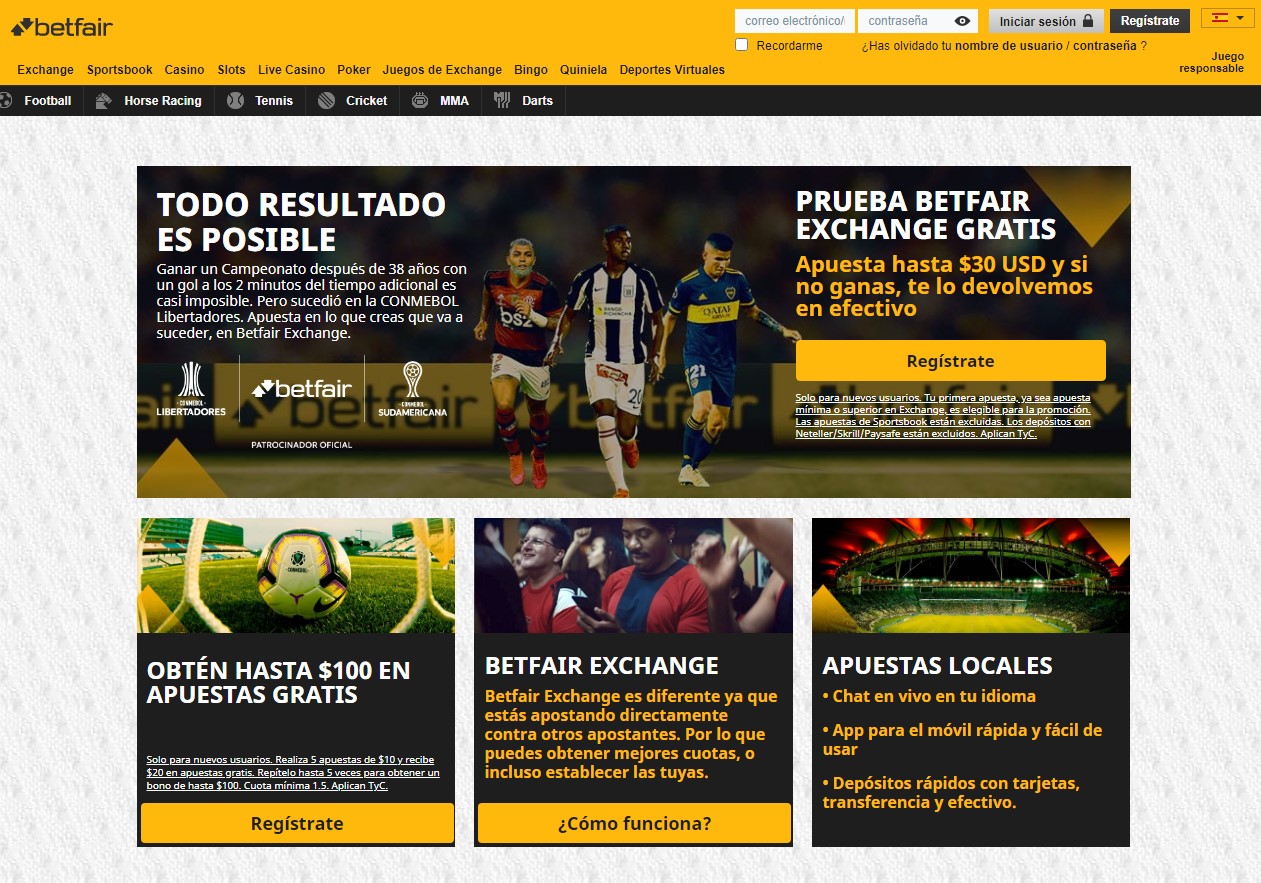 After being acquired by Aspire Global barely a month ago, BtoBet is looking for it's next deal in the Latin American nation. It will provide a player account management solution and platform to Betfair.
BtoBet founder, Alessandro Fried, commented on the deal: "As one of the world's largest international online sports betting brands, Betfair will become one of the first B2B partners to leverage BtoBet's position in the market since its acquisition by Aspire Global,"
The Betfair deal includes scope to expand the partnership into other regulated markets in the future.
"We are confident that we will become key players in the market by combining Betfair's strong brand and extensive industry knowledge with our flexible technology."
Mike Woodbridge, Betfair's international director, added: "We are excited about this planned partnership and the chance to offer a top-class betting experience to Colombian customers by combining BtoBet's excellent Neuron 3 platform with Betfair's industry leading trading and risk management capabilities."
Looking back at a time before the acquisition of BtoBet by Aspire Global, BtoBet had revenue of €4.4m and an EBITDA of €1.5m, and in the first six months of 2020 the firm recorded €3.1m in revenue and EBITDA of €1.2m.
After these astonishing numbers, Tsachi Maimon, CEO of Aspire Global, made the following statement: "Aspire Global now enters the sports betting arena with storm strength. With the acquisition of BtoBet we have become a true global B2B company which owns and provides an igaming platform, sports betting, casino games and games aggregator as well as managed services for all continents and markets. Aspire Global can now compete for any deal, big or small, that exists out there."
"This is a perfect match. We are impressed by the qualities of the Neuron Sports platform and in addition we will get access to new growth markets, new potential big deals and new opportunities."
After the news release of the partnership between Betfair and BtoBet and their intention of starting to offer gambling options to the players located in Colombia, Aspire Global makes clear its intention of becoming the number 1 betting company in the whole world. This particular company offers gambling services across the whole world through its numerous subsidiaries. Nowadays, it is one of the most reliable betting companies that exists thanks to its unconditional dedication to exceeding its possibilities and offering the best deals to the players. All the players registered on the Aspire Global brands are able to bet on sports events, casino games, live casino games, virtual games and many others.
With the acquisition of the license to offer gambling services in Colombia, the players in Latin America can boast to have one of the most complete betting platforms available to them. The Colombian players can enjoy betting on an intuitive and friendly platform that gives them the opportunity to earn extra money at any given time. The players are able to bet from their desktops, laptops and mobile devices as well, giving them the real opportunity to generate extra income on the go or at least have lots of fun.
Colombia is not the only territory that has given Aspire Global the authorization to offer gambling services. Aspire Global's Pariplay has been granted a license by the Hellenic Gaming Commission (HGC) to offer its services in Greece as well. The terms will see Pariplay offer its propriety and third-party games to local operators. Aspire Global acquired Pariplay for €13.1m in October 2019.
"Greece is a fast-growing market with great potential, and we are thrilled to be granted this license which underlines our commitment to compliance and operating in regulated territories," said Christine Lewis, chief commercial officer at Pariplay. After giving this statement, the chief commercial officer went on to say. ""We are excited about the opportunities that lie ahead and look forward to working together with Greek operators to introduce our content to local players and grow our brand in this thrilling market."
The acquisition of this license was possible thanks to the fact that the Greek parliament passed a gambling reform bill in October 2019, after that, the HGC launched the application process for online gaming licenses in October 2020.
Pariplay is one of several gaming providers to receive a license in Greece under the country's new system, joining operators like Goldenrace, Betsson and Bet365 and Play n' Go.
The players in Colombia can enjoy Pariplay titles as well. The agreement is the latest in a string of deals that have been struck by Pariplay in the regulated market of Colombia and offers Codere access to the firm's extensive portfolio of over 120 slots.
Christine Lewis, Chief Commercial Officer at Pariplay, said: "We see Latin America as a market with great growth potential and our teaming up with Codere Colombia is very significant in increasing the audience for our games in the region". She continued saying. "By going live with such a leading presence in the market, we are confident that the performance of our portfolio of games will continue to go from strength to strength."
Sarit Adania, Casino Product Manager at Codere, added: "Pariplay's slots will help to diversify our slots portfolio in Colombia, and we know that these games are popular with players here". After having said that, she stated. "This is an alliance that we believe will bear fruit for both parties in a region that is seeing online gaming grow at a rapid pace."
After all that being said, Colombian players will have a boost on the amount of slot games that they can legally play now which is a step forward on online gaming in Latin America.