Tell us about how the jersey sponsorship came about as the bodog team must be very excited about this. I could imagine that opportunities like this are not always available.
We've been on the search for a shirt for a while and we previously had a deal with Fulham FC as their online betting partner.
This was the next natural step from there & West Brom now have manager Roy Hodgson at the helm who took Fulham to the Europa Cup Final & if we get anything like the ride we did then we'll be thrilled.
Bodog is already a worldwide brand but do you think this sponsorship exposure will help increase the presence and popularity of the brand in the United Kingdom and in Europe?
A Premiership shirt gives a sense of instant credibility for those that may not already know the brand so for sure it will help in that respect but nowadays its also about building relationships with the fans both WBA and beyond – though it might be tricky with the Wolves fans!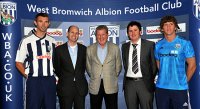 West Bromwich Albion finished 11th in the Premierleague for the 2010/2011 season, do you think the team will improve in the upcoming season?
The Baggies flew up the table as soon as Roy took over – even beating Liverpool and I am sure they will build on that finish both in the League and in the Cups.
They have kept their best players and bought in some new blood and so a Cup run is not out of the question once safety has been secured.
August 14th, West Bromwich Albion vs Manchester United, who will win this match?
Well I certainly think its the best time to be playing Manchester United – they tend to improve through a season rather than start at their best - and the beauty of being the underdogs is WBA have nothing to lose.
About Bodog Affiliate
The bodog affiliate program is one of the oldest around with casino, poker and sportbook products.
You can read our Bodog Affiliate Review or click the banner to join.