Casinomeister reopens its website in UK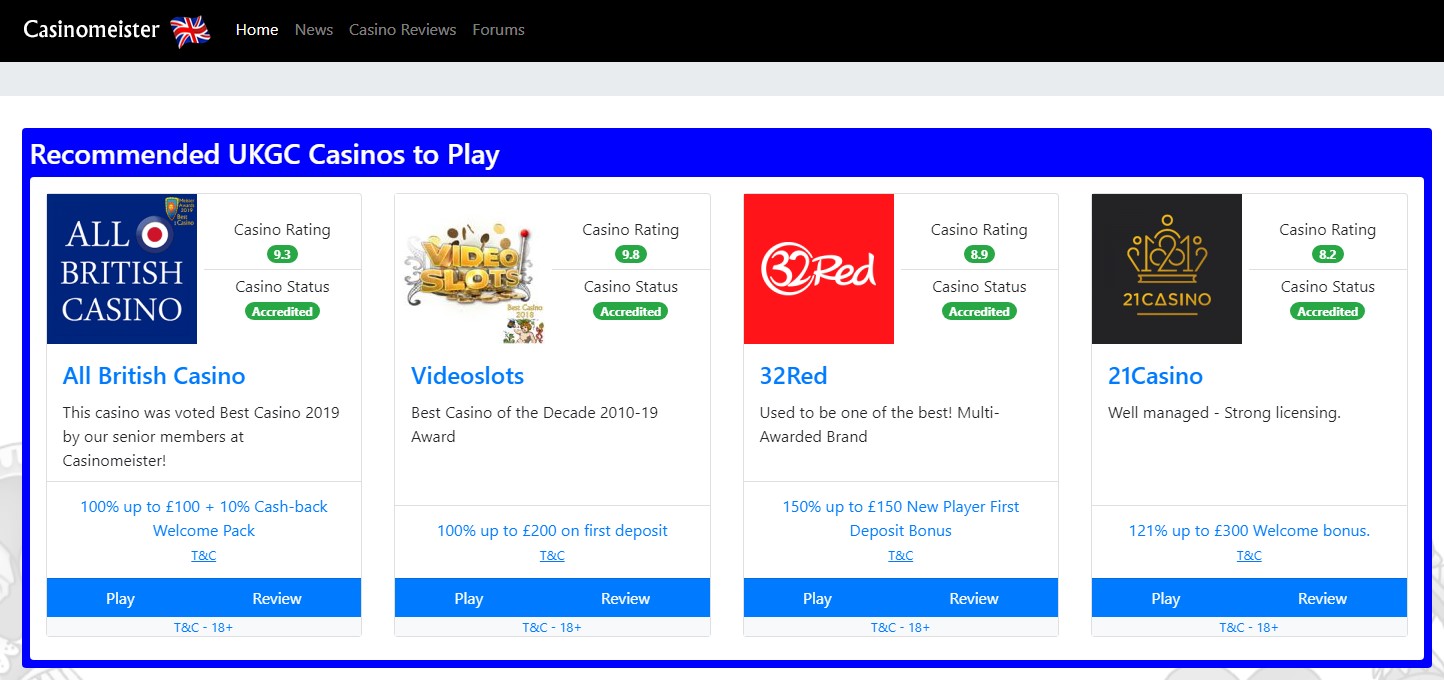 Online casino comparison and news site Casinomeister has reopened its UK website, following an overhaul of its offerings. The reopening has been announced while concerns about further regulations are still stirring up the pot in the UK
The website's usability on desktop has been improved, while it has also been optimised for mobile.
Casinomeister's UK website will focus on the latest news and insights from the market. Related articles from the main casinomeister.com site will be added too.
When talking about the launch of the UK-facing Casinomeister site, Director Bryan Bailey said the following.
"Blimey! It's the UK Casinomeister site! Well that only took a decade or two to do, but here we are!"
"Yeah, all the news pertaining to UK punters, UK webmaster affiliates, UK industry folk, and a concise list of reviewed safe, UKGC-licensed (and Casinomeister-accredited) casinos."
In its press release, Casinomeister said that visitors "should find navigating the site super quick and also responsive on all forms of mobile devices". Moreover, UK-based players will be able to participate on the main Casinomeister forum.
Visitors will also be able to take part in the main forums regarding active discussions about the gambling world and immerse themselves in what they consider one of the most vibrant and active casino forums on the internet.
As well as all of the above, there will be the core offerings of casino comparisons and bonus offers available just to players in Great Britain.
The release of this incredibly helpful site will provide the British players with the chance of reviewing each and every betting site that they are interested in.
Sites like Casinomeister are needed within the iGaming industry without any doubts. They offer a balanced and objective point of view on the many betting sites that are available up to this day.
Considering the growing popularity and relevance that the industry is having in recent years, it has been witnessed how many scammers and swindlers have used this hot trend to take advantage of innocent players.
These unashamed individuals have lied to many players by offering them fake sites and bonuses that have made them lose huge amounts of money.
Sites such as Casinomeister can certainly help you identify if a betting site is fake or not. But, it is always recommended finding the way to identify these sites on your own as well.
To help you do that, here are some special points that you can take into account:
Lack of a gambling license
An operating license is required for every casino. Jurisdictions all across the globe bestow these honors. The Kahnawake tribe in Canada, Caribbean island states like Antigua and Curaçao, and Central American countries like Costa Rica and Panama are all licensed to operate casinos in the United States.
European countries like Gibraltar, Malta, and Alderney are known for having some of the world's most respected casino regulators as well.
While having a license is not enough to ensure that a casino is not a scam, not having one is a major red flag.
Overall, it is recommended not to invest real money on sites that have not been granted a gambling license.
Public scandals and opinions
If a casino fails to pay wins, changes the conditions of a bonus on short notice, or comes up with bizarre excuses to terminate your account, this knowledge will soon be spread online.
This is the part where helpful sites like Casinomeister can come in handy.
Not all of them are pure fabrications. In reality, several companies modify minor aspects of their terms and conditions and end up on the lists of the most reputable betting sites.
If you come across a casino that has been operating for more than 5 years and has no complaints, controversies, or payment difficulties, you may be confident that you have found a reputable site.
But, bad luck could make some players feel enraged and use forums as a way to vent out, so it is recommended to be selective with the information given on these sites too.
Casinos that hide behind web forms
Fake casinos will not inform you who the owners are or provide you with too many methods to contact them.
When compared to the larger, genuine casinos, this is a bargain. On their webpage, you'll discover ownership information, addresses and phone numbers, various e-mail contact addresses, and frequently a live-chat support platform.
If you just have a website with a simple 'contact us' form and no other choices, it is recommended that you start checking some other betting sites out.
No testing verification
Most casinos try to show that their games are fair.
To do this, professional auditing firms are hired to run the games millions of times.
This information is then utilized to establish that the trade is random and that the reported returns, known as the RTP rates, are correct.
These services are provided by a number of firms. eCogra, Technical Systems Testing, and iGaming Labs are three of the most well-known.
On their webpages, casinos provide badges with links to their credentials, so you may verify them. Again, this might be a forgery, so double-check with whichever testing business is displaying the audit that it is current.