Affiliate Interview with CasinoRecommender.com, launches Gambling Testimonials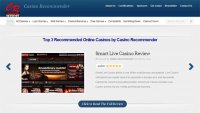 1. How long have you been in affiliate marketing and online gaming?
8 years + 5 months + 5 days ! Roughly 20% of it as a full-time and 80% of it as a part-time (unfortunately).
But the ratio will go ahead for full-time because since September 16th 2011, I have been dealing in full-time and I plan to continue this way.
2. List some of the sites you have.
http://GamblingTestimonials.com (new)
3. Tell us about some of the improvements you have made to CasinoRecommender.com in the past year
In the past year; There are spectacular changes and improvements have made to CasinoRecommender.com by me and my Coach John.
First of all, design has totally changed and migrated to WordPress which enabled us to publish more interactively and dynamically including presence in all social media.
Secondly, there were total of 100 comprehensive and unique online casino reviews have added to CR, each consists of around 700 words in average.
Last but not the least, let me summarize the 2012-2011 year-to-date comparison figures for CR
74.13% increase in New Visits (31.52% increase in Google searches, 41.18% increase in Yahoo searches, 79.31% increase in Bing searches).
Although we are concentrating our work mainly on Google, the diversification among the other search engines makes us happy for not putting the eggs in the same basket!
20.58% increase in Overall Search Traffic (All of them were Organic Searches. No Paid Search)
69.41% increase in Direct Traffic (Thanks to Social Media Sources)
9.10% increase in Referral Traffic
We are happy with the figures and development but we are working hard to keep the site as fresh as possible with information rich content" and objective reviews.
One of the things that we are about to start is adding "You Tube" reviews of our "Recommended Casinos" for increasing the content quality and effectiveness.
Regarding the reviews, our first target is to reach to 200 gambling brand recommendations with comprehensive reviews of them and then to 300.
We do not aim to have more than that because, keeping the reviews updated is much more important than adding hundreds of out-of-date reviews.
So we have to to optimize the number of reviews & recommendations so as to keep them up-to-date.
4. Tell us more about your new project GamblingTestimonials.com and how does it work, can I recommend myself or is it meant for players and affiliates to recommend others?
"GamblingTestimonials.com" is our latest baby which was born nearly 2 weeks ago but attracted a reasonable interest among players and affiliates.
The main reason comes from the objectivity of the site I assume.
The working mechanism is simple.
Let me explain step-by-step: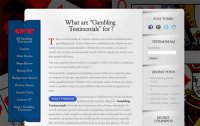 1) A player, an affiliate or even a website owner send their online gambling related testimonial(s) to us via the form on the website or e-mail.
2) By sending a testimonial to GamblingTestimonials.com, a player/affiliate get 1 Free Link for each testimonial content which is leading to the website they prefer.
3) We read, approve it/them manually and publish them in the appropriate category. Content should not include any irritative word(s) or expressions of course.
4) Then inform the Author of the Testimonial about the publishing status.
5) Testimonial sender is not urged to link back to us or the related testimonial page but if they would like to support us, we will be happy to see that of course.
6) After all process, a player/affiliate could search via the search box on the main page or browsing by categories.
The creative idea was born from the founders of this project by the "Lack-of-Trust" on the online gambling brands as an affiliate/player and increasing complaints reaching to CR and respectable forums.
We think that, reading a review or a testimonial which is published by the gambling brand itself, may not reflect the realities transparently becauseno one prefers to show his/her house dirty or untidy!
GamblingTestimonials.com is a totally independent portal that has not got any relation with the gambling brands and their owners/managers at all.
So either positive or negative comment will be publishing freely.
We are planning a sustainable growth of testimonials.
Our vision is to become the one and only objective information source about the online gambling brands.
When we reach to adequate number of testimonials we will publish a "Recommendation List" which will be titled as "Brands with Zero Negative Testimonials".
We hope to have many gambling destinations on that list!
5. What are your top 5 favorite affiliate programs?
It is hard to limit with 5 but let me try:
Winner Casino (Our main sponsor also)
Swiss Casino
Castle Casino
Intertops Casino
PaddyPower Casino
6. What are your goals for 2012 and beyond?
Currently we as hc-Gaming Group is operating 15 gambling related websites. (6 of them are in Turkish).
We have 4 more websites in our to-build list for 2012 for now. But there is a high-potential for expanding the list due to our open-mindedness for innovative new ideas and projects.
Our main aim is to grow in English sites due to legal restrictions that are being active in Turkey.
Our first priority is improving CasinoRecommender.com but it seems that GamblingTestimonials.com will tackle with it in terms of priority due to its creative & genuine idea based on fulfilling gamblers' need of trust.
Thanks for letting us express our thoughts as hc-Gaming and we appreciate your valuable efforts and contribution via gaffg.com.
Hussein Chatin hc-Gaming