Compare.bet brands two new features within the UK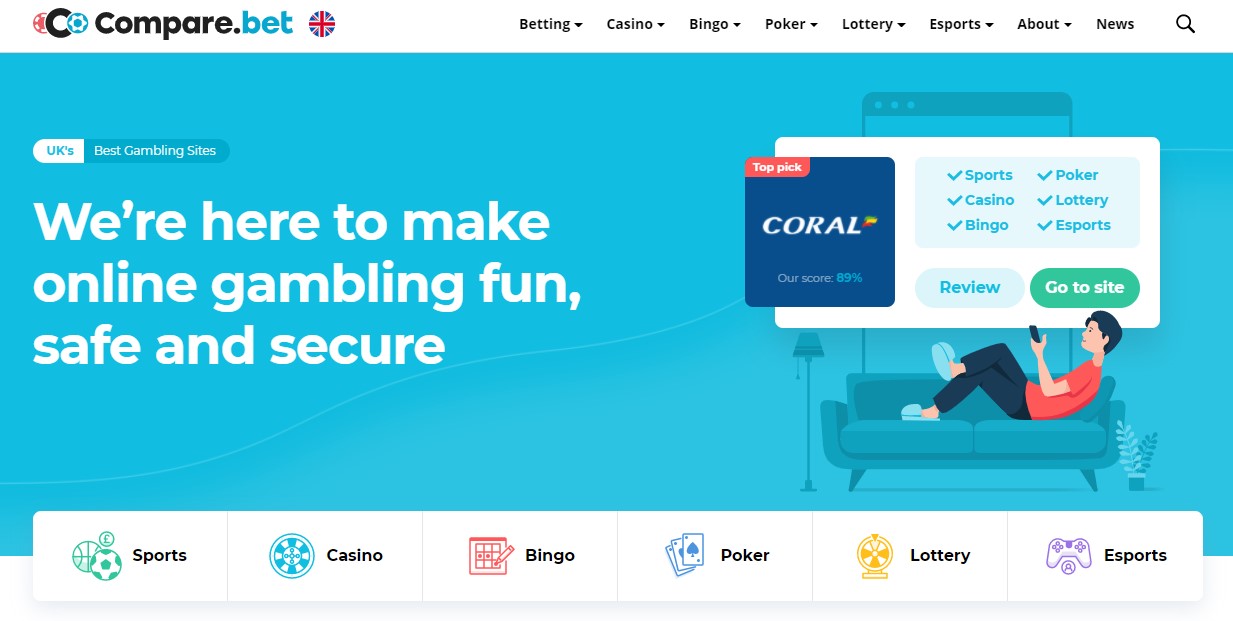 Compare.bet cranks up a notch on its sportsbetting business strategy by launching two new tools to the UK market.
The online gambling comparison platform has introduced betting tips and betting odds feature for its service.
The odds comparison service from Compare.bet, which currently aggregates six UK bookmakers with five more progressive integrations, was made available to customers this month. The functionality is to be advertised around the web before the end of the year which will see more bookies and betting markets added to the new platform.
Compare.bet intends to add more bookies and betting markets to the platform before the year is over. There are currently five more integrations in progress.
The betting tips feature is already proving popular with visitors. This section of the site is achieving a run-rate of 30,000 visits each month and has been released to coincide with the return of the English Premier League.
Founder and CEO of Seven Star Digital, Luke Eales, commented on the launch: "We have developed technology, processes, content expertise and distribution to a very promising level. Thanks to the vast global scale of sporting fixtures and betting interest, we will seek to apply a multiplier effect to our initial success going into 2021."
Compare.bet was initially launched by Seven Star Digital back in 2017. Seven Star Digital and Compare.bet initially focused on online casino but these latest features are propelling them into the sports betting market. While these features are only currently available for UK users, 2021 is looking bright with phased launches in progress.
The company's main goal in 2021 will be to become a site with more of a background in online casino, creating a high-quality sports betting product. The new features can now be found on the UK version of Compare.bet. The rest of its 10 versions are scheduled to launch in phases within the next year, including in the US.
When it comes to comparing their recommended suppliers, the Compare.bet staff works hard to ensure that its consumers have all they need.
Compare.bet has professional, unbiased assessments of hundreds of leading e-sports bookmakers, sportsbooks, casinos, and more, as well as a variety of tutorials that help you through the more difficult aspects of gambling online.
They are certain that their in-depth evaluations and advice will assist customers in making faster, simpler, and more educated selections when choosing their favorite online gambling sites.
Compare.bet is always striving and improving so that the players know who to trust in the iGaming industry, some of the values that Compare.bet has are:
Quality is key
They aspire to provide the greatest possible experience for their users, and they are always striving to improve.
This comparison company is always looking for the most trustworthy betting sites that give the players the best quality and options available.
Bonuses and promotions are important, as well as the number of games and betting possibilities that the players can seize and Compare.bet surely knows it.
The player that visits Compare.bet will not find sloppy betting sites that will only make him waste his time and earnings.
Compare.bet will always be focused on recommending the best of the best at every occasion.
Transparency is equally important
When it comes to online gambling, there may be a lot of ambiguity. Being honest and upfront gives this company greater vitality.
Many websites dedicated to comparing and reviewing betting platforms are biased or have clear preferences.
Compare.bet is not the case at all. This poised company is always providing the players with objective reviews and experiences on the betting sites that can be found on it.
No preferences, no favoritism and no biasing on Compare.bet.
Learning must be constant
The staff at compare.bet has had a wonderful experience, yet they remain humble and strive to grow.
The iGaming industry is growing steadily each and every day, so as a company focused on providing an insight on this particular industry, it is crucial that the team is developing and learning at every second.
Therefore, the Compare.bet team is always learning and discovering the latest trends and features that get added on the many betting sites that are available to the players nowadays.
Fun must be present at all times as well
Gambling is a kind of entertainment, and the Compare.bet team wants to help ensure that it is both enjoyable and safe.
Having fun matters as much as the features and betting options available to the players.
Compare.bet is always doing their best to provide the players with the safest yet most entertaining betting platforms that are available to the players up to this day.
Compare.bet will offer objective reviews on the betting sites with the most amusing features and games, so you can have a real good time for long periods of time at any given moment.
The team behind Compare.bet
They're a tiny group of digital marketing specialists who specialize in generating excellent web content. Their team, led by founder Luke Eales, has decades of combined gaming business experience.
Luke has worked in the online gaming aggregation area for a number of years and has been published in publications like as Intergame, Totally Gaming, Sigma, IncomeAccess.com, Affiliate Insider, SBC News and others.
Content, Product, Design, Marketing, and Commercial specialists make up the rest of the team, which is tasked with bringing Compare.bet's goal to life.
The goal is to provide the users all over the globe with an unrivaled gambling comparison experience.
If you are uncertain whether you should trust a betting site or not, you may want to take a look at the review made by Compare.bet.
It could surely help you make up your mind in a matter of minutes only.