Entercom Communications closes acquisition of QL Gaming Group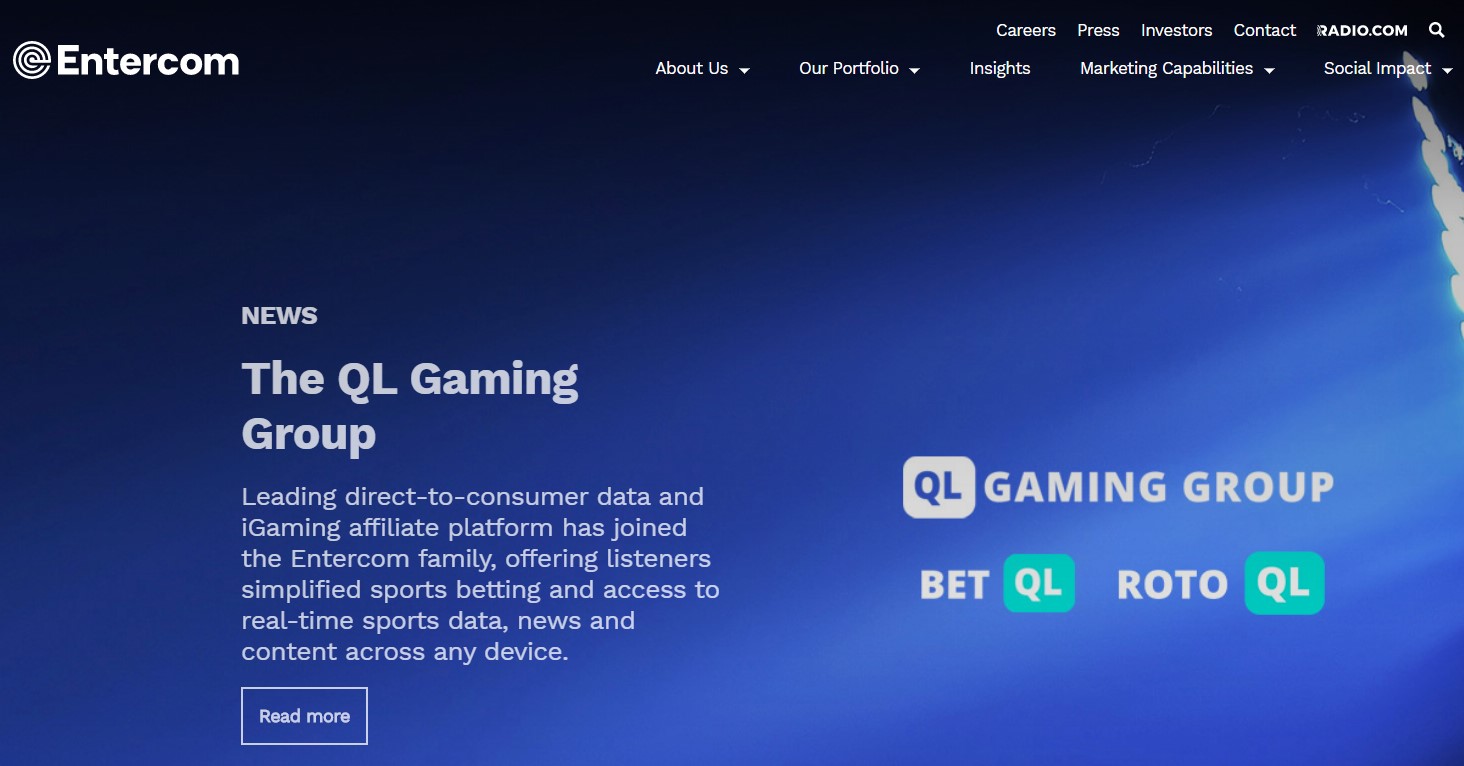 Entercom, the radio and broadcasting giant has acquired the iGaming affiliate platform and sports data QL Gaming Group in a deal of around $32 million.
This deal will feature the integration of QLGG's sports data, analytics and insight-driven content into Entercom's broadcast stations and platforms such as radio.com.
QLGG's technology portfolio includes sports betting data and analytical capabilities via BetQL and daily fantasy sports through RotoQL. It also offers simulation-based sports outcome predictions and game forecasting via AccuScore, and analytical coverage of the Association of Tennis Professionals (ATP) and Women's Tennis Association (WTA) through TennisInsight.com.
Entercom chairman, president and CEO David Field, commented the following about the deal: "As the sports betting marketplace continues to grow exponentially, the acquisition of QL Gaming Group is a perfect fit for our unrivaled sports audio platform,"
"Integrating QL's analytics and content with our sports brands enables us to deliver unparalleled experiences for sports fans. The acquisition builds on our track record of digital growth and further enhances our direct-to-consumer technology portfolio with data and analytics capabilities, while also adding an innovative new subscription offering to our platform."
Also, QLGG's co-founder and CEO, Justin Park, added on this: "We are thrilled to be joining the leading sports audio platform, bringing our betting insights and expertise to such a loyal and dedicated fan base. Between our capabilities to make bettors better and the influence Entercom's platform provides, we can now offer a wholly unique proposition to the sports enthusiast that is second to none."
Park will continue to lead the business, reporting to president of sports Mike Dee and chief digital officer J.D. Crowley. In 2021, under its first full year of ownership, QLGG is expected to generate approximately $12m in revenue.
About Entercom:
Entercom or Audacity, is one of the biggest companies in terms of radio communications, podcasts, original broadcast, digital content and many more contents of interest for all audiences.
One of the branches of Entercom is to cover almost all the sports events that you can think of including Football, Soccer, Basketball, Baseball, and others, so it would not be a surprise if they own already or if they launch a sportsbook website or a betting website in the future, since they already have a huge amount of important traffic that could become easily into revenues with just a little work from an affiliate program… is this ring any bells?, however, the majority of the users of Entercom or Audacity are via audio only, but it is for sure that with the acquisition of QL Gaming Group this would not be a problem at all.
About QL Gaming Group:
QL Gaming Group was launched in September 2015 but was acquired by Audicity in 2020, this group or affiliate program has over 200,000 users mostly in America but from other countries too, the company counts with several brands such as BetQL.com, RotoQL.com, TennisInsight and Accuscore, plus the company counts with lots of important investors that ensure the profitability.