Facebook launches real money gambling app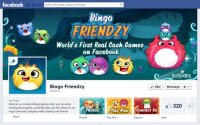 Facebook has officially entered into the world of online gambling with their first real money gambling app called Bingo Friendzy.
This app is made entirely by Gamesys which is the company that is behind Jackpot Joy which is one of the larger online bingo rooms on the internet.
This game is currently available only to residents in the United Kingdom.
Facebook claims to have no partnership with Gamesys other than the fact that Facebook does take commissions from income generated through facebook and this could be around 30%.
Although Facebook says they have done this because the markets are ready for it especially in a regulated gaming market in the UK, it most likely comes down to income for Facebook as they are still struggling to generate more revenues from their website and massive network.
To view the app on facebook visit http://www.facebook.com/bingofriendzy
With the launch of Bingo Friendzy it is expected that this will be the stepping stone towards getting more online gambling apps onto Facebook which could represent a huge amount of income for Facebook.
Zynga is already planning to launch a real money gambling app on Facebook.
So now instead of people wasting their time on facebook, they can now do the same thing with their money and spend it freely.
Jackpot Joy is one of the brands under the Market-Ace bingo affiliate program.
They also operate Sun Bingo and their brands are very present in the United Kingdom.
What is Bingo Friendzy about?
On Bingo Friendzy, the users may choose from a variety of bingo and slots games, and they can pay with cash rather than using Facebook's Credits system to make their purchases.
Bingo Friendzy, like many other online gambling sites, is based in the British overseas territory of Gibraltar and is only open to players over the age of 18 who live in the United Kingdom.
Curiously, the app's signup process is distinct from Facebook's, instead of logging in with their Facebook accounts, the new users must enter their email and address information.
While activity from Bingo Friendzy games is published to the users' timelines, posts from under-18 and non-UK users are not allowed to appear.
What exactly Bingo Friendzy means for the Facebook users?
For those who are familiar with Facebook gaming may be wondering what it means to play for "real money."
The users may, after all, play games with "real money" right now if they exchange their real money for Facebook credits.
But what makes Bingo Friendzy revolutionary is that users will be able to skip the Facebook credits and use their credit cards to put their money on the platform directly.
How are the limits going to be regulated?
Sun Bingo and Heart Bingo, as well as the UK's biggest bingo and slots website Jackpotjoy.com are operated by Gamesys, one of the major online gaming firms in the UK.
The users will have access to self-help options to decrease the danger of gambling addiction, including the opportunity to establish spending limits, according to the company's press release.
The decision to introduce a real-cash gambling app in the UK was prompted by "a mature and extremely well-regulated gaming sector," according to Facebook.
The government of Gibraltar licenses and regulates Gamesys' gaming activities, allowing it to sell titles in the United Kingdom.
Will Bingo Friendzy ever be available in the United States?
The decision to offer gambling services is a delicate one.
In certain countries, the laws against it are quite strict, and it appears that Gamesys is taking a variety of steps to ensure that only those who are permitted to use the app do so.
The issue with real-money online gambling is more difficult in the United States.
The law currently prohibits banks and other financial institutions from providing payment processing services to betting sites targeted at US people.
Therefore, it is quite uncertain to foresee whether this gambling app will be available within the American territory in the near future.
In the meantime, Facebook is working nonstop to find the way to expand the reach of this gambling app as soon as possible.
According to Facebook, the launch of Bingo Friendzy represents a big win for the iGaming industry and the users as well, since they are able to have fun while earning extra money on their favorite social media platform.
What is Facebook's real intention behind the release of Bingo Friendzy?
In recent years, Facebook has struggled to find true success in its payments business.
Because the financial terms of the transaction are commercially private, it is unknown whether the game's earnings will follow the 30/70 revenue split that applies to Facebook Credits games.
"Facebook is a place that allows people to connect and share," said a Facebook's spokesperson in a statement.
"Real money gaming is a popular and well-regulated activity in the UK, and we are allowing a partner to offer their games to adult users on the Facebook platform in a safe and controlled manner."
Following that statement, it may be hard to figure out the real intentions that Facebook may have hidden under its sleeve.
For the time being, the players located in the United Kingdom do not have to worry about any of them.
All they have to do is enjoy the chance to gamble on a regulated app that is offered on a highly reputable social media platform that has been opened for many years and has satisfied many users across the globe.