Facebook has officially entered into the world of online gambling with their first real money gambling app called
Bingo Friendzy
.
This app is made entirely by Gamesys which is the company that is behind Jackpot Joy which is one of the larger online bingo rooms on the internet.
This game is currently available only to residents in the United Kingdom.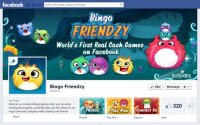 Facebook claims to have no partnership with Gamesys other than the fact that Facebook does take commissions from income generated through facebook and this could be around 30%.
Although Facebook says they have done this because the markets are ready for it especially in a regulated gaming market in the UK, it most likely comes down to income for Facebook as they are still struggling to generate more revenues from their website and massive network.
To view the app on facebook visit
http://www.facebook.com/bingofriendzy
With the launch of Bingo Friendzy it is expected that this will be the stepping stone towards getting more online gambling apps onto Facebook which could represent a huge amount of income for Facebook.
Zynga is already planning to launch a real money gambling app on Facebook.
So now instead of people wasting their time on facebook, they can now do the same thing with their money and spend it freely.
Jackpot Joy is one of the brands under the Market-Ace bingo affiliate program.
They also operate Sun Bingo and their brands are very present in the United Kingdom.