Fire & Ice Thanks a Rock Legend and a Super Group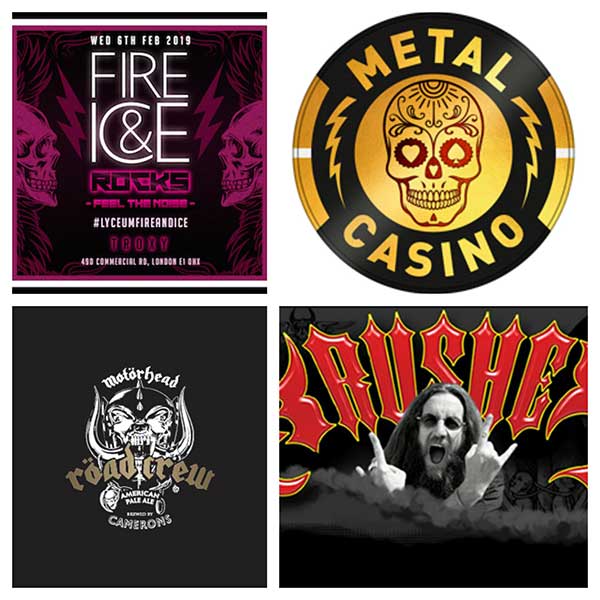 Fire & Ice Thanks a Rock Legend and a Super Group
5 FEBRUARY 2019, London – The iGaming elite will party like rock stars on Wednesday night at Fire & Ice with the industry illuminati and a cast and crew of dozens of performers, musicians, actors and artists.
Fire & Ice organizers Jodie Thind and Michael Caselli want to send a special thanks to Rock industry legend Krusher Joule for his inspired contributions to the show.
As a special treat to the guests of Fire & Ice 2019, Joule has designed a special Limited Edition 'I Got Rocked' at Fire & Ice t-shirts and merch that will be displayed on site during the evening.
Not only was Krusher the former art director of heavy metal magazine KERRANG, but the creator of album sleeves for the likes of Ozzy Osbourne, AC/DC, Motorhead, Blondie, KISS, and The Sex Pistols.
"Krusher, you are a Rock & Roll legend, and you have worked with everybody in the business. Your input has been invaluable in making the show authentic, and inspiring the kind of creativity that only Rock can. It was a pleasure working with you on this project. I'm sure there will be more collaborations in the future." said Thind.
Krusher Joule, commented: "For several reasons that I won't go into, I very rarely take on outside projects these days, but I can quite honestly put my hand on my naughty bits and say that working on Fire & Ice was an absolute breath of fresh air and Jodie was a delight to work with.
"I'm sure that the evening will ROCK HARD! HEAVY!! & ANIMAAAAAAAAAAAL!!! Cheers!
"We must also thank the great people at Cameron's brewery and Motorhead Road Crew American Pale Ale for collaborating with us to take this year's Rock and Roll experience to the 5th sense – taste, with some alcohol that has been brewed under the banner of one of Rock's biggest artists- Motorhead," said Caselli.
Finally, Fire & Ice thanks Metal Casino for sponsoring and helping make this a true Rock Star event, and iGaming's own Vandals Motorcycle Club.
Metal Casino Live stream hostess Marielle Tengstrom and crew leader Vixen Van Der Zee will take over the F&I DJ-booth and play a killer metal set for all you rock heads. Come and meet these metal rock babes on the night. They will be stacked with awesome merch and wicked vibes!
Clas Dahlen, Chief Brand and Strategy Officer at Metal Casino, said: "As the only hard rocking casino brand in the world, building an emotional connection to our customers, we are proud to interact and Metalize this year's Fire & Ice party. As we say: All in for the fans!"
All guests are invited to dress for the night in Glam Metal attire should they wish.
Fire & Ice Rocks takes place at the Troxy in London on Wednesday 6th February 2019. Doors open at 9pm and performances commence from 9.45pm.
For more information about table/sponsorship, contact [email protected]
TICKET COLLECTION AT ICE on FEB 5/6- CASINO CITY PRESS STAND ND3-C
Pre-F&I Dinner VIP Tickets can be purchased here: www.fireandicedinner.com
Sponsors include: AliQuantum Gaming, BetCris, BD Gamble, eMerchant Pay, EPIC Industries, Gaming Realms, Gamesys, Ganapati PLC, Golden Race, Groove Gaming, Habanero, Income Access, Hi-Pay, Metal Casino, Red Tiger Gaming, River iGaming, RPNpay, SA Gaming,Traffic & Conversion Summit, UltraPlay, Vegas Kings, The Vandals iGaming Motorcycle Club
Partners: 5StarMedia, CalvinAyre, GPWA, iGamingCalendar, SIGMA, Vegas Kings