Google+ is finally offering custom URLs for google+ pages
This feature is probably long overdue as Facebook offered this feature about 5 years ago. As Google+ has been expanding in the past 2 years, they are finally allowing users to remove the numbers at the end of their google+ pages to make it easier to share and remember the links.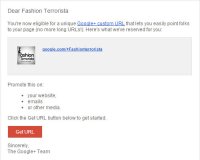 At the time of writing this article, you might receive an invite from google to create the URL of your page. Eventually it is expected that you will be able to change this from your google+ page itself. Just look out for an email informing you that you can create a custom URL for your page to
personalize it
and make it easier for others to remember it. It seems that Google+ is one of the last of the major social media sites to offer custom URls for their site and they will mainly follow the format of google.com/+pagename. If you get the email then you can quickly reserve and secure your brand name. Just follow the instructions, click the 'Get URL' button and get your custom URL secured.