Greece is one country that is suffering badly during the recession and in a bid to raise money, Greece has sold it's gambling business to private investors and has been looking to do this for some time.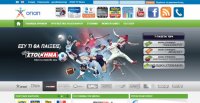 An investment company called Emma Delta has bought 33% of the company and is estimated to be above 650 million euros.
This deal has essentially been forced on the country as Greece has received billions of euros and are required to raise money and cut expenses to satisfy conditions set forth by the European Union and the International Monetary Fund.
Opap is the gaming company that controls gambling in Greece and is responsible for sportsbetting and lotteries.
You can learn more about OPAP on their wikipedia page: