How to use Google disavow link tool for the gambling industry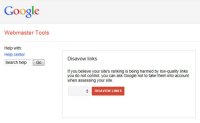 Matt Cutts has just announced a new tool by Google called Disavow Link Tool that helps webmasters fight bad links that are linking to your website. As a gambling affiliate this is a new great tool that can now help gambling affiliates fight back.
Gambling affiliates can now breathe a sigh of relief. For many webmasters links is important for ranking along with having great content.
But what happens when a site links to you without your knowledge or permission and refuses to remove the link?
This has been a problem where bad links pointing to your site can actually harm your SEO efforts.
Also with the recent Panda (content) and Penguin (link) updates, many affiliates that have been hit by penalties are struggling to clean up their links including bad links.
Up until now webmasters would be left helpless if a bad link started pointing towards their website. In some cases webmasters would get spammy links pointing towards their website both in bad quality and in volume.
Up until now webmasters were left in an uncomfortable position especially if they did not create the bad links themselves.
They could try to contact the sites linking to them but it is common that they don't get a reply or someone wants money to delete the links.
If one of your competitors paid for bad links to try to do negative seo on your site (push down your rankings) then you can almost guarantee that you would either have to pay to remove the link or if the competitor owned the bad site, you were helpless.
You could submit a reinclusion request to google but this process takes time and the results have varied from webmaster to webmaster as penguin is an algorithmic filter rather than a manual.
In Matt Cutts announcement he reserved a warning for webmasters to really know what they are doing before they try to use this.

@ksom: It was only a question of time that Google releases this tool as negative SEO has become very popular especially after the first penguin update was introduced.
For more information about tests of the tool you can read Dave Naylor's blog post on the topic here: http://www.davidnaylor.co.uk/disavow-tool-beta-test-recovery-laid-bare.html
A great tool for the iGaming webmasters
This new Google tool allows the webmasters to tell the platform that it does not want specific external links to be considered as part of its system when it comes to counting or ranking.
This is great for the iGaming webmasters since they are able to block bad backlinks and prevent them from placing lower on the Google Search.
Why is it a positive new tool for the webmasters dedicated to the iGaming industry?
The reason why this new tool is such a great addition for the iGaming affiliates is because the industry is filled up with scammers, liars and thieves that are always looking to take away money from the innocent players.
Regrettably, it is quite common to find any of the fake websites when it comes to gambling.
Many of those sites have been marked by gambling authorities and expert websites that have made the effort to spread the word and avoid that new players get scammed by them.
However, these illegitimate websites always find the way to keep on committing crimes, and one of them is using links that are theirs to attract new players to their platforms.
Sadly, many affiliate programs and iGaming marketers have suffered from this new illegal method used by the scammers.
Most of them have ended up with serious penalizations that have made it impossible for them to get back on track and recover what was lost unfairly.
The new Google Disavow tool is set to stop all of those unfair penalizations.
What can be considered a bad link?
According to Google, the most famous and popular Search Engine in the world, a bad link is:
"Intended to manipulate PageRank or a site's ranking in Google [or] may be considered part of a link scheme and a violation of Google's Webmaster Guidelines. This includes any behavior that manipulates links to your site or outgoing links from your site".
This simply means that any link, described to be dedicated to something that it is actually not made for, is considered a bad link, and it will be seriously penalized when it is detected.
What to do when you have been accused of bad links?
Google considers the disavow tool a suggestion and not a directive that all the webmasters should start using mandatory. Keeping that in mind, there are specific advices to follow before using the tool:
Investigate the reason why you were accused of bad links
Once you have received the notification, it is recommended to check by yourself why it has happened. Start by thinking if you ever bought some sort of help to increase your ranking or anything related to it.
Once you have figured out the truth, you can make the decision to request verification from the Search Engine.
Delete the links on your own if it is true
If indeed, you have made the mistake of buying a higher ranking on the Google search or many spammy links are directed to your site, it is recommended to delete them one by one on your own.
By doing it, you will prevent Google and any other Search Engine from penalizing you for them in the future.
It is important to remember that being penalized once does not mean that you cannot be penalized in subsequent opportunities.
If deleting the links did not stop the bad links, use the tool
Google advices that if you have made the deletion on your own and the bad links are still circulating on the web, it is recommended to start making use of the disavow tool.
Once you are on the tool, you will be prompted to submit a file with the links you would like to disavow. Remember to be precise and provide each and every link.
It is advised to re-upload the files every 3 months or 2 months.