One of the affiliate managers at InterPartners, Thomas Rhys Jones, shares the thought process behind the rebranding of InterPartners from PartnerLogic.
What was the main reason behind the rebrand of partnerlogic to interpartners?
Following the success of the rebranding of InterCasino & InterPoker last year, we felt that it would add greater synergy with our flagship brands.
Additionally, with the whole new reporting/marketing tools we were implementing with Income Access and being the program's 10th anniversary, we felt that it was the perfect time to change the name to InterPartners.
What sort of improvements have you been working on the program? Are there any new affiliate tools as well?
PartnerLogic had been one of the industry leading affiliate programs for 10 years, but felt that to give the affiliates all the tools they needed for the best possible service, we know we need to evolve with the market.
That is why we decided to move to the Income Access powered back-end who offer some fantastic functionality that we didn't have available before.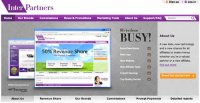 With the aftermath of Black Friday still ongoing, are you finding more affiliates going back to affiliate programs in the regulated markets?
Players and affiliates tend to see this issue in two ways.
Many players continue to play at the sites that were affected, because the prize pools have remained large but the numbers are less – giving them more chance to win the bigger events.
But for those players that are playing on a more regular basis and want the peace of mind that they are getting the best long term value, yes, the affiliates that cater to that type of player are pooling more of their resources into regulated markets and investing more time to build good relationships with established, Eurocentric sites.
What can affiliates expect when working with interpartners?
We offer affiliates everything they would expect from a leading program; the latest links, creative and content as soon as it is available, all easily accessible through interpartners.com.
We have a 'live chat' facility on-site, and an affiliate team contactable by email or phone ready to answer any and all questions to help affiliates grow their campaigns.
Do you have more features and improvements planned or is this top secret?
We are looking to constantly add new features and API's to both the back-end and the front end InterPartners.com site, such as mobile access, etc.
But you'll have to keep an eye on the site as we will always keep our affiliate up-to-date with any new releases.
Join InterPartners
InterPartners Review