London Affiliate Conference 2016 Preview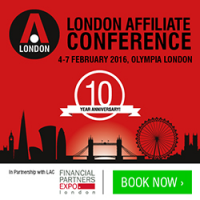 Special thanks to Shona ODonnell, Head of Operations of iGaming Business for this interview for the
London Affiliate Conference
2016, Feb 4th-7th.
1. How many people registered (or attended if you prefer to use) for last year's LAC event and how many do you expect to have for 2016?
Last year we had around 4300 registered before the event and a total of 3979 delegates that attended. Our aim this year is to beat that, we want to take the show beyond 4000 attendees -we were so close last time. We had a really successful event in Berlin in October and this is our 10th Anniversary in London so we are expecting it to be a popular show. We have moved to a new in house registration system which mean we launched almost 2 weeks later than last year but it's great to see we are at the same number of registrations despite this. It would be amazing to get to 4,500 attendees and the sooner people register the sooner they can start networking on the app.
2. The 2016 iGB Affiliate Awards is going to be different than before and is free for everyone to attend. The event itself is always the highlight of the conference but it seems it will be even bigger. Can you share what is planned for this event and how will this differ from previous year's events.
Unfortunately I can't give away too much about the awards. We wanted to make them bigger, better and more inclusive than ever before. In order to make the awards more transparent and reputable we have refined the awards criteria and judging process and reduced the number of awards from 32 to 25. We recently released the shortlist and people seem excited, I think it will be a big success.

There will be more of a party atmosphere at the 2016 awards and everyone will have the chance to network without being tied to a table. We are selling VIP tables that will be close to the stage and will include drinks but a whole floor is reserved for any one registered to attend LAC. Our headline sponsor is SpotOption and Intertops are sponsoring the bar and we'll also be celebrating there 20th birthday! Having more people involved makes the awards more exciting and we are expecting more of a buzz than at any of the previous award shows. It'll be a real immersive atmosphere and feast for the sense, with lots of great entertainment. I can reveal exclusively our theme is enchanted Forrest!
3. Aside from the iGB Awards, what are some of the social events planned during the conference?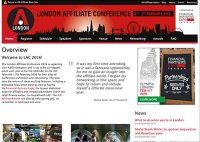 We have a number of great social events in the pipeline, but just like the awards I can't give too much away. All I can say is that two of our biggest clients will be involved and they have some pretty exciting plans at some stunning venues. We will also be hosting the Intertops Sunday Session that have become synonymous with the affiliate conferences. They're always great fun and hugely popular and a lovely way to end a very busy four days.
4. What is the feedback you have on the conference apps, are people getting good networking and use out of the app?
There are always huge amounts of signups for the networking app and it's something we always aim to get a lot of feedback on after our shows. Our delegates seem to enjoy networking and posting to one another on the app before, during and after our events. Overall we have good feedback and as much as we love this app we are looking at an even better one launching in time for Amsterdam because it's important for us to keep investing in the delegate experience.
5. You have a bird's eye view of the conference and in the industry as a whole, what are some of the trends you are seeing in iGaming in 2015 and what are your predictions for 2016?
Obviously the biggest talking points in 2015 have been both the massive growth of eSports and its emergence as a serious prospect for both operators and affiliates and the ongoing debate about Daily Fantasy Sports. I think we will see a lot more of both verticals in 2016. At our events in particular there seems to be more and more new affiliates at each show. It seems people are interested in getting involved in the industry and becoming an affiliate is a realistic way of doing that. It continue to be a lucrative and attractive industry particularly for affiliates which is great for the future growth of our conferences. Our events are always popular because they manage to be more than just a business event. The conference schedules are stronger than ever and the Acquisition and retention zone is returning to London, so we have even more speakers sharing real, practical take aways and tools. Delegates who attend tell us that they always have a lot of fun at our shows - this is something that is really important to us. If the affiliates and exhibitors are enjoying themselves then everything becomes a lot easier. Networking becomes less daunting and you begin to meet the right people. Most importantly however, is the relationships that you can build are stronger and longer-lasting on both a business and personal level. For anyone new to events that's nervous about attending or not sure how to get in touch with the right program Id be delighted to help make personal introduction. In Barcelona 2014 we ran a competition where we paid for accommodation, gave them the VIP treatment and helped make introductions. Just last week I met up with an affiliate that was part of that event and he is now a full time affiliate and said attending the event really did change his life and business. So on that basis you'd me crazy not to come to the biggest event in the industry.
http://www.igbaffiliate.com/events/londonaffiliateconference/