NetEnt to release three new brand games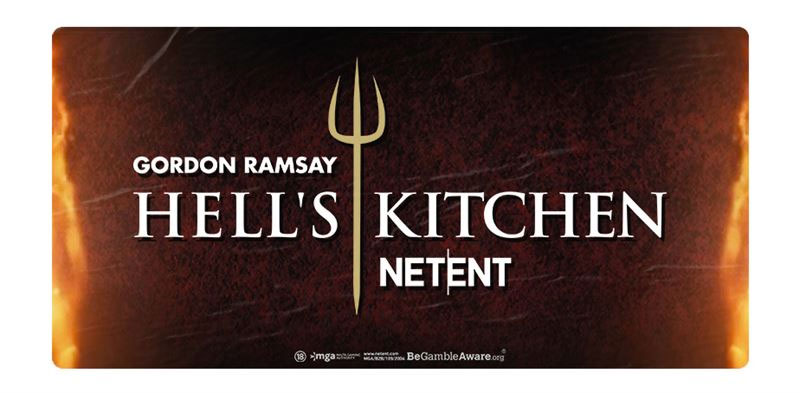 NetEnt have added three new brands to their portfolio of games: Hell's Kitchen, Street Fighter and the casino classic Starburst. NetEnt made the announcement at this year's ICE London event.
Hell's Kitchen joins NetEnt
NetEnt continue to show exactly why they are the best iGaming game development company in the world. The three new brands that NetEnt have begun working with represent how up to date the game development company is with current world trends. Hell's Kitchen is an immensely popular and well-known global brand and mixed with the Gordon Ramsey factor, it is sure to be a hit as casino slot game. It is likely that the Hell's Kitchen slot game won't only appeal to current casino players, it will attract viewers of the television series who want to try out a game based on the show and it will also appeal to fans of Gordon Ramsey himself, especially given that the famous British chef is featured in the game, as are a variety of his best catchphrases.
The Hell's Kitchen slot incorporates Ramsey's famous catchphrases and features a red versus blue layout resembling the television show which pits the red kitchen against the blue kitchen. Speaking at ICE London, Netent's director of games Bryan Upton stated that he was extremely keen to bring in a recognisable mainstream brand, he stated:
"Hell's Kitchen is a huge brand. Its global, it's a lifestyle, lots of people know it, it's perfect. So, I think it's going to be a big one."
"We had so many concepts to pick from, but just having the red and blue kitchen against each other and how do we make that work and Gordon just coming in and screwing things up or just adding some extra spice to it."
NetEnt's long time rival Evolution Gaming were one of the first to incorporate well known brands into their gaming portfolio. Their Monopoly Live series which is now offered by multiple casinos integrated arguably the most popular and well known board game of all time, Hasbro's Monopoly. There are now multiple different Monopoly casino games. NetEnt's aim is to make use of the globally known Hell's Kitchen brand in the same way Evolution Gaming used Monopoly.
Street Fighter and Starburst join too
Upton was also extremely excited to have signed up the Street Fighter brand to NetEnt, Street Fighter is one of the most iconic video games in the world and the new Street Fighter slot game is expected to attract long time video game players.
"I'd met the right person at the right time inside of Capcom, and he was he was really fantastic,"
stated Upton.
"It's just something magical. It was a great kind of process to go through and I'm overjoyed to be able to bring it to NetEnt."
The third and final brand NetEnt revealed to be working with is Starburst. Alongside the Rainbow Riches series of slot games, Starburst is the most well-known casino slot in existence. NetEnt have added to the Starburst brand by optimising it with a number of modern features.
"We have community element, we have a kind of collection element, we have kind of an offline payment part of it, we have everything,"
say's Upton.
"It is totally configurable and customizable, we've just gone to town, and then we put the Starburst brand, which is like the biggest one."
NetEnt reigning in the industry
NetEnt has been developing casino games for more than 15 years. Its titles can be found on retail casinos as well as on online betting platforms.
The game maker became a stronghold developer since the very beginning, amassing a huge fan base thanks to various factors such as creativity, features, graphics and of course, earning chances.
For over 15 years, NetEnt has shown how professionalism, hard work and dedication can lead any company to the top in the shortest period of time possible.
What makes NetEnt stand out from the rest of the developers
Innovation
At this point, NetEnt can be considered a synonym to innovation in all ways. The game developer was and is still the first one to release games with features and graphics that have never seen before.
Hell's kitchen is a great example of innovation in the present time, combining features with the show's real traits, turning into a blockbuster title even before its official release.
But, there are plenty of other examples, such as Gonzo's Quest, this slot game was the very first one to implement cascading reels.
A particular graphic effect that left many players and operators excited from head to toes. Apart from that, the game had amazing special features and equal earning possibilities for each and every player.
Gonzo's quest is still available up to this day, and you can play it in a wide number of online casinos.
Ambition
NetEnt got launched with the purpose of becoming a solid, reliable and successful game developer that would always do its best to provide the most prolific titles in all ways.
Surely, the company has not disappointed at all, it can also be said that it has even exceeded its expectations.
Apart from everything that NetEnt has accomplished, the game developer has not settled with what it already has.
NetEnt is looking for more innovation, better titles, creative features and even more convenient ways for the players to earn extra money. NetEnt seems to have no limits and is definitely shooting for the stars.
Full experience
NetEnt was launched in 1996, the game developer was one of the first ones to be created, giving it lots of room to innovate and take over the market since there was not much competition to face.
Having so much space and undiscovered territory, NetEnt made sure of accumulate as many fans as possible before any other developer could come to the field.
In addition to that, NetEnt has used all these active years to learn and seize all the knowledge that it has acquired as a company, turning it into a resilient organization that is ready to face any obstacle in front of it.
Most popular games developed by NetEnt
NetEnt has made a wide and complete selection of games in different categories over the years, it is quite difficult to tell which ones can be considered the best ones.
But, there are some of them that stand out with their mind-blowing popularity, some of those are:
Finn and the Swirly spins
The game is based on the Emerald isle, where you will witness magical graphics and animations.
The payout mechanism is cluster pays, meaning that there are no paylines and stacking winning combinations may be quite interesting on each spin.
The game offers a good set of special features that will keep you clung to your seat for a considerate period of time as well.
Starburst
Starburst has been a hit since it was first released back in 2011. While its graphics are looking slightly dated, it is still a fan favorite. It is particularly popular as a free spins game for a lot of online casino players, combining great features and earning chances.
Mega Fortune
Mega Fortune was one of the original NetEnt jackpot slot games and is an all-time favorite for many jackpot fans.
There are countless different ways in which you can win through this game, particularly through the exciting Wheel of Fortune features.
You also are in with a chance of winning lots of money with the main jackpot.