Pokerstars buys FullTiltPoker Rumors from twoplustwo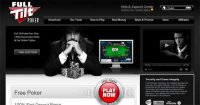 Rumors from twoplustwo.com forum suggest that Pokerstars has bought FullTiltPoker. Currently the thread at twoplustwo forums has 80 pages of comments and growing by the minute.
So far PokerStars has yet to comment on the rumors but if this wasn't true they might be quick to deny the reports.
In addition inside sources have informed the moderator NoahSD that this news and information has some credibility and worth keeping the threads alive instead of deleting them and letting rumors just float around.
The poster PS<3FTP on twoplustwo is a new who made their first post registering on April 2012, had posted the following:
PokerStars has reached an agreement with the U.S. Department of Justice to buy FTP. The things I heard:
* All players will be refunded 100%
* Both sites back online
* Both sites have promotions
* Employees remain in both places Expect more news today.
http://forumserver.twoplustwo.com/29/news-views-gossip/big-news-pokerstars-purchases-ftp-1197424/
Looking for a Poker affiliate program that's not in the hot seat?

A new beginning for FullTiltPoker
FullTiltPoker was immersed in a high number of scandals and issues over the course of the last few years.
The famous poker platform was accused of major fraudulent actions that led the brand to an imminent closure that no one and anything could save it from.
The FullTiltPoker's executives definitely did not have much to do to repair the damage and the horrible reputation that the brand had at this point.
It seems that they all had two options available, close down the company permanently or sell it to a major investor that has the means and power to help FullTiltPoker rise from the ashes.
Apparently, PokerStars is that powerful organization can save FullTiltPoker from ceasing its operations once and for all.
From fierce competitors to close relatives
PokerStars and FullTiltPoker have been competing and battling for that number one spot when it comes to be known as the best and most famous online Poker platform available nowadays.
The intriguing battle was more than beneficial for the iGaming industry and the players that are part of it, since both brands would always come up with new offers and features to allure a high number of players.
Sadly, the great battle between these two giants has ended now, it seems that they are set to become one altogether.
With this fusion, it is expected that both brands will start offering the same features and offers and there would not be any type of innovation to differentiate one brand from the other since they would be working under the same office.
The power house that PokerStars is
The acquisition of FullTiltPoker is set to turn PokerStars into the most complete and powerful iGaming brand that focuses on offering Poker rooms to the players around the world.
The acquisition will leave PokerStars with no direct competitors and will allow it to form an intriguing monopoly where the almighty brand would be able to innovate freely and comfortably without taking risks.
Amazingly, PokerStars has become the number one pick for anyone that is looking to play or learn poker online.
The platform gives the players the chance to play for free and bet real money at the same time.
In addition to that, PokerStars has entered lots of jurisdiction worldwide, allowing it to reach a higher number of players.
PokerStars has also drawn the attention of many players through it's exciting and compelling tournaments that offer some of the best cash prizes that you can find on an online gambling site nowadays.
What PokerStars is looking to build in the near future
PokerStars does not have to worry about any potential competitor as of this moment.
Therefore, the brand is able to focus its operations and business strategies on reaching new borders and jurisdictions that seemed impossible to have in the past.
With so many years of experience and popularity, PokerStars has enough credentials to aim at new horizons and reach them successfully without any doubts.
The possibilities are endless for PokerStars on the iGaming industry, moreover, who does not like to play Poker?