Rumors from twoplustwo.com forum suggest that Pokerstars has bought FullTiltPoker. Currently the thread at twoplustwo forums has 80 pages of comments and growing by the minute.
So far PokerStars has yet to comment on the rumors but if this wasn't true they might be quick to deny the reports.
In addition inside sources have informed the moderator NoahSD that this news and information has some credibility and worth keeping the threads alive instead of deleting them and letting rumors just float around.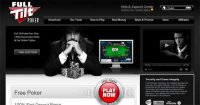 The poster PS<3FTP on twoplustwo is a new who made their first post registering on April 2012, had posted the following:
PokerStars has reached an agreement with the U.S. Department of Justice to buy FTP. The things I heard:
* All players will be refunded 100%
* Both sites back online
* Both sites have promotions
* Employees remain in both places Expect more news today.
http://forumserver.twoplustwo.com/29/news-views-gossip/big-news-pokerstars-purchases-ftp-1197424/
Looking for a Poker affiliate program that's not in the hot seat?