Recommended Domain & Website Hosting Companies

This article was inspired by the poor customer service experienced at 1and1.com combined with hearing other webmasters complain about server downtime and worst customer support when it comes to urgent matters like downtime.
When it comes to picking a company to secure your domains and webhosting it is important to pick the right company and solution to go with. Most new webmasters don't know where to start and quite commonly they go with something that is better known like GoDaddy. If you ask a lot of webmasters around usually godaddy is one of the least recommended companies to do business with, and 1and1 not too far behind either. It is difficult to find honest referrals as well for these companies. Now it doesn't mean this article won't have referral links but rather to recommend companies that probably deserve your business more than others. Just do a search for 'best website hosting companies' and you'll find articles like this but they are filled with recommendations of some of the bigger programs including Godaddy or 1and1 but these 2 companies typically have the most unsatisfied customers. Just doing a search for their brand names in twitter yields a lot of complaints like #godaddy or #1and1. Doing reviews of godaddy is too easy as their affiliate program converts and there are enough newbie webmasters that won't know what they are doing or won't understand there is a better service elsewhere or a lower price. So assuming you are new to domains & hosting lets start with some common features and jargon you'll find when looking for these services.
Windows vs Linux Hosting
Most people see Windows and they say 'ahhh yes, Windows, not Linux' but the reality is most websites you visit are probably linux based. Most content management systems use php as the framework and that usually means linux. So if you are planning to use Wordpress to start then you'll want linux hosting if you run into the option of having to choose.
Local SEO & Webhosting
If local SEO is important to you, then your host server location is also important. That is if your business targets the United Kingdom, not only will you want a .co.uk domain but you'll want to make sure your hosting is located in the UK as well. Many of the larger hosts have their servers based in the United States and they are usually the cheapest. If location isn't important for you and your site is perhaps in English and you want US traffic, then you can go with one of the big boys. But if your website is say focused on a country, then you'll want hosting located in that country. Another example is local for a city like Toronto, if you want to target this market and try to rank well, then having your hosts servers in Toronto would be better than having them located in Vancouver. [caption id="attachment_4924" align="aligncenter" width="550" caption="Site5.com offers local hosting"][/caption] One company that has positive recommendations from other webmasters that offers hosting in some major cities and covering many countries around the world is Site5.com.
Does unique IP matter for SEO?
There are many conflicting arguments from many SEOs on the issue but it appears the general consensus is that unique IPs do give an edge over shared IP addresses. This article seems to answer the question nicely: https://www.zippykid.com/2013/02/21/do-you-need-a-dedicated-ip-address-for-seo/ The takeaway points from this article on why unique IP addresses matter:
No need to worry about sites sharing your IP slowing you down with interruptions. Speed helps SEO
Avoid problems if other sites on shared IPs are penalized or are known for malware, this could affect you
Remember you still need very good content and links for rankings, unique IPs are nice but don't expect magic from it.
Not Recommended
About 1and1.com
I went with this company after having problems with Godaddy. I feel their communication is very poor and agents don't take the time to listen to complaints. The bigger problem I see with 1and1 also has to do with technical support, I've seen comments from other webmasters where their site has been offline for a long time and not getting the help they need from 1and1 and also not getting any notifications their site has gone back online when the problem was fixed. If you want to see what other webmasters are saying about this company, just search for #1and1 on twitter or facebook and you'll find other webmasters that have shared their complaints.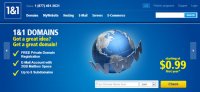 About Godaddy.com
Godaddy is probably the largest domain and web hosting company around. If your needs are extremely basic and you don't know anything about websites, then they have this part of the market cornered and make it easy with 1 click installations for softwares and getting websites up and running quickly. The downside to godaddy seems to be with support. Although they can have cheap options for some products, they seem to always find a way to get more business from you.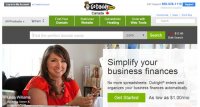 Just like 1and1, do a search for #godaddy and you'll find common complaints around.
Recommended Domain & WebHost Companies
Well we told you where not to go, lets solve the problem and recommend a few companies other webmasters are happy with.
DigitalOcean.com
DigitalOcean is a new player on the scene but they are great if you want one click installation of advanced apps ranging from wordpress to Discourse to Ghost and more.
Site5.com
Site5.com lists on their website from 1999. They seem to have very positive reviews and winning many awards for webhosting. The big advantage with Site5 is the ability to select server locations for webhosting. They have 19 server locations around the world covering major city centres such as: Dallas, TX, Chicago, IL, Los Angeles, CA, San Francisco, CA, Seattle, WA, Phoenix, AZ, Miami, FL, New York City, NY, Washington, DC, Montreal, Canada, Toronto, Canada, Vancouver, Canada, London, United Kingdom, Sydney, Australia, Amsterdam, The Netherlands, Bucharest, Romania, New Delhi, India, Singapore, Singapore & Joao Pessoa, Brazil. So if local SEO matters to you then get hosting with a specific city and even get a unique IP address to go with it. Site5 also offers 1 click wordpress installation and their cpanel interface is far easier to use than 1and1.
Hostgator
Hostgator.com seems to have excellent customer support and some hardcore loyal customers. You don't really hear about people being hardcore about 1and1 or Godaddy. Hostgator offers cheap hosting, has very good customer and technical support, seems to have less complaints about them, offers 1 click wordpress installation and were listed #2 on a top 5 list by Lifehacker.com for best webhosting companies.
Namecheap
Namecheap.com might not have the best name but they are cheap and if you want to secure a bunch of domains just to park them and decide later, their rates are reasonable and they have a low price for domain privacy. At the time of writing this article they have $0.98 .me domains!
Other Mentions and Recommendations Krystal.co.uk - for UK domains & webhosting