Rightlander with Trustly and Footstock on new Software agreement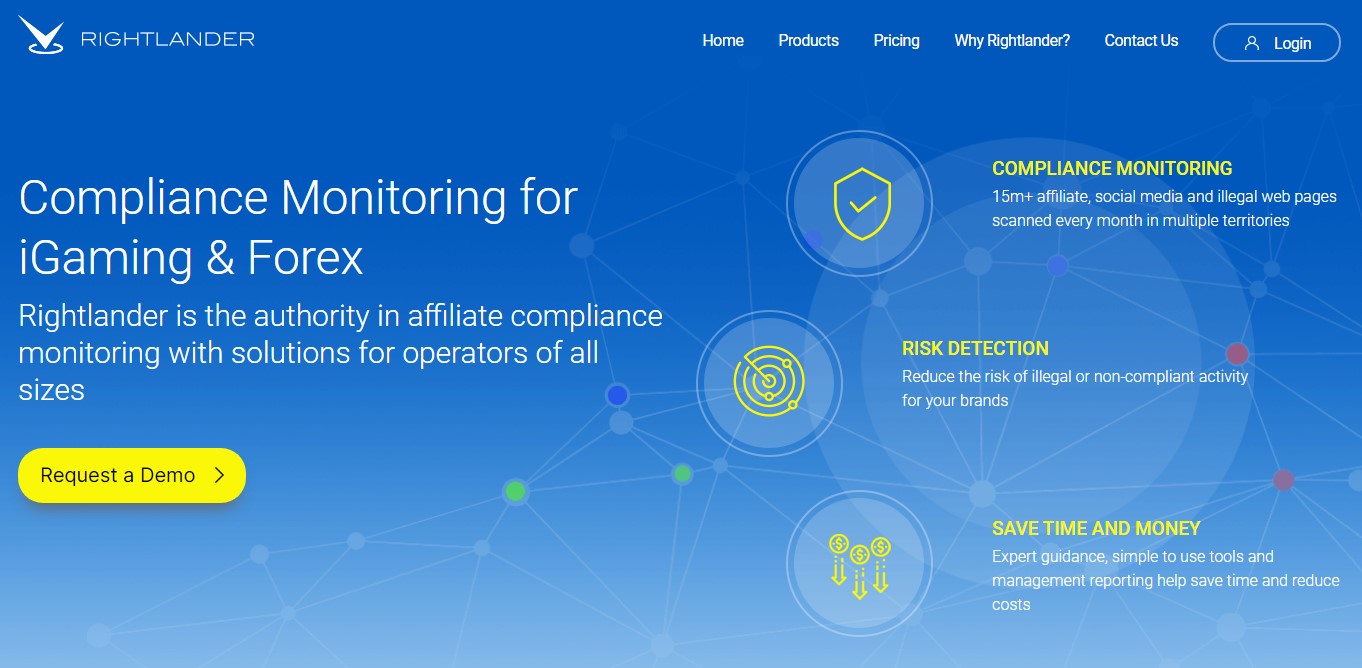 Rightlander has secured a software agreement with Trustly and Footstock that will establish trading platforms and instant payments with all the tools that will help them manage all responsible advertising duties.
Nicole Mitton, Head of Customer Success at Rightlander, made the following statement: "The Rightlander platform makes this process easy and efficient and ensures operators and suppliers can be confident that the affiliates they are working with are fully compliant with the rules and regulations they must adhere to."
The agreement also comes with three tools, a Proactive Affiliate Finder, PPC Monitor and the Automated Compliance Monitor. Both parties will benefit from these so they can ensure compliance about outdated offers and missing terms and conditions.
The Automated Compliance Monitor helps detect non-compliant content across geographies including the United Kingdom, Sweden, Denmark, Australia, and the United States.
James Copeland, Chief Marketing Officer at Footstock said: "Rightlander are a key component in our ongoing endeavour to ensure Footstock and our growing affiliate network take responsible gambling as seriously as possible. We've already benefited from their great software and customer service."
Also, Director of Gaming at Trustly, Vasilije Lekovic added: "At Trustly, we take responsible gambling very seriously, and it's great to have a trusted partner like Rightlander that can help us promote it."
The full suit of compliance tools will go live this autumn across all of the UK and further jurisdictions.
The innovations that Rightlander has created for the marketing industry
Rightlander has been operating since 2018 and has implemented plenty of interesting and new tools and features for any brand that is looking for a solid and reliable affiliate platform.
The marketing solutions company was initially available for United Kingdom-based brands only.
Eventually, the tools and features got the attention of many regulated brands across the world, so Rightlander ended up making the decision of offering all of its tools to other jurisdictions.
Nowadays, having a quick, innovative and attractive affiliate platform is more than important if you want to become a successful brand in any area. Rightlander can be that special solution for many iGaming operators worldwide.
The expectations after the new deal
The partnership with Trustly and Footstock is set to improve the reputation of all the parties involved. For instance, Rightlander will be able to boast the fact that it can offer its users the chance to process any payments through Trustly, one of the most secure banking platforms available as of this moment.
Regarding Footstock, this is a compelling betting platform that provides an enticing combination of fantasy football and several forms of gambling.
The platform has been successful in general terms, but this deal has the potential of skyrocketing its reputation and value within the market in a short period of time.
The tools available on Rightlander
There are many features and tools that the Rightlander clients have access to, some of them are:
Compliance monitor
It is a magnificent tool that scans over 15 million webpages and 150 million links per month. The tool is a great addition for those operators that struggle to battle against bad-quality links that plunge them into the darkest and farthest spots in Search Engines.
The correct use of this tool can lead iGaming operators to successful marketing campaigns and a sudden increase in popularity every month.
Compliance Live
This is an innovative tool that focuses on monitoring live streamings, particular those of sports such as football, baseball and basketball.
This feature allows the operators to keep track and manage all the live streamings that are available on their respective platforms.
PPC monitoring
Content that infringes copyright and other regulations are more than common at this time, especially when it comes to the iGaming industry.
With that being said, having a tool that browses through all the Search Engines for any infringements is more than just an add-on.
This is one of the best tools to have since it keeps your platform safe from any potential legal miscues.
The Rightlander Radar
This scanner detects any suspicious newsletters, emails or subscription contents that could harm an operator in any way.
It targets those fake announcements or marketing strategies that could lead an operator to lose its gambling license.
Renowned operators that work with Rightlander
Apart from Footstock, these are some other great operators that have partnered up with Rightlander:
888.com
LeoVegas Casino
Bet365
BetVictor
Lottoland