SiGMA Americas 2021 Virtual Event - What to look out for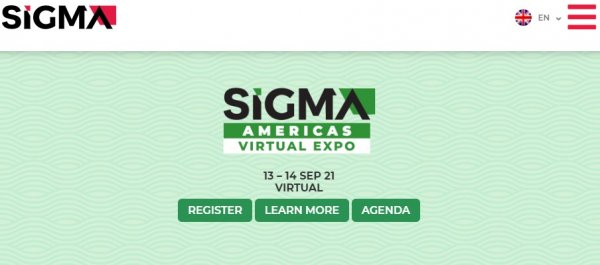 Online gaming markets and technology industries are evolving more and more. The new approaches and changing landscapes that are occurring day by day in gaming worldwide are much better focused and established this time around.
Innovations always have the doors open for better products, systems and relationship networks to make business much more lucrative.
It is well known that it has been very necessary to explore each one of the world markets, especially the emerging one's in places where they had never arrived or where they were a little hidden.
In this way, it has gradually led to the creation of new financial and technological opportunities that will always benefit online games and their business, recreational and social links.
Thanks to all this, the number of companies and enterprises in charge of the great iGaming world has increased.
With motives of this article, and for the knowledge of all the people who will start or who already move within this wonderful technological and business world, we will talk about SiGMA and the events that have been held and will be held soon on the occasion of the developer and producer industry of all the iGaming and its commercial and technological networks.
SiGMA Group
SiGMA Group is a world leading iGaming company that has been in charge of organizing and planning events and covering news about the world of technology through its platforms. It is distributed in four continents: America, Europe, Asia and Africa.
SiGMA proposes and carries out its own studies of production, services, designs, support, including mergers and acquisitions in the technological world.
It is the ideal contact for those companies that are always innovating, recruiting, developing or regulating games, or that simply wish to expand their frontiers and increase their knowledge and social and communication networks with other companies in the field.
Peculiarities of SiGMA
Among the features of SiGMA are some of the following:
It offers the best conference sites and most extensive exhibitions worldwide, with venues in Malta, Manila, Sao Paolo, Kiev, Cape Town, among many others.
They prepare and prepare small conferences, through interactive platforms, covering the topics of regulation, compliance, new technologies, relating everything with the opinions of leading experts and scientists in the area.
Creation of both the SiGMA Magazine and the SiGMA Podcast to cover the demands about the online and remote gaming industry, its technologies, endorsements and the knowledge of all related and associated professionals.
SiGMA constantly keeps abreast of any innovation or technological development, holding sporadic conferences, broadcasts and events for everyone to share their experiences and findings.
With the appearance of the Affiliates, Operators and Suppliers sectors, in all their different facets, SiGMA wanted to embrace and encompass everything related to the world of technology and gaming. That is why with the passing of the years and the constant evolution of markets, trends and people's needs.
SiGMA Americas
SiGMA has devised and materialized several events so that online gaming companies, artificial intelligence, blockchain, suppliers, and other emerging technologies could approach each other and create new links and relationships to continue with the techno-gaming evolution in the world.
In this sense, this company gathered for the first time the Latin American audience at SiGMA Americas 2020 to study the market in that area and learn at the same time from the different realities encountered and exposed there.
It was held on screens around the world, where the main objective was to focus on the current issues of the Latin American market.
Everything was done with conferences of the gaming and technology segments in three languages: Spanish, Portuguese and English.
This is an important aspect because it begins to strengthen and intertwine markets that for linguistic reasons had not been able to meet or link.
This helped in increasing the confidence and accessibility of all, whether users, the general public, producers, managers and other related figures.
The opening speech touched on current topics related to the COVID-19 pandemic and the consequences it has had on countries and gaming sectors, specifically in Brazil, Argentina, Panama, Mexico, Chile and Peru.
Panels on display
On the occasion of SiGMA Americas 2020, several important topics were presented and discussed in panels within the labor, technological and gaming fields in Latin American countries and the connection with their different cultures.
Likewise, the way in which investors could develop the best, positive and healthy relationships with the continent was discussed.
To name a few of the panels presented at the event, we can mention the following:
Focus 2020
Due to the pandemic caused by COVID-19, traditional sports were violently reduced, which produced the increase of digital games, specifically in Latin America, and those related to online casino games.
Here, points were touched upon about the latest technological trends of the year regarding the Blockchain, Artificial Intelligence, Emerging Tech and Cryptocurrency spaces in the continent.
In one of the panels called "Thinking about the future", the topic of cryptocurrencies was of utmost importance because they have been, are and will be the saviors of finance in Latin America.
At the same time, it was made known that their uses vary greatly depending on whether they are legal, illegal or unregulated.
Points of focus
The main discussions took place in Colombia and Brazil. The former, because it intends to regulate its legislative framework with a European model, being an example for other sister countries; and the latter, because it is close to legalizing sports betting.
Futuristic ideas
One of the conclusions reached was that the central axis in Latin America will be esports. Also sports betting beyond soccer.
In defense of security
Thanks to the experts in technology and digital security, we were warned that we must always be alert and better prepared for a "digital pandemic", so it is worth paying a little more attention to antivirus and electronic protection systems.
If you would like to know more about other topics discussed and find out more about this magnificent event, we have brought you a list of other panels so that those who are more interested can look for more information:
Sports betting in soccer and its brands.
The new post-COVID-19 gaming era.
Bitcoin, the Petro and challenging payment practices in Venezuela.
Cryptoassets.
Payments issues in Latin America.
Supply chain.
Localization technologies.
With more than 40 panels, 100 speakers and thousands of delegates, including Tim Draper, founder of Draper Associates and Richard Ellis, CEO of Electroneum; this event was successfully held.
It brought together views and experiences from Latin America and the rest of the world, different investments, new and expert entrepreneurs, digitized finance and other important topics for the world of gaming and technology.
Everything was carried out with the promise of returning to the continent in a new opportunity, an opportunity that will take place this year 2021 in Sao Paolo, Brazil.
SiGMA Americas 2021: Virtual Event

With the previous inauguration of SiGMA Americas, a new edition focused solely on the gaming industry in Central and South America will arrive. With the imminent success of the events in Asia and Europe, a visit to these tropical zones could not be missed.
The central hub will be designed to offer a complex vision of the gaming environment in the Americas, and will be held on September 13 and 14 of this year 2021 at the Tivoli Hotel in Sao Paolo, Brazil. It will be completely online, that is, virtually because of the inconveniences caused by COVID-19.
Among the features of the event, we can name the rooms for networking and the attendance of many leading panelists in the sector.
The booths are designed with the best equipment, products, with interactive floor plans of each event, contact and chat rooms, as well as several speakers and exhibitors of the most relevant within the industry.
Both attendees and participants will be able to visit the virtual stage by simply registering from their website, where they will be able to listen and watch the speakers deliver their speeches and presentations, leading to the final discussions and debates.
SiGMA Americas 2021 will provide an extensive show covering gaming industry topics and markets, with a focus on emerging projects and systems.
In the words of Eman Pulis, founder of SiGMA, this event "...offers a unique platform, bringing fresh content and new ideas to an ever-changing industry". It is a nice invitation for all those people, customers, clients, users, entrepreneurs and others who wish to explore the American market and cross borders.
The direction of SiGMA Americas
What is really significant and will have a greater attention, because they were not so current topics in the last edition, is the focus on innovation in the Latin American gaming world and the strong ground that has kept the North American business.
With all this, the great emerging mobile market will be discussed and analyzed, and its importance to make inroads in the region.
And as if that were not enough, you will be able to share the rooms with leaders, affiliates, politicians, thinkers and other influential figures in the technology, financial and gaming industry.
Participants, sponsors and exhibitors
The agenda will be divided into two groups: the first will be the North American group who will be active on September 13, 2021. Everything will start with the opening speech by Nicole Fields, vice president of growth and strategy Americas of SiGMA. Then, in chronological order, among those who will be speaking will be:
Ali Bartlett, Vice President of Government Relations, Bose Public Affairs Group
Stewart Groumoutis, Director, iGaming BCLC
Aly Lalani, BetRegal.com
Jason "Wolf" Rosenberg, CEO American iGaming Solutions
Neil Erlick, Director of Corporate Development, Nuvei
They will all present about transactions to iGaming, responsible gaming for online gaming, about operators and affiliates, iGaming and Blockchain, tribal gaming: the growth of online gaming and the competitive, regulated and new gaming market in Canada.
The second group will be the South American and will occupy September 14, 2021. Among its participants we have:
Karen Marcela Sierra-Hughes, VP Latin America and the Caribbean. Gaming Laboratories International
Fernando Garita, Betcris
Hugo Baungartner, RCT Gaming
Dmitry Starostenkov, Evenbet Gaming
Victor Espinosa, Loto Punto
Sebastian Perrier, iGamingLatam.com
Florencia Brancato, Pinnacle
All of them will delight us talking and analyzing about: LATAM: the next frontier, the impact of federalization and fragmentation in Latin America, Brazil on the rise, Foco Panama: competitive or unexplored market and how has 2020 accelerated a new era of gaming in Latin America?
To give you a taste of some of the other participants and their brands and/or related companies, we can name the following:
Juan B. Pérez Hidalgo (Coljuegos).
Maghno José (Instituto de Juego Legal de Brasil)
Karen Sierra Hugues (GLI)
Manuel Sánchez Ortega (JCJ Panama)
Víctor Arias (Pragmatic Play)
Sebastián Vivot (LOTBA Buenos Aires)
Víctor Araneda (Gaming1)
Christian Vargas (Latamwin)
Gonzalo Pérez (Apuesta Total)
Lorenzo Johnson (DoradoBet)
Juan Ignacio Juanena (Enjoy)
Fernando Garita (Betcris)
Andre Gelfi (Suaposta)
Final considerations
SiGMA Americas 2021 will be the best place where all attendees, participants, exhibitors and the general public will have the great opportunity to share, cooperate, communicate and relate their points of view about the changing landscape in the Americas.
Each of the approaches given will be carefully analyzed and linked to the different realities encountered.
This event will be a great example of the unification of the technological and financial industry with that of online gaming and betting.
At the same time, these conferences will touch different topics related to the foreign visions of diverse investors and new entrepreneurs who wish to increase the fields of action and generate new business opportunities in technological matters.
In this way, the gaming field will be positively affected, which will also exponentially raise the world of finance with the so-called new payment systems, including cryptocurrencies.
With all this, it is hoped that all participants, entrepreneurs and innovators will increasingly light the way to a friendlier future in terms of gaming, betting and technological advancements.
It is quite certain that all will be achieved, as long as there are more events, conferences and exhibitions that generate productive discussions on the gaming industry and technology, with everyone winning equally.