SiGMA Europe Virtual Summit postponed to November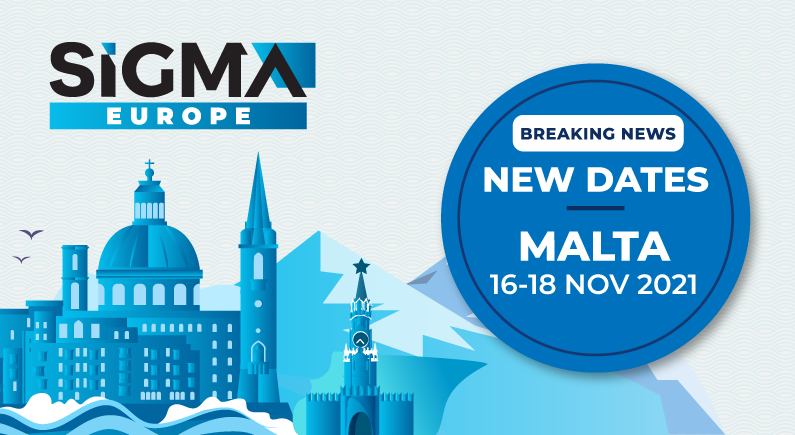 SiGMA Group has announced today that their SiGMA Europe Virtual Summit is being postponed to November, and it will now run from 16th to the 18th.
New government measures in Malta due to an unexpected rise in Covid-19 cases prompted this decision.
Prime Minister Robert Abela made the announcement today. New closures will happen from March 5th until April 11th. Abela told journalists that the country's bars and clubs will remain closed, enforcement will be stepped up and the fine for those breaking the rules will be doubled to 6,000 euros.
SiGMA Group Founder, Eman Pulis, said that "SiGMA in Malta was meant to happen this coming month in April, but with the new announcement that bars and restaurants will be closed until April, we were left with no choice but to push the show until November. We welcome this decision, we believe in the safety of all our delegates. There's no SiGMA without restaurants, without bars - that's where all the magic in business networking happens. I look forward to seeing you in November, save the dates - I'll see you in Malta"
Pulis explains in the following video:
Another event to be rescheduled
The pandemic does it again and forces another event to be rescheduled, preventing many people from enjoying new experiences and a chance to learn more about the new technologies and innovations implemented in the iGaming Industry.
The SiGMA Group is known for the incredible iGaming events that it hosts on a yearly basis. The betting company has been able to amass a large fanbase that not only consists of players, but also developers and operators that want to offer their products and platforms to the whole world.
The news about the great event being postponed certainly frustrated many iGaming enthusiasts, especially in these desperate times when some extra exposure is more than needed to make a brand grow.
A lot of new operators and software developers were eager to participate in the SiGMA Europe Virtual Summit since the event has helped many iGaming brands become more popular and thus more valuable on the industry thanks to the high number of attendees.
Hard times
Despite the massive growth and development that the iGaming industry has suffered since the beginning of the quarantine, many operators and developers have not had the best of times.
Most of those brands struggling are the ones with fewer years in the industry. These brands have lacked the chances to expose themselves to the world and attract plenty of new players and investors.
The fact that all the iGaming conferences and events have been either cancelled or postponed does not help them at all because they have been left with even less opportunities to show what they can offer to anyone interested on the iGaming industry.
Some of them have had to spend scandalous amounts of money on marketing campaigns as well as additional strategies to make ends meet and stay on the market for at least a bit more of the time.
Things are about to change
Thankfully, it seems that everything is set to change for the better now. The SiGMA Europe Virtual Summit is set to go under way this year, and other compelling iGaming events are getting organized as well.
New times are definitely coming for the iGaming industry and those new operators and developers that wish to find success in a short period of time.
The anxiety and exciting cannot be described in words anymore. The wait has seemed eternal and now that there is a date, those fans of the SiGMA Europe Virtual Summit will finally be able to say "I am going to my favorite iGaming event after more than a year".
The summit will be filled up with many affiliates, players, developers and operators. The opportunities to make your brand grow and become more relevant will be present for 2 consecutive days.
Malta is the center stage, and it is going to be one of the most expected iGaming events in the last decade, without any doubts.
The SiGMA Group has also announced their excitement, stating that organizing such eye-catching iGaming events has always been a pleasure, but these times of loneliness have made it even more entertaining and fulfilling.